Last Updated: January 2017
What you need to know
If you are looking for the best memory foam mattress, then use our in-depth buyer's guide to help you find the perfect memory foam mattress to suit your needs.
 Proven to help relieve pains, body aches & soreness
 Provides the ideal sleeping posture by support proper spinal alignment
 Adjusts to the sleeper's body heat and body weight
 Produces an initial off-gassing
 Temperature sensitivity and heat retention
 Not ideal for romantic activities
Memory foam mattresses have one of the highest satisfaction rates amongst all types of mattress. They consist of 1-7 inches of memory foam supported by 5-7 inches of high-density foam. These mattresses are available in multiple firmness and density options. 
E

ditor's Note

Thank you for visiting my website. I've done my best to provide you with the most in-depth consumer guide with honest and accurate information relating to the best memory foam mattresses currently on the market. A significant amount of time has been invested in providing you with this information, so I do hope you find it useful.

Most Recommended: If you haven't got the time to read our entire buyers guide, then I would suggest that you take a look at the Tuft & Needle 10″ Memory Foam Mattress, an Amazon bestseller, and our number one recommendation.

View the Tuft & Needle mattress
Best Memory Foam Mattresses of 2016 & 2017
We continuously update the information on this page with the best mattresses, as new mattresses are introduced our recommendations may change. We will be analyzing the performance of particular mattress brands and specific mattress products of 2016 & 2017, covering the best sellers, up and coming as well as new to market mattresses. We will be updating this section soon with our best recommendations for 2017, which will be a summary of the best from 2016 leading into 2017.
Our Best Memory Foam Mattress Recommendations
*5 Star Rating: this is based on the percentage of consumers who rate the memory foam mattress 10/10.


Best Rated Memory Foam Mattress
Our favorite memory foam mattress is the Tuft & Needle as we will discuss below since our readers will more than likely have various budgets it's important for us to recommend mattresses at different price points. Below you will find our best memory foam mattresses under $1,000 / $400 & $200.
Our recommendation for a memory foam mattress under $1,000 is the Tuft & Needle which is available in Twin, Twin XL, Full, Queen, King, and California King sizes. We rate this mattress 4.8 / 5.0 and believe it is the best direct to consumer mattress currently available on the market.
Our recommendation for a memory foam mattress under $400 is the Signature Sleep Memoir which is available in Twin, Full, Queen and King sizes this mattress is rated 4.7 / 5.0.
Trying to find an affordable memory foam mattress for under $200 is not an easy task. Unfortunately, at this budget you are going to have to settle for a few specifics, including the fact that the mattress will be made in China, not the USA. Secondly, the quality of memory foam isn't going to compare to that of the Tuft & Needle.Having said all that, we have found an affordable memory foam mattress that we actually love for the price, that is the Zinus Green Tea memory foam mattress which is available in Twin, Twin XL, Full, Queen, King, and California King sizes.
January 2017 Mattress Deals
Each month we update this section with the best mattress deals within check out below for this month's recommendations!
#1 Most Recommend  – Tuft & Needle Memory Foam Mattress – 2016 & 2017
The Tuft & Needle Mattress is its own product with proprietary foam formulation adapted to provide something different to consumers.
The Tuft & Needle is a 10-inch foam mattress with a firmness level of 6. The top layer is 3 inch layer of poly foam with a 2.9 pounds per cubic foot (PCF) measurement. The foam is proprietary, designed to be bouncier than memory foam, and cooler than latex. The feeling is somewhat between that of latex and memory foam. Originally, their product was a little firmer, but their latest version has a medium firmness level which is ideal for many sleepers.
The second base layer is a 7-inch base support foam with a 1.8 PCF. The purpose of this layer is to support the full weight of the body or bodies lying on the mattress, minimize motion transfer, and provide the bed its foundational core.
One of the differences noticed right away with this product is the extra bounce than with competing memory foam mattresses. For night time activities, especially when tired from a full day, this likely will have some appeal. Pressure relief is also fantastic with this product too.
The mattress comes with a 30-day trial period through Amazon and a 10-year limited warranty.
Note: interested in a mattress similar to the Tuft & Needle, then check out our latest review of the Eve mattress here.
#2 Most Recommend  – Zinus Green Tea Memory Foam Mattress

The Zinus Green Tea mattress from the Sleep Master Collection is our number one recommendation for anyone looking for a fantastic memory foam mattress at an affordable price. This mattress comes in a wide range of thicknesses including 8 inch, 10 inch & 12 inches as well as multiple sizes (twin, twin xl, queen, king, California king).
This mattress has been voted a 5-star mattress by 77% of the consumers who purchased – it features a pressure relieving comfort foam layer that conforms to the natural shape of your body. It has also been designed with airflow in mind and provides a long lasting durability and stability.
The Zinus Green Tea mattress includes:
3 inches Memory Foam
2 inches Comfort Foam
3.5 inches Airflow High-density Foam
3.5 inches Airflow High-density Base Support Foam
It's also CertiPUR – US certified for its incredible performance, durability and comfort & Zinus provide a worry-free 10-year warranty.
#3 US Manufactured  – Brentwood Home 13 Inch Gel Infused Memory Foam Mattress

A very close second place goes to the US manufactured Brentwood Home 13-Inch Gel Infused Memory Foam Mattress. This medium feel mattress provides 3.5 inches of gel-infused memory foam which are quick to respond to your body's individual shape, weight, and temperature.
The mattress has been voted a 5-star mattress by 70% of the consumers who purchased – it features a 7.5-inch therapeutic base which provides long lasting support and a solid support base which absorbs your weight and helps to dampen motion transfer and prevent noise. This mattress has been finished to the highest standards and also includes a wool lining which resists odors while it also wicks away moisture and helps to regulate the body temperature by creating micro-climates. The wool-lined bamboo zipper cover is removable and machine washable.
The Brentwood 13 Inch Mattress includes:
3.5 inches of Gel Memory Foam
a 2 inch ventilated air flow layer
7.5 inches therapeutic base
The Brentwood Home 13″ mattress is also CertiPUR-US certified and completely free of flame retardants formaldehyde, heavy metals, and phthalates. Brentwood Home also offer a 25-year warranty as a complete guarantee of their quality.
#4 US Manufactured  – Sleep Innovations Shiloh 12 Inch Memory Foam Mattress

The Sleep Innovations Shiloh 12 inch memory foam mattress is a work of art and has been preferred over mattresses that cost $3,000+ multiple times. The team behind Sleep Innovations have taken their years of experience studying how people sleep, their sleeping positions and bodies to then go away and create something spectacular – the Shiloh memory foam mattress.
With 72% of consumers agreeing with us that the Shiloh mattress is a 5-star mattress, we are not alone. The Shiloh mattress features a DuoComfort design which in layman terms means it includes a 2.5 inch SureTemp Memory Foam top layer and a 9.5 inch Support-Plus Foam bottom layer that when combined provides you with head-to-toe comfort while also keeping your body properly aligned, fully support at a comfortable temperature.
The Sleep Innovations Shiloh mattress includes:
2.5 inch SureTemp Memory Foam
9.5 inch Support-Plus Foam
The Shiloh mattress also comes with a 20-year warranty and is made completely in the USA.
Best Gel Memory Foam Mattresses of 2016
There are a wide variety of gel memory foam mattresses all of which promise to help improve airflow, reduce heat retention and regulate body temperature. However, very few live up to the consumers expectations – with that being said we've analyzed and reviewed the best of the best when it comes to gel memory foam mattresses and here is our top 5 best-rated gel memory foam mattresses.
Our Recommendations
*5 Star Rating: this is based on the percentage of consumers who rate gel the memory foam mattress 5/5.
#1 Most Recommend  – Dreamfoam Bedding Artic Dreams 10 Inch Mattress

The Dreamfoam Artic Dreams 10 Inch Cooling Gel Mattress is the ultimate in gel memory foam mattresses. The mattress makes use of an advanced viscoelastic foam called Energex. This revolutionary foam provides three inches of fast response gel foam which sit on top of six and one-quarter inches of high-density polyurethane foam. All of this is then covered with three-quarters of an inch super soft quilting layer which when combined creates an unparalleled level of comfort and support for all users.
The Artic Dreams gel mattress includes:
3 inches of revolutionary, fast response gel memory foam
6.25 inches of convoluted high-density polyurethane foam
.75 inch of super soft quilting
The Dreamfoam Artic Dreams also comes with a ten-year warranty & is CertiPUR-US certified for its revolutionary development and fantastic comfort and support.
Best Tempurpedic Mattresses
What is a Tempurpedic Mattress?
How much is a Tempurpedic Mattress?
Where are Tempurpedic Mattresses made?
About our Memory Foam research & analysis
Our research, analysis, and recommendations are based on more than 125,000 verified consumer reviews which have been collected from multiple online retailers/brands such as Amazon, Walmart, and many more. You can read all about how we gather and analyze our data here.
Memory Foam Mattress Ratings
Below are the criteria we use for rating each memory foam mattress.
Owner Satisfaction – memory foam mattresses have an overall owner satisfaction rate of 81%
Durability – they have an average lifespan of 7 years
Price – memory foam mattresses have begun significantly more affordable in recent years with the launch of online-only brands such as Casper and Tuft & Needle. However, prices still vary from $150 – $4,500 for a queen. You no longer need to pay more than $1,000 for a high-quality memory foam mattress, and it's important to analyze each brand and product carefully as the higher the price does not mean the higher the quality.
Back Pain – people who suffer from back pain are a primary consumer for memory foam mattresses, and it comes at no surprise – you can read our back pain relief guide here for more information.
Pressure Point Relief – memory foam helps to reduce pressure points by molding to the user's body, this helps to create a balanced distribution of a user's weight which helps to relieve pressure points.
Firmness – Generally speaking, they are medium to firm. However, soft mattresses are available.
Initial Offgassing – After purchasing and unwrapping, some owners report that their mattresses have an initial off-gassing, this is completely normal and to be expected. The majority of consumers report that the off-gassing usually lasts no more than three days.
Heat Retention – The higher the density of the foam, the more issues surrounding heat because of an increase in heat absorption.
Warranties – Warranties can vary significantly. However, the most expensive mattresses have longer warranties, read more about warranties right here.
Memory Foam Mattress: Buyer's Guide

Table of contents
What is Memory Foam?
Memory Foam's Creation And Innovation
Originally developed in 1966 by NASA, memory foam is now widely regarded as a luxury material used in bedding applications all over the world. It is a polyurethane product that has been modified with chemicals in order to give it desirable properties – such as being able to mold to a certain shape and spring back to its original state. If you're on the market for the best memory foam mattress, it's important to learn as much as you can prior to making a purchase.
The goal was to improve aircraft cushion so that g-forces would be reduced during take-offs and re-entries. New technology has resulted in the development of a kind of material with increased viscosity and density. Visco-elastic polyurethane foam, or memory foam, conformed to the shape of the astronaut's body by adapting to body heat and weight. Once weight was lifted and pressure removed, the foam sprung back to its normal shape. As weight was evenly distributed over the surface, the pressure points were relieved.  However, you don't have to be an astronaut to appreciate the benefits of a memory foam mattress!
The "memory" is created by injecting certain chemicals into synthetic polyurethane foam to increase its weight and density. What makes it different from other kinds of foam is that it has individual cells that have holes in them, so that when weight is applied, the pressure is distributed to the adjoining cells thereby allowing the foam to be distorted to conform to the shape of the body thereby significantly reducing pressure points. Another unique property is its sensitivity to temperature. At higher temperatures, the foam becomes more elastic and therefor more conforming to the body shape. At lower temperatures, the foam becomes more viscous or firmer. By molding itself to the shape of the body, the user can sleep on his/her side, back or front and still get immensely comfortable as support will be given where it is needed most.
The Use Of Memory Foam for Medical Benefit
This innovative product was first used in medical settings and generally used by patients that have to be bedridden for longer periods of time. As a medical device, they were originally very expensive. However, patients have extolled the health benefits of using this innovative product. Manufacturers have tried to create memory foam at a price that will be more affordable for the public, then the products begun to hit the market in the late 1990's.
Once considered as an alternative sleeping device for people with back injuries and for people suffering from chronic body and joint pains, memory foam become a hit with people aware of the need to have good quality sleep. Sleep is important for the maintenance of good health. However, not everyone is lucky to have restful, restorative sleep. People with busy schedules tend to give less importance to sleep. Stress would prevent people from getting a good night's rest. Courting sleep would be impossible for people with too many concerns in their minds. This problem will be compounded if the bed is not really conducive to sleeping. The benefits memory foam can have on the sleeping pattern causes people to form a beeline to get one.
Many different brands are available in the market these days. But before you type in your credit card number, you have to know what must be done to choose the right memory foam mattress. They are not cheap and they are not created equal. To get maximum benefits, you need to choose a mattress that will suit your specific needs, so take your time and read through all the information on our website.
Why Choose a Memory Foam Mattress?
Memory foam is a heat sensitive material that allows it to mold to a person's body when they lie down. It is pressure absorbing which makes it comfortable and supportive, leading to many health benefits. It was these qualities that led to memory foam being widely used in the medical industry. In particular, it was commonly used for hospital patients who were immobile to reduce the frequency of pressure sores and gangrene from reduced blood flow. These mattresses also feature "motion separation" meaning that there is hardly any transfer of motion from one side of the mattress to the other, and as a result, you are less likely to be woken if your partner sleeps restlessly. They are typically purchased by consumers who want to increase support and comfortability while they sleep, as we discussed in our back pain article, these mattresses help relieve pain in pressure points throughout the body.
Who Should Purchase a Memory Foam Mattress?
A keyword that you'll discover while learning about memory foam mattresses is "supportive." By helping people to maintain good posture while sleeping and distributing weight evenly (in addition to allowing for deeper sleep), it's possible for these mattresses to prevent and treat certain conditions that plague people. They may be especially useful if you suffer from migraines and headaches, jaw ache, teeth grinding, nerve pain, chronic back and neck pain, pins and needles (poor circulation), snoring and sleep apnea – to mention a few.
These mattresses provide more comfort and pain relief than any other type of mattress currently on the market. They have an improved lifespan and above average motion isolation and pressure-point relief, which is why memory foam mattresses are rated that best type of mattress to purchase.
Mattress Thickness: it's important to understand the different thicknesses available for these types of mattress.
Mattress Size Chart: if you are unsure what size of a mattress you need, you can read more about them here.
Mattresses for Side Sleepers: if you are a side sleeper, and you are looking for a new mattress, check this out.
Memory Foam vs. other Mattress Types
How to Choose the right Memory Foam Mattress?
There are a huge variety of mattresses on the market, and as a result, there are many factors to consider when making a choice which one to buy:
Density
The density for each mattress will typically vary from 1 to 5 pounds per cubic foot. Selecting a mattress closer to 1 means that it will be soft and more comfortable while a mattress closer to 5 will be harder, but be more supportive and retain it's shape for longer.
Firmness
All mattresses have a firmness rating which (similar to density rating) will help you to make a smart choice. It's measured in a unit called indentation force deflection (IFD) which ranges from 8 to 16. The majority of mattresses fall between 12 and 16. The higher the number, the firmer the mattress. If you aren't sure, here is a guide based on your most common sleeping position to help you decide.
Back – medium to firm (12 to 16 IFD)
Side – soft to medium (8 to 12 IFD)
Front – soft to medium (8 to 12 IFD)
Multiple positions – medium (10 to 14 IFD)
Are you a side sleeper? Read our guide to choosing the perfect mattress here.
Thickness
The mattress thickness is usually measured in inches and ranges from 5 to 12 inches in depth. This can have a decisive impact on comfort, support, and durability. Most mattresses will be made up of multiple layers of foam with only the top layer being memory foam (usually only 2-6 inches). A lot of people prefer mattresses with a memory foam layer of 4 or 5 inches.
Sleeping Temperature
One of the largest complaints about memory foam is that it retains heat and can lead to uncomfortably hot sleeping temperatures. To combat this, certain manufacturers have either started using open cell structure in the polyurethane to increase breathability and have infused gel beads into the material to create gel memory foam mattresses for cooler sleeping (these contain capsules that change from a solid or a liquid which significantly alters temperature).
Lifespan & Durability
What Makes A Good Mattress?
What should you look for: The primary goal is to get a mattress that will ideally adapt to the shape of your body and will give support to where it is needed most. Primarily, the density of the foam must be considered. Memory foam is usually denser when compared to other foams. The 3-pound density is accepted as the softness that provides the desired comfort, and the solidness will provide the support necessary to ensure that significant pressure point relief is achieved.
How thick should the mattress be: Some people are more comfortable with thicker mattress. However, if you have a softer bone structure, you would not need a very thick mattress as it will feel too cushiony. Take note of the foam's indentation force deflection…the higher the rating, the more comfortable the mattress would be. Check the specifications carefully. Good quality memory foam should be made of porous materials so that heat which accumulates inside the mattress can be efficiently dissipated.
Mattress Warranties
The majority of quality products on the market have a warranty of at least 5 years (some offer 20+ years) which means that the manufacturer will stand by their product. Always check that the mattress you choose comes with a warranty, and research company reviews to make sure no complaints are held against them.
Initial Offgassing
Heat Retention
Memory Foam & Romance
Using Mattress Protectors
Using Electric Blankets
Mattress Foundations & Frames
Memory Foam Mattress Reviews
Find our additional memory foam mattress reviews below, from years of testing and reviewing mattresses to find only the best of the best for our readers.
Lucid 12 Inch Memory Foam Mattress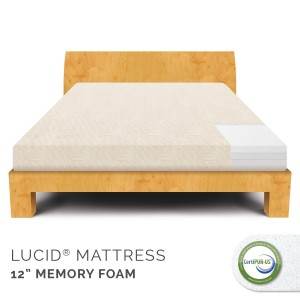 The specially built Lucid 12inch comprises of a Bamboo Cover, 2inch Memory Foam Comfort Layer, a 2inch Support foam and a 8 inch High-Density Foam Base. The four layered masterpiece gives you the all these key facts to look out for. The Memory Foam is built using the Open Cell Construction process, considered to be an exclusive manufacturing method which makes the foam softer and smoother. This, in turn, gives you the best comfort your body needs.
DreamFoam Ultimate Dreams 13 Inch Gel Memory Foam Mattress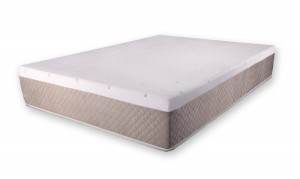 The eye-catching feature of this product is its three-layered foam finish. The first layer is a 3-inch gel memory foam comfort layer that weighs about 4 lbs. The second layer is a 2-inch memory foam support layer that weighs about 5 lbs and the third is an 8-inch high-performance and high-density base layer.
Dynasty 12 inch Cool Breeze Gel
The best thing about this mattress brand, apart from the comfort that it gives to all those who lie on it, is its ability to dissipate hot air. This is due to the two inches of airflow placed right in the middle of the mattress. So unlike most others, this mattress will never overheat.
Don't Get Duped By Online Scams
Brand reputation is important. Due to the great demands these mattresses, manufacturers have practically mushroomed overnight. Dozens of memory foam brands are available in the market these days. Manufacturers from other countries may offer products that are cheaper, however, be cautious. Harmful chemicals may have been used to lower production cost. It is also possible that their mattress is not entirely composed of memory foam so that it would flatten with compression and lose its ability to conform to the shape of the body.
These mattresses have gained the top slot in sleeping devices. This has made competition very stiff. To attract the buying public, manufacturers and suppliers have come up with all the tricks of the trade. Aside from the money back guarantee, pillows, toppers, beddings and other freebies are offered. Again, be cautious. Memory foam mattresses don't come cheap. To get your money's worth, buy only from reputable dealers.
Mattress FAQ
How long will the "new mattress" odor be present?
When unwrapping your mattress, there will be an odor present which is a result of the chemicals that have been applied to the polyurethane. It may be an idea to air the mattress outside for a day or two, although the odor only lasts for a short time. 
Will I be too hot when I sleep due to the heat retention?
New advanced manufacturing processes have allowed for gel particles to be used in the composition of memory foam. If you are concerned about the mattress being too hot, look for memory foam that has been infused with gel beads.
What's the ideal thickness?
The ideal thickness of the memory foam layer used in your mattress should be around 4 or 5 inches in depth. However, this will depend on preference as some people believe that too thick a density will allow people to sink into the mattress, negating the supportive qualities of the mattress.
Read more about mattress thickness right here.
What's the ideal size?
If you are not sure what size mattress to purchase, then check out our excellent mattress size chart and guide here.
How long will my mattress last?
Memory foam is incredibly durable and will likely last many years after the manufacturer's warranty has expired. However, it's important to look at recommendations and read memory foam mattress reviews before purchasing.
I often wake up with back pain. Will a memory foam mattress help?
There are no guarantees that memory foam will help provide relief from back pain and other ailments. However, many people have found it to be a solution, or at least contribute to pain reduction. This is especially true if your pain is the result of poor spine alignment, nerve inflammation or stress on pressure points.
Read more about the best mattresses for back pain right here.
Are they easy to clean?
These mattresses are much easier to clean than conventional mattresses (which often go years without a good clean). Simply vacuum the mattress and wipe down with a detergent and wipe off. If the mattress is wet, it's still a good idea to let it air dry before using it again.
You can read our two guides on cleaning mattresses right here:
Also, be sure to check out: