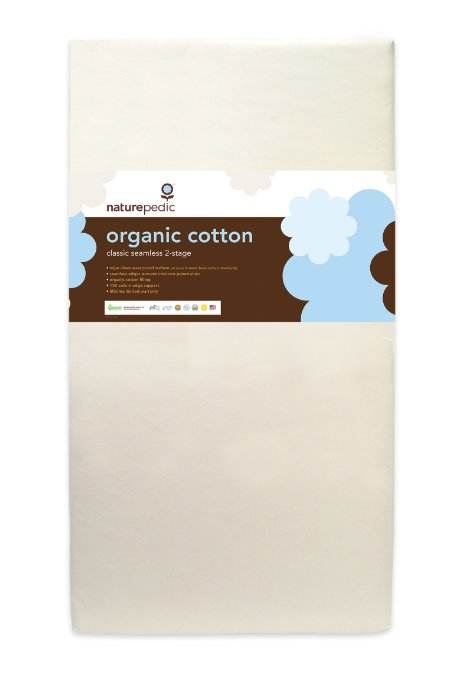 Last Updated: May 2017
As a parent, one of your main concerns may be to ensure that your baby sleeps on an all-natural surface that is free from harmful chemicals. Although many such products exist these days, finding one that is safe and comfortable seems like a challenge. Fortunately, the Naturepedic Organic crib mattress offers up all of the safety and comfort features you want for your baby.
Product Features and Specifications
Materials: This is an innerspring mattress that features 100% US-grown organic cotton filling, and while the outer cover is made of polyethylene, it is non-toxic and safe for your baby. The product also contains heavy-duty border rods to support the sides and edges of this mattress.
Sizes: This standard-sized mattress measures 27.75 inches wide by 52 inches long, and it also fits toddler beds.
Thickness: At six inches thick, standard fitted sheets fit this mattress snugly.
Comfort: This particular mattress offers ample firmness and support for infants along with cushiony softness for toddlers.
Durability: Although the mattress does come with metal supports around the edges and high-quality materials, it does not seem to last beyond the first couple of years.
Safety: Thanks to the firmness, this mattress is incredibly safe for newborns. It fits nicely into the crib, and it does not contain any substance that could be harmful to your baby's health.
Age and Weight Limit: This mattress will suit babies and children weighing between five and 60 pounds.
Click here to check the price of the Naturepedic Organic Crib Mattress
Pros and Cons
Pros
The Naturepedic Organic crib mattress does not contain potentially dangerous polyurethane foam for support. Instead, it uses all-natural 100% organic cotton fill.
The mattress meets federal and state flammability requirements without the use of fire-retardant chemicals.
This product is GREENGUARD certified, and this company's products win numerous awards each year in multiple categories for infant bedding.
The rounded corners allow it to fit snugly inside a crib or toddler bed without concern for potentially dangerous gaps.
The cover protects from dust mites, allergens, and microbes, it is waterproof, and it is simple to just wipe clean.
Cons
The mattress cover has a plastic-like feel and does make some noise when baby moves about.
Innersprings do not provide the same type or amount of support as memory foam does.
Some purchasers have noted that the mattress no longer looks or feels as firm as it did new, even after as few as three months of use.
The product is one of the most expensive of its type and may not fit all budgets.
At 50 pounds, this is also one of the heaviest mattresses of its type. Many parents mention that it takes two people to change sheets or flip the mattress over.
Consumer Thoughts
Naturepedic Organic Crib Mattress Review
Comfort
Durability
Firmness
Smell
Summary
We like this mattress because it foregoes many of the potentially harmful materials that mattress manufacturers tend to use in order to make the product flame retardant.
Find out what consumers are saying right here.
This product receives good reviews overall and many parents and caregivers are pleased that the mattress contains no potentially harmful chemicals or materials. It does rank highly in terms of "organic" mattresses, and buyers themselves can sleep better at night knowing that their babies are protected.
As far as problems are concerned, reviewers did note a few which were concerning – particularly in this price range. Some buyers received mattresses that appeared "bowed" in the middle, as if the cotton filling had bunched up in the center. A few others claim that while the cover is certainly easy to wipe clean, it lacks breathability and often causes their infants to sleep hot and uncomfortably. What's more, they say that the cover "crinkles" loudly and often wakes their babies. A simple cotton mattress pad or external cover can resolve both of these issues.
Although a few reviewers did mention that there is a "new mattress smell" that they did not expect with an organic mattress, bear in mind that the cover is made of plastic and will emit odors when it is new. This is food-grade plastic that is 100% non-toxic, and the odor should dissipate within the first 72 hours after the mattress is unwrapped.
Last, but most certainly not least, consumers were truly surprised by the sheer weight of this mattress. While the 50-pound weight was not an issue with all buyers, some claimed that changing sheets alone was quite the chore since lifting only one corner was quite the workout.
Naturepedic Organic Crib Mattress Review: Our Verdict
We like this mattress because it foregoes many of the potentially harmful materials that mattress manufacturers tend to use in order to make the product flame retardant. However, the Naturepedic Organic crib mattress is quite pricey, so be sure to consider your budget before making your final choice. All in all, parents who want to make absolutely certain that their children are not exposed to harmful chemicals can feel great about this product. It offers just the right amount of firmness for newborns, but because it is not dual-purpose, it retains this firmness even after switching it to a toddler bed.
Where to buy?
You can purchase from Amazon right here.