Last Updated: August 2017
Memory foam is one of the most sought-after materials in today's beds. However, before you make a purchasing decision, it is important to consider the mattress thickness. Memory foam thickness ultimately determines how comfortable you will be as you sleep, and how much the mattress will support your body.
Memory Foam Layers
Most memory foam beds have two or three layers, and some even have more. The first layer, known as the top layer, is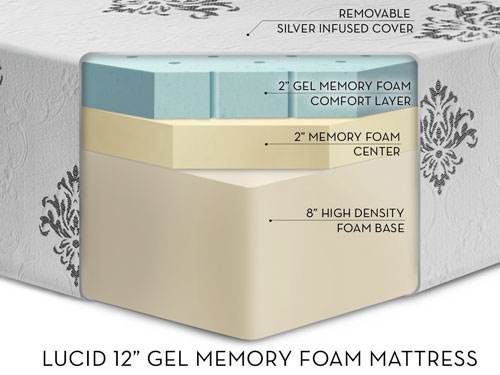 Designed to keep you cool and cushion your body as you sleep. It may be anywhere from one to four inches thick, on average, and it usually contains innovative materials that allow plenty of airflows while providing a perfectly contoured sleeping surface. The second layer, known as the support layer, comes in a variety of densities and is designed to provide you with support as you sleep. The denser and thinner the layer of support foam, the firmer it will be. Conversely, the thicker and less dense the foam, the softer it will be. You can find memory foam in a variety of mattress thickness options, and it is up to you to determine which works best for your needs and preferences.
Standard Mattress Thickness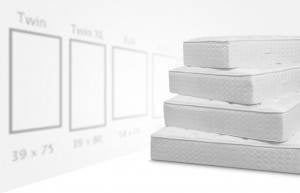 When it comes to memory foam, there is no real standard mattress thickness. On average, you can find beds that range in thickness from six inches all the way up to 14 inches or more. Only a handful of these is made completely of memory foam, too. In most cases, the memory foam makes up only the topmost layer and a different type of denser foam makes up the rest. Any memory foam thickness will allow you to truly reap the benefits of a pressure-sensitive sleep system, but the thickness you choose will affect your overall comfort. If you currently sleep on a spring mattress, consider your preferences. For instance, if you prefer a firm sleeping surface, then you will want to purchase a thick memory foam mattress with a high-density support layer – usually up to six pounds per cubic foot. If you prefer a softer surface, choose a thinner, lower-density support layer that offers a density of two to three pounds per cubic foot.
How Your Weight Affects Memory Foam Thickness
Memory foam is designed to cradle and cushion your body by supporting every square inch equally. Unlike a spring mattress which creates pressure points, memory foam distributes the weight of your body evenly. As such, the more you weigh, the more support you will need. For most adults, a three- to four-inch top layer of memory foam is typically enough. However, adults who weigh 350 pounds or more may need an additional two inches of memory foam. Twin mattress thickness and king mattress thickness are the same because the length and width of the mattress have no effect on its thickness or vice versa. However, if you will co-sleep with a spouse, then you may want some extra king or queen mattress thickness to support both of your weights as you sleep.
For the most part, choosing the best memory foam mattress thickness for your needs comes down to your weight, whether or not you sleep with a partner, and your personal preferences. Memory foam mattress thickness has much to do with your comfort and the amount of support your body receives as you sleep. You should choose a thicker, higher density mattress for more support and firmness or a thinner, lower density mattress for softness.
Now that you understand the various thicknesses of a mattress, it's time to begin shopping for one. Click here to read our buyers guide to finding the perfect memory foam mattress today!
Take a look at our essential guides:
Mattress Guides
Pillow Guides
Topper Guides
General Guides
Maintenance