Let's face it, a "bad back" is no longer exclusive to senior citizens. Over-doing exercise, past injuries and simply lifting the wrong way can result in a painful start to a slow morning if you haven't slept well the night before. That's where your mattress can make all the difference. While memory foam is known for its ability to cradle your contours and provide superior support that alleviates pressure on key joints, some are better than others when it comes to taking care of your back and lower lumbar region.
According to Cornell University's Ergonomics group, tips for buying a mattress that helps to alleviate and prevent back pain include:
Conforming to your spine's natural curves and maintaining neutral spinal alignment
Evenly distributing body weight to help alleviate pressure and promote circulation
Isolating motion to prevent the transfer of movement when partners toss and turn in the night and your body naturally tenses to adjust.
Providing edge support that prevent over-stressing your back when getting in and out of bed.
This is where Memory Foam Doctor can help. We've reviewed some of the top mattress brands in North America, sorted them by support levels, fabrication and even their suitability to various sleep styles to provide you with a comprehensive comparison of the various benefits each brings to the table.
We've also taken a look at which are best when it comes to delivering responsive support and optimal spinal alignment. Now the Saatva brand delivers big time with their aptly named Saatva mattress that comes in 3 levels of firmness as well as their off-shoot brand Loom & Leaf whose superior grade mattress comes in 2 firmness levels. Let's take a look at both brands.
Background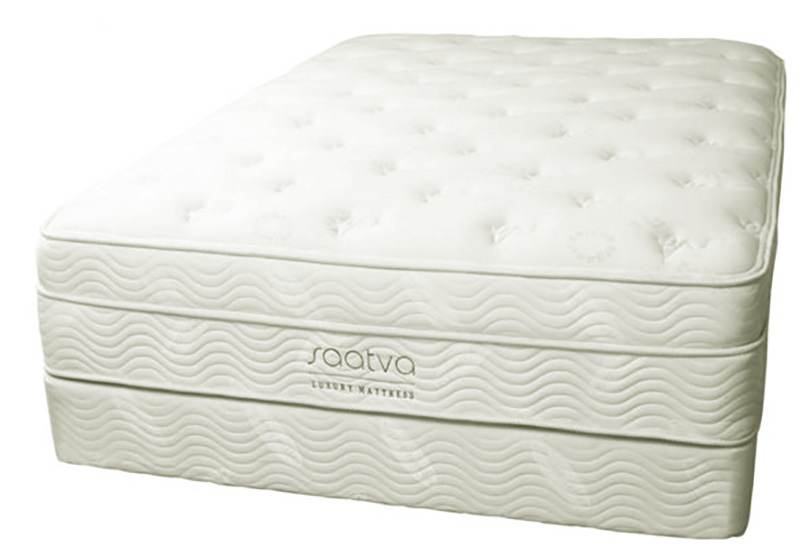 US-based Saatva is a pioneer when it comes to the on-line mattress industry having been the first to ever sell their luxury memory foam mattresses without the middle man and pricey retail storefront. Constructed entirely in the United States, Saatva is quickly becoming a household name with the 7-year new organization reaching sales of almost $180 million in 2016. In addition to their on-line sales format, Saavta uses only organic cottons, plant-based foams and botanical anti-microbial fabric treatments in the manufacturer of their top-of-the-line memory foam mattresses which makes them a great option for allergy sufferers.
Why is Saatva a Great Mattress for Those with Back Pain?
The Saatva mattress contains their proprietary "Spinal Zone" sleep technology that works with over 850 individually pocketed coils to instantly respond to your body's contours and alleviate pressure on key joints regardless of body weight or sleep position. This level of support translates into curve-hugging comfort that prevents gaps and your lower back from "floating" to deliver optimum spinal alignment. In fact, this mattress has the official Chiropractic Seal of Approval.
Construction
Cover
A really nice feature of the luxury Saatva mattress is its 100% organic cotton cover that is both breathable to ensure continual air flow through the night for an always cooler, more comfortable sleep and also treated with the brand's exclusive botanical anti-microbial treatment which helps prevent the growth of bacteria for a continually fresh, longer-life mattress cover.
Top Layer
The upper layer of the Saatva mattress it an ultra-plush Euro-style pillow top that uses their eco-friendly bio foam to delivers super soft cushioning regardless of your body type or sleep position. And because this top layer of foam is stitched firmly under the cover layer versus on top of it, you'll never experience the annoying shifting and slipping that can happen with typical pillow tops over time.
Second Layer
The manufacturers at Saatva have added a little extra cushioning with this 1-inch thick layer of memory foam. Essentially, it delivers one more layer of support that is particularly important for your back and lower lumbar region without adding a lot more height to the already 14.5-inch thick mattress body. The slimmer depth also prevents "sinkage" – a sensation that can happen with heavier layers of memory foam which can make it difficult to move around on.
Third Layer
With over 884 individually pocketed contour coils, the Saatva's 4-inch thick comfort coil layer uses tempered steel springs that are wrapped in the brand's premium quality bio-foam for added comfort. Individual wrapping allows each coil to move independent of one another for faster, more accurate adaption to your body's curves. So regardless of how often you move around in the night, this luxury memory foam mattress quite literally "has your back".
Fourth Layer
Setting the Saatva hybrid memory foam mattress apart from the competition is their coil-on-coil construction that features a second layer of more than 416 -hand-tied hourglass-shaped coils for additional contouring support. Made from 13-gauge tempered steel for extra strength and superior durability, this additional layer not only delivers uniform overall support to your sleep surface but helps to protect your investment in this new mattress by ensuring it retains its shape for many years to come.
Additional Benefits
Minimal Off-Gassing
By choosing to not use ozone-depleting chemicals, heavy metals or formaldehyde in the production of their memory foams, the Saatva mattress is free of the off-gassing that can be common in standard memory foam mattresses. This important feature makes it an ideal choice for those prone to allergies.
Dual-Perimeter Edge Supports
Using a separate edge support, the Saatva memory foam mattress can deliver a longer-wearing mattress that won't sag over time because of foam-wrapped, steel contour coils along the entire outer edge.
Trial Period / Warranty
The Saatva brands offers all purchasers a 120-night trial period and 100% money back guarantee if you aren't happy with their mattress. Additionally, they will pick up the cost of returning the bed (one time only) and offer a 15-year warranty that covers any repairs or recovering. Both this trial period and warranty are longer than those offered by most memory foam mattress brands.
Background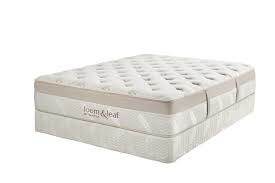 An off-shoot of luxury mattress company Saavta, Loom & Leaf is a fairly recent entry into the on-line bed-in-a-box market and is manufactured entirely in the United States. It's actually Saavta's latest addition to their collection of superior grade mattresses and as such, is constructed entirely from premium quality materials with the big differentiator between it and other brands being that it uses a plant-based memory foam for zero off-gassing.
Why is Loom & Leaf's A Great Mattress for Those with Back Pain?
Loom & Leaf's contouring memory foam is designed to instantly adapt itself to your body's natural curves each and every time you move. This means that regardless of how often you turn over in the night, your body weight is distributed evenly across the entire sleep surface, stress taken off of major joints and circulation improved. More importantly, your lower lumbar region is continually supported and a neutral spinal alignment is maintained throughout the night. The brand's 12-inch thick Relaxed Firm memory foam mattress also features an extra level of support that runs the entire length of your body.
Construction
Cover
Made from 100% pure organic cotton and natural thistle, the Loom & Leaf mattress cover is highly breathable for a continually cool sleep surface. And to add a little more cozy-comfort to your sleep experience, the manufacturer has bonded the cover to a plush 5/8-inch layer of quilted foam.
Top Layer
A 2-inch thick layer of eco-friendly gel-swirl memory foam helps to ensure the cooling gel used in this top layer is evenly distributed across the entire mattress top. This new technology effectively eliminates hot spots where body heat can collect and result in an uncomfortable, too-warm sleep surface. What makes this feature ideal for those with back pain is the proprietary Spinal Zone Gel panel that has been strategically placed to target your lower spine and hip area, where heat can build up and result in an uncomfortable sleep.
Second Layer
Loom & Leaf's second layer uses a 2.5-inch thick layer of dense, 5-pound visco-elastic memory foam. This super-dense foam delivers deep compression support that is ideal for cradling your natural curves and supporting the lower lumbar region, but because it is a little firmer you won't experience that sinking-into-the-mattress feeling typical with some memory foam products.
Third Layer
The 2-inch thick transition layer of foam used in the Relaxed Firm mattress provides uniform buffering between the stiffer, high-density base and the top comfort layers.
Fourth Layer
Loom & Leaf uses a thicker, 5.5-inch layer of high-density poly foam to deliver, uniform support to the upper three layers of this luxury mattress. This ensures not only ideal spinal alignment but a longer wearing mattress and because this foam is made with breathable air channels, it also guarantees you'll sleep cooler.
Additional Benefits
Minimal Off-Gassing
Off-gassing is a common complaint with new memory foam mattresses however because Loom & Leaf constructs their mattresses using organic cotton and plant-based foam, there is zero off-gassing – an important feature for allergy sufferers.
Motion Isolation
Because of the thick, multiple layers of specialty foams, Loom & Leaf's Relaxed Firm mattress effectively distributes your body weight across the entire sleep surface to isolate motion and eliminate the sleep disturbances that can come from partners who toss and turn in the night.
Trial Period / Warranty
Both the generous, 120-night trial period and the 15-year warranty (with 100% money back guarantee) on the Loom & Leaf Relaxed Firm memory foam mattress are substantially longer than most mattresses. They also offer free deliver and removal of your existing mattress.