Last Updated: November 2017
If you find yourself waking up with a stiff neck morning after morning, or if you experience sharp pain when you turn or tilt your head, don't be too quick to blame it on your job or even your age. It could be your pillow causing you the pain, and swapping to a better pillow for neck pain could make all the difference.
What causes neck pain?
As you sleep, your body relaxes into position. Unless your spine is in proper alignment as you relax, there is no denying that you will experience aches and pains in your neck. Instead of trying to find just the right sleeping position for your neck, make sure that you're buying (and using) the right type of pillow for your sleep style. For instance, a back sleeper needs a completely different type of pillow than someone who sleeps on his or her stomach since different positions put pressure on different groups of muscles. Remember: the straighter you can keep your spine as you sleep, from your feet all the way up to your head, the less your muscles have to compensate for your posture, and the more rested you will feel.
Can Neck Pain Cause Headaches?
When your spine is out of alignment as you sleep, the muscles surrounding your neck and head try to make up for that lack of support. This is why you will wake up feeling stiff if your head isn't properly supported, and in fact, the tension in these muscles can actually cause significant headaches over time. The muscles in the back of your neck can cause dull headaches which can persist all throughout the day whenever they have to work to support your head during the night. Thus, whether you're experiencing neck pain, headaches, or both, it could all be as simple as sleeping on the wrong pillow. That's why you need to do some research to find the best pillow for neck pain and headaches.
Finding the Best Pillows for Neck Pain  
When it comes down to making a decision, there are several unique factors you need to consider. We've come up with the following list of considerations that you should make each and every time you shop for the best pillow for head and neck pain.
Make sure the pillow will not flatten over time. A flat pillow can't provide you with any real support, and once it goes flat (and stays flat, in the case of memory foam), there is no reviving it.
Don't buy a pregnancy pillow or any other type of specialty to sleep on. Using the wrong type of pillow can make your pain worse instead of better.
If you sleep on your side, make sure that you're using a knee or body pillow in conjunction with the best pillows for neck pain. Keeping your knees separated will help align your spine.
Try not to use more than one pillow, which can tilt your head and throw your spine out of alignment. Choose a single pillow that provides the sleep support you need. If you need more than one pillow, then you don't have the right one.
Use a pillow that suits your most common sleeping position. If you sleep on your side or your stomach, you'll want a pillow that is relatively flat. Conversely, if you sleep on your back, you may prefer a contoured surface that cradles your head and neck. If you tend to swap positions throughout the night, choose a pillow that you can fluff and flatten as needed.
Make sure that the pillow is wide enough for your head and neck, and make sure that you rest your neck on your pillow when you sleep. Putting a pillow only under your head leaves your neck unsupported, which can cause neck aches and stiffness. If you're a back sleeper, try a contoured pillow with a groove for your head. These tend to provide the best neck support and therefore the best pain relief.
May Memory Foam Pillow Deals
Each month we update this section with the best recommendations within various price brackets and also include the best memory foam pillow deals currently on the market, check out below for this months recommendations!
Please note: these discounts were sourced on the 1st May 2016 and may have changed.
Memory Foam is Best
There are several types of pillows out there from which you can choose. Many of the cheaper pillows are made of polyfiber fill, which does next to nothing in terms of providing you with support. Even expensive down-filled pillows can't offer the same level of support that a medium or firm memory foam pillow can, and the best part is that high-quality memory foam won't flatten over time like down or polyfiber. Remember that the entire goal of choosing a new pillow is to find one that offers just the right amount of support. There is no other material out there that can conform to the weight and shape of your head and neck like memory foam.
The Best Pillows for Neck Pain and Headaches
*5 Star Rating: this is based on the percentage of consumers who rate the pillows 10/10.
#1 – Snuggle-Pedic Shredded Style Memory Foam Pillow
Finally, the Snuggle-Pedic shredded foam pillow takes the number one position. Although it is a bit more expensive than some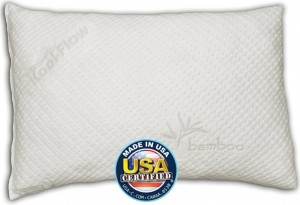 of the other options on this list, you'll get a 90-day money back guarantee (so you can return it if your neck pain does not improve) along with an industry-leading 20-year warranty! This pillow has no chemical odor whatsoever, and the shredded foam technology helps you stay cool all night long without the need for layers of potentially uncomfortable bubble gel. This pillow seems to conform its height to the weight of your head; simply fluff it up a bit, then lay back and let it settle. It does a great job of keeping your spine perfectly aligned, whether you sleep on your back, your side, or your stomach.
Best for: absolutely anyone. This comes close to being the world's most perfect pillow since it adjusts to your needs no matter how you sleep.
Check Price
#2 – Sleep Better Iso-Cool Memory Foam Bed Pillow
This pillow comes in a variety of sizes to suit absolutely anyone. The standard pillow is best for stomach sleepers, the contour option works best for back sleepers, and there's even a gusseted option for those who sleep on their sides. This particular pillow is hypoallergenic and contains visco-elastic memory foam, and the cover is easy to remove and wash. This pillow takes the number two spot on our list of the best pillows for neck pain and headaches because there is truly something for everyone, and each model contains Iso-Cool technology that is guaranteed to provide a cool sleeping surface all night, every night.
Best for: anyone depending on the style chosen.
Check Price
#3 – Coop Home Goods Shredded Memory Foam Pillow
This pillow from Coop Home Goods is ranked at number three on our list of the best pillows for headaches and neck aches

because it offers up the best of both worlds. Traditional down and polyfiber pillows cannot provide the necessary support, but memory foam tends to trap body heat over time. Coop Home Goods manufactures this shredded memory foam pillow that is both supportive and cooling so that you can stay comfortable all throughout the night and wake up pain free. The pillow is hypoallergenic and naturally antimicrobial, and it resists dust mites for a lifetime. Unlike other memory foam pillows, you can fluff it up or thin it out for just the right amount of height.
Best for: anyone who loves the feel of memory foam but does not like the "hot" sleep they often provide.
Check Price
#4 – Z Zoned Dough Gel-Infused Memory Foam Pillow
This is one of the thickest pillows out there today, and it is a great choice for side, stomach, and back sleepers. The "doughy" texture provides a cushioning sensation that makes your head feel cradled all night long. The dough is gel infused, and the pillow itself has many air channels that are designed to keep you cool and comfortable the whole night through. Because it has an open-cell construction, the pillow is quite durable. Z backs this product with a five-year limited warranty. What's more, the rayon cover is constructed from renewable bamboo, and it is easily machine washable.
Best for: those who change positions throughout the night and need support.
Check Price
#5 – Chiroflow Pro Premium Waterbase Pillow
This is a water-filled pillow, which is quite unusual these days, but it does offer up some unique opportunities to adjust the firmness to your liking. The water pocket is surrounded by a thermal layer to keep you nice and warm, and the water offers ample support. However, this pillow has a tendency to feel "hard" after a while of lying on it; this is often the case with waterbeds and pillows. Although this isn't our top pick, those who prefer the sensation may enjoy this level of support. It uses ordinary tap water and requires no chemical additives. The cover is machine washable.
Best for: back and side sleepers who typically do not enjoy the sensation of sleeping on memory foam.
Check Price
Feeling the Difference – How Long Does It Take?
Now that you understand what you're looking for in a pillow for neck pain and headaches, you might want to know how long it will take to really notice a difference. Many consumers who find the right pillow for their unique sleep habits report an obvious difference within the very first week of use, noting that they no longer feel quite as stiff when they wake in the morning, and that tilting or turning their heads no longer produces the same amount of pain. Consumers also note that the pain was all but gone within a month to six weeks of using the correct pillow – a true testament to the importance of choosing not only the right mattress, but also the right pillow.
In short, if you experience neck pain, stiffness, or headaches, your pillow might be to blame. Using the guide above, find a memory foam option that suits your unique preferences, needs, and sleeping position, and don't forget to utilize body pillows when needed to keep your spine in alignment. It won't take long until you start to feel the relief and wake up feeling rested and refreshed.
For more information about finding the best pillow check out our pillow buyers guide here. If you are a side sleeper then definitely check out our recommendations for side sleepers here. If you have back pain please check our guide to the best mattresses for back pain here. Also check out our guide to the best mattresses for side sleepers here.