Last Updated: January 2020
If you have problems sleeping, or would just prefer a better night's sleep, it may be time to consider purchasing a memory foam pillow. Memory foam has been on the market since the 1980's (after being developed by NASA in 1966) and is popular in the medical and sports industries. With improved manufacturing processes, the material has become much more affordable and as a result found its way into the homes of residents worldwide.
E

ditor's Note

Thank you for visiting my website. I've done my best to provide you with the most in-depth consumer guide with honest and accurate information relating to the best memory foam pillows currently on the market. A significant amount of time has been invested in providing you with this information, so I do hope you find it useful.

#1 Memory Foam Pillow: While we would love for you to read our entire buyers guide, I appreciate you may not have the time. If you are looking for the best memory foam pillow, then allow us to tell you right now that 99% of consumers will be thrilled with the 'Coop Home Goods Shredded Pillow'.

Click here to view the Coop Home Goods Shredded Memory Foam Pillow

#1 Memory Foam Contour Pillow: If by any chance you are looking for the best contour pillow then this is our number one choice: Classic Brands Contour Pillow.

Click here to view the Classic Brands Contour Pillow

Top 5 Memory Foam Pillows of 2020

*5 Star Rating: this is based on the percentage of consumers who rate the memory foam pillows 10/10.

Memory Foam Pillow Deals

Each month we update this section with the best recommendations within various price brackets and also include the best memory foam pillow deals currently on the market, check out below for this month's recommendations!



What makes memory foam so special?
It was initially created by NASA for the safety of aircraft passengers. It is a polyurethane material which has been modified with chemicals to increase viscosity and density. It is heat sensitive and softens to body heat which allows it to mold into a comfortable and supportive shape. This is why the material has been used in medical applications in particular and is known to provide support on some different levels not found in other bedding products.
Who would benefit from a Memory foam pillow?
If you find it difficult to fall asleep, or you wake up with severe pain in your neck or back, then upgrading to one of these pillows may provide the relief you need as they have a number of health benefits. The same goes for people who wake up fatigued (a symptom of sleeping poorly), with headaches or migraines, suffer from arthritis or sleep apnea, or are heavy snorers. The pillows are designed to keep your spine aligned while you sleep which helps to prevent nerves from becoming trapped and improve blood flow.
Also, be sure to check out:
What you need to know:
Pros
Well known to provide pain relief for a number of ailments (including chronic back and neck pain)
Highest rated pillow on the market – regarding comfort and support.
Above average motion isolation and pressure point relief.
A wide range of choice based on requirements (i.e. contoured and traditional shape) and budget.
They are hyper-allergenic.
Cons
Contain an unpleasant odor when new and need airing at first.
Heat retention – although recent gel infused pillows mitigate this.
Firmer than regular pillows which some people might not like.
Our memory foam pillow reviews
There is a wide range of brands currently on the market, and as you know, not all products are created equal. In fact, it can be very difficult to find the best memory foam pillow for your needs, which is why we are here to provide genuine reviews. By reading our in-depth pillow reviews, you'll be able to narrow down your search and make a well-informed decision – which helps to ensure that you're happy with your purchase from the get-go.
Best Memory Foam Pillows of 2020
We shall be updating this page in the up and coming weeks with our initial recommendations of the best pillows to purchase in 2016. We will be analyzing the performance of particular pillow brands and specific pillow products of 2015, covering the best sellers, up and coming as well as new to market brands and products.
Check out our recommendations below
Best Bamboo Pillows of 2020
Offering a luxurious, silky smooth feel while providing the comfort and support.
Bamboo pillows are well known for their environmentally friendly, hypoallergenic properties; they are considered to be the best type of pillow for people who suffer from allergies due to the dust mite resistance they obtain. After surveying more than 25,000 users of bamboo pillows, we concluded that the bamboo fabric within the pillow cover helped users to manage their allergy symptoms, often reducing their symptoms drastically. Also, as bamboo is a natural hypoallergenic, it helps to eliminate bacteria and fungus which is often the cause of these allergies.
The memory foam within bamboo pillows offers those who suffer from neck or back pain, pain relief by reducing pressure points and helping to balance the bodies natural weight evenly and unlike many other types of pillow, you will not get teary eyes or sneezing from these pillows.
Lifespan & Warranty
Most users have reported that their bamboo pillows have lasted for at least five years, with the average lifespan being reported as five years and eight months. Also, note that most manufacturers offer a warranty of up to 5 years in which they guarantee that the pillows will not go flat.
Cleaning & Maintenance
Bamboo pillows are very easy to clean; most are machine washable, and manufacturers recommend cleaning the pillows every six months to maintain the shape and comfort of the pillow.
Price Range
For the added benefits of a bamboo pillow, they don't come at a significant extra cost, the majority of bamboo memory foam pillows cost between $50-$60.
Below you will find the best memory foam pillows that we recommend for you – if you are looking for the best bamboo pillow, then our first choice is the right choice for you.
Our most recommended pillows
Below are our two best recommendations, based on the data we have collected, analyzed and the product scores we have calculated these two pillows come out on top.
#1 Most Recommended – Shredded Coop Home Goods King & Queen size Pillow

The Coop Home Goods 'Shredded Memory Foam Pillow with Bamboo Cover' is the best selling pillow on Amazon and quite rightly so. This fantastic US manufactured pillow is both hypoallergenic and dust mite resistant.
Best for those who are looking for the best bamboo pillow, best memory foam pillow – neck and back pain sufferers and those who have allergies!
It comes with a 30-day free trial and a five-year warranty (not that this will matter).
A handful of the features and benefits of the Coop Home Goods shredded pillow are:
It provides plushness, breathability & shape-ability.
It provides the support of memory foam.
It keeps you cool at night.
Overall, if you are looking for a memory foam pillow that provides support and pressure relief, that isn't too hot and stuffy then this is the perfect choice for you.
Click here to view the Coop Home Goods Pillow
#2 Most Recommend – Classic Brands Conforma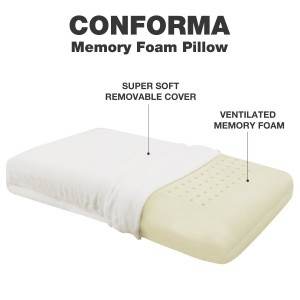 The Conforma memory foam pillow has long been one of our favorites and with such a huge consumer satisfaction rating it appears consumers agree!
Best for those who suffer from getting too hot in the night, back & side sleepers.
This pillow works by responding to the temperature and pressure of the user; it effortlessly molds around the user's head and neck, counter-balancing the weight and supporting you throughout the night. It has a medium to firm feel; it's not fully plush, but it is a little softer than a firm pillow. It's manufactured from premium ventilated memory foam which helps promote airflow which allows you to keep cool during sleep. If you suffer from allergies, worry no more as the Conforma pillow is naturally hypo-allergenic and perfect for side and back sleepers.
These are just a few of the features of the Conforma memory foam pillow:
Maximum Breathability

Great For Back & Side Sleepers

Knit Fabric Cover Promotes Airflow

Perfectly Contours to Head

Hypo_allergenic, Dust Mite Free

3 Year Warranty
Consumer feedback is essential when trying to find the best memory foam pillow, and it is evident that the Conforma pillow ticks all the right boxes. With over 1,600 consumers rating this pillow at 4.2 out of 5.0. It also comes with a three-year warranty that protects you against any manufacturer defects. If you are looking for a top rated memory foam pillow, then you should choose the Conforma pillow by Classic Brands. It delivers a consistent premium product which supports a cool and comfortable sleep all night long and at a very reasonable price.
How to Choose the Best Memory Foam Pillow?
There are various benefits of a memory foam pillow such as the soft touch, yet supportive nature of the material, the fact that it conforms to the head and supports the neck and lastly that they give unprecedented neck pain relief. Memory foam pillows come in various shapes, sizes, and styles including shredded, one-piece, contour and of course the traditional shape. The most popular type of pillow is the shredded memory foam pillow which we are going to discuss in greater detail below.
Shredded Memory Foam Pillows
These pillows consist of hundreds of separate pieces of memory foam (giving the name shredded) which when delivered are flattened out and compressed. The shredded memory foam pillow has significantly better air flow than many of its competitors, allowing you to sleep throughout the night without feeling hot and stuffy.
As the pillow is also made up of shredded memory foam, it is much more moldable allowing you to re-shape the pillow to fit your head. The only downside of the shredded pillow variety is the fact that they do tend to be slightly higher in price than other memory foam pillows.
As we have mentioned above, though, these are the number one best selling memory foam pillows and with good reason.
View the bestselling pillow here
Shape
There are a variety of shapes ranging from traditional and contoured to rolls and wedges.
Traditional – are great if you prefer the look of a regular pillow, but still, want the support offered by memory foam. They also offer increased airflow which makes these the "cooler" options.
Contoured – look similar to a traditional pillow although have a dip in the middle which helps to provide added support to the neck and back. These pillows are better at alleviating snowing, aligning the spine and increasing circulation.
Neckroll – are great for their multitude of uses. For instance, while they are great at assisting with neck and back pain when used on the bed, they can be used as a throw pillow while watching TV to relaxing, or for added comfort on long journeys.
Egg Crate – are memory foam pillows with lumps on them which are designed to offer additional support and increased airflow while sleeping. These are best for people who enjoy sleeping on their sides or back.
Wedge  – are great for some uses. For instance, they are designed to elevate the body and prevent or reduce issues such as acid reflux and snoring. The pillows can also be used when a condition may require you to be propped up, or to relax while reading a book.
V-Shaped – are great options for people who like sleeping on their stomach. It's designed to make it comfortable for the head and neck while lying face down, removing stress and pressure from the neck.
Size
Pillows come in a variety of sizes, so it's best to choose one that you think best suits your needs and mattress size.
Density
Pillows range in density from low density (soft at 1 pounds) to high density (hard at 5 pounds). It's important to keep in mind that choosing a low-density pillow will be more comfortable, but will provide less support than a high-density option. On the other hand, while higher density pillows are harder, after several uses they are known to soften up a little.
Gel
Some pillows come with a cooling gel which helps to eliminate some of the concerns regarding the heat retention properties of memory foam and provide added comfort. Some have a gel coating on one side and regular memory foam on the other, while others are infused with gel.
Warranty
Before purchasing your pillow, it's important to check the product's warranty. Most of the top options have a warranty of at least five years which means that the manufacturer stands by their product.
Our three memory foam pillow recommendations
With the above pointers in mind, we've selected our best 3 for you to select from. These pillows have been purchased by thousands of people, and all scored an average rating of at least 4 out of 5 stars.
1. My Stunning Abode Pillows
The best contour memory foam pillow
With such strong customer reviews, it's very difficult to look elsewhere than the My Stunning Abode, 262 customers rated this product an average of 4.2 out of 5 for its comfort, durability & general use.
Featuring a Bamboo cover for easy breathing, this memory foam pillow aligns your spine as you sleep with ergonomic contouring giving you less stiffness in your neck & back when you wake up in the morning.
Visit Retailer
2. Sleep Better Iso Pillows
The best memory foam cooling pillow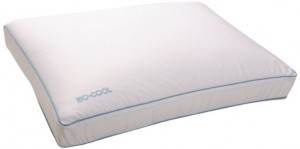 Another big winner is the Sleep Better ISO memory foam pillow, it has a longer product life than the My Stunning Abode, however during that time, the average consumer rating has fallen slightly below. With 2,999 customers rating the Sleep Better ISO 3.9 out of 5 for comfort, durability, and general use.
Made in the USA, the Sleep Better ISO has microscopic PCM beads that absorb heat and feel cool & a gusseted design which helps maximize comfort for side sleepers.
Visit Retailer
3. Coop Home Goods Pillows
The best shredded memory foam pillow
With very strong customer feedback, we couldn't have our best three memory pillow recommendations without having the shredded memory foam pillow product by Coop Home Goods.
This product has an average customer rating of 4.6 out of 5, with a whopping 1,740 customer reviews and more being added daily. The cover has been made from a combination of Polyester and Bamboo for easy breathing, while the inner is a shredded Visco elastic memory foam allowing the pillow to mold comfortably to your needs.
Visit Retailer
FAQ
How long will my pillow last?
While a warranty is always a good way to measure how long a product has been "backed" to last, memory foam is well known as a durable material that can last much longer than conventional bedding.
Do memory foam pillows need to be washed?
These pillows need to be washed on the odd occasion just like regular pillows. While it isn't possible to put them in a washing machine, the best way to clean them is to vacuum them, spray with a detergent and wipe down.
Can I use a cover with my pillow?
Many memory foam pillows come with a cover, although it's not a problem at all to use your cover. Just keep in mind that any particularly thick covers may detract from the health benefits of memory foam pillows.
Is the pillow guaranteed to alleviate back and neck pain?
These pillows have a proven ability to alleviate health problems and are particularly famous for helping with back and neck pain. Having said that, there is never a guarantee when it comes to chronic pain, and the only way to know for sure is to try it out for yourself. It's also worth looking at memory foam pillow reviews prior to purchasing to see who has had relief and who hasn't.