Last Updated: January 2020
A memory foam mattress is quite an investment and one that should serve you well for years to come. As such, you should take your time to choose the best mattress cover for memory foam mattresses to help you protect that investment.
No matter what mattress you purchase, it is usually a good idea to buy a mattress protector. The best mattress protectors perform a variety of functions, including safeguarding your mattress from stains such as urine, wine as well as spills and damage, maintaining the longevity of your mattress and making it much easier to clean the surface of your mattress. Many are hypoallergenic, protecting you from allergens, dust mites, and other harmful substances. It is even a good idea to purchase covers for mattresses that come with their own covers just in case you need a backup following an accident, washing or damage from a child or pet.
Mattress Protectors, Covers & Pads: a mattress protector can also be described as a mattress cover and mattress pad. If you are unsure please note that a mattress protector, mattress cover and mattress pad can be the same thing. Generally speaking, a mattress protector would be waterproof, whereas a cover is often non-waterproof.
Some standard mattress covers that arrive with your mattress also just don't cut it in terms of workmanship and durability, failing to keep your mattress dry and safe from soiling. They also may not offer some of the extra protection that the best mattress protectors offer, like containing bed bugs for simple removal. Mattress covers are inexpensive investments that can help your mattress last as long as its warranty ensures, if not a great deal longer! Some mattress covers are even known for keeping memory foam fresh without adding extra heat to your sleeping area. You can find the best mattress protectors and covers below in our recommendations area.
Two Types of Mattress Protectors (Covers & Pads)
There are two distinct categories of foam mattress covers: traditional covers and waterproof mattress covers. A traditional cover is designed to protect your mattress, but it does not provide a liquid-safe barrier. Conversely, a waterproof mattress cover does provide a barrier to protect your mattress in the event of a spill. For the most part, a waterproof cover is almost always the best value as it gives you added protection and helps to extend the life of your mattress.
Traditional Foam Mattress Protectors (Covers & Pads)
While a traditional foam mattress cover is generally not completely waterproof, it does offer up some protection against small spills and stains. The primary goal of such a cover is to keep dust, mites, and other allergens at bay, all while protecting the surface of your mattress. These covers are can sometimes be more comfortable than their waterproof counterparts, as well. However, if you are going to spend the money to protect your mattress, it is best to find a waterproof mattress cover. Despite the belief that these covers are uncomfortable and noisy, today's options are actually soft and pleasant.
Waterproof Mattress Protectors (Covers & Pads)
Waterproof mattress covers give you an extra layer of protection. Although these generally cost a little more than their non-waterproof counterparts, they are well worth the investment. When shopping for a waterproof cover, remember that the barrier often impacts the breathability of the mattress. As such, look for products made with natural fibers, where possible.
Our Best Mattress Protectors for Memory Foam in 2020
If you are looking for the best mattress protectors/covers for your mattress then please use the table below. This includes the best waterproof mattress protectors and the best mattress pads for memory foam mattresses.
*5 Star Rating: this is based on the percentage of consumers who rate the mattress protector 10/10.
#1 SafeRest Premium Hypoallergenic Waterproof Mattress Protector
This top-selling mattress cover has an excellent reputation for a reason. It not only provides an impermeable barrier between
you and your mattress, but it also helps protect your health. It protects against allergens, bacteria, dust mites, and liquids, and the soft cotton terry surface offers a premium sleep experience that is never noisy or "plastic" feeling, it also protects against urine, making it a great choice for consumers with incontinence or toddlers creeping into the bed at night. The fitted sheet style automatically adjusts itself beneath your mattress, and it is 100% machine washable. SafeRest guarantees that its mattress covers will not change the feel of your mattress, and that's why consumers rate it so highly. The mattress is vinyl-free and hypoallergenic, protecting you from dust mites and other allergens as well as bacteria. The mattress cover is registered as a Class 1 Medical Device and retains the same shape and feel of your mattress while you rest.
The SafeRest Premium mattress protector was considered to be the best mattress cover because of its use as well as its aesthetics. A waterproof cover, it has an elastic band to make it into a fitted sheet style product. It has a soft, cotton terry surface, making it more breathable than other covers on the market so you don't overheat in your sleep. It is machine washable. It is a safe cover made without the harmful phthalates or PVCs that many covers contain and it comes with a 10-year warranty for your peace of mind. Manufacturers recommend quarterly washing for best results with the mattress cover.
Visit Retailer
#2 – Luna Premium Waterproof Mattress Protector
Luna's mattress protector comes with an industry-leading 10-year warranty, so you know you're getting a great deal for your money. Despite the fact that it is completely waterproof, Luna's unique airflow technology it helps air circulate beneath your form while sleeping to prevent overheating from occurring. It is also formatted with comfort in mind, it's hypoallergenic , noiseless cotton terry material soft and pliable on top of memory foam. It is thin enough to retain the comfort level of the mattress while still being strong enough to repel any liquid that hits its surface. The surface is cotton terry, so it does not crinkle or make noise as you move. In fact, you will likely not even notice the mattress protector at all as you sleep. The product is 100% machine washable, too, which means you can keep it perfectly clean at all times. It is designed to fit mattresses with depths up to 18 inches.
The Luna Premium is considered a great mattress for people who suffer from allergies, and even asthma. It naturally absorbs moisture and blocks all allergens, bacteria and even bed bugs from entering the mattress itself, making cleanup a quick and painless affair. The protector is machine washable and has a fitted sheet style design to ensure a perfect fit over your mattress. The mattress cover is made in the USA and carries a 10-year warranty to provide you with confidence regarding your purchase. It is a safe option for pets and children, as it contains no vinyl, PVC, fire retardants or harmful phthalates.
Visit Retailer
#3 – Hanna Kay Premium 100% Waterproof Mattress Protector
Over 4,000 customers have declared the Hanna Kay Waterproof Mattress Protector to be the best mattress protector
for a memory foam mattress. It is made with cotton terry material to create the most thin, breathable cover without sacrificing functionality. It is designed to be so thin you don't even realize there is a cover on your mattress, yet so strong that liquids like water, sweat, and even urine cannot penetrate it, keeping your mattress stain-free and lovely. It does not contribute to your body heat during sleep, either. The mattress cover fits any mattress from 6 to 22 inches deep.
The hypoallergenic nature of the mattress cover ensures that allergy sufferers are free from dust mites and other allergens all night long. It also helps protect you from bacteria while you sleep. It traps these substances, as well as bed bugs, mold and fungus, on the top of your mattress, keeping them out of its interior where they can multiply and making it easy to get rid of them with a simple wash.  It is machine washable and comes with a 10-year worry-free guarantee to protect your investment. It is also made with mesh sides and easy to maneuver elastic bands, ensuring a tight, fitted sheet like fit.
Visit Retailer
#4 – LUCID Premium Hypoallergenic 100% Waterproof Mattress Protector
For many consumers, the best mattress cover is the LUCID Waterproof Mattress Protector. It is made with soft and
sleek cotton terry and polyurethane backing to create a quiet, thin layer of protection between you and your mattress. It is waterproof and hypoallergenic, creating a strong barrier between the mattress and any spills, sweating or even incontinence that occurs on the bed. Bacteria, allergens and even dust mites are trapped on top of the cover, not only keeping them from invading your mattress but also making it simple to clean them up when you wash the cover.
The LUCID Premium Hypoallergenic Mattress Protector is considered safe for children and pets. Some asthma sufferers even report that it has helped them manage their symptoms. It features deep pockets and stretchy elastic to fit your mattress like a fitted sheet. The cover's thin design ensures that it stays cool and does not add to your body heat while you sleep. Its manufacturers even offer a 15-year warranty for peace of mind, a guarantee that far outlasts many other leading mattress covers. Buyers should take care to tumble the cover dry and avoid bleaching, dry cleaning and ironing it for best results.
Visit Retailer
#5 – LINENSPA Premium Waterproof Mattress Protector
A product that is considered to be the best protector for memory foam by thousands of reviewers, the LINENSPA
Mattress Protector is a vinyl free, BPA free option with deep pockets that ensure a snug, smooth fit over your mattress. It is soft and thin to help retain the original shape and feel of your mattress and is made with noiseless polyurethane to keep your bedroom quiet. It is also hypoallergenic, protecting you from dust mites and other allergens while you sleep. It comes with a 10-year peace of mind warranty to ensure your mattress is well protected for many years to come.
To be considered the best memory foam mattress protector, a product should ensure that your memory foam lasts as long as possible without soiling or damage. That is what the LINENSPA Premium Mattress Protector does, using its 100% waterproof technology to protect your mattress from all liquids, whether they be juice, soup, sweat or even urine. Manufacturers recommend keeping memory foam as dry as possible to ensure its full lifespan and most reviewers agree that the LINENSPA mattress does the job. The mattress cover is machine washable and can fit any mattress up to 18 inches in depth.
Visit Retailer
Sky Bedding Mattress Protector
This is another example of a hyper-comfortable waterproof mattress cover that you have to feel to appreciate. Sky's option not
only helps to protect from mites, bedbugs, and allergies, but it also claims to be tough enough to handle even the biggest kid and pet messes. It fits mattresses ranging in height from six to 22 inches in height, and when it needs to be cleaned, simply toss it in the washing machine. Although this product does not have a cotton terry sleep surface, consumers say it is soft and does not change the feel of their existing mattresses.
Visit Retailer
HomeStyles Ultra Plush Mattress Protector
When you want to protect your memory foam mattress but your main concern is comfort, then the Ultra Plush mattress cover for memory foam from HomeStyles is the perfect choice. This product is absolutely luxurious, even when compared to covers with a cotton terry top. It offers a thicker waterproof barrier than other products of its type, and since the waterproof feature is a backing applied to the ultra-soft protector, it makes zero noise. It works with all beds from nine to 18" thick, and it is machine washable for super quick cleaning. This product also comes with a 10-year warranty for peace of mind.
Visit Retailer
Protect-A-Bed Premium Mattress Protector
This is another example of an excellent mattress cover for memory foam that is soft and supple to the touch, but absorbs fluid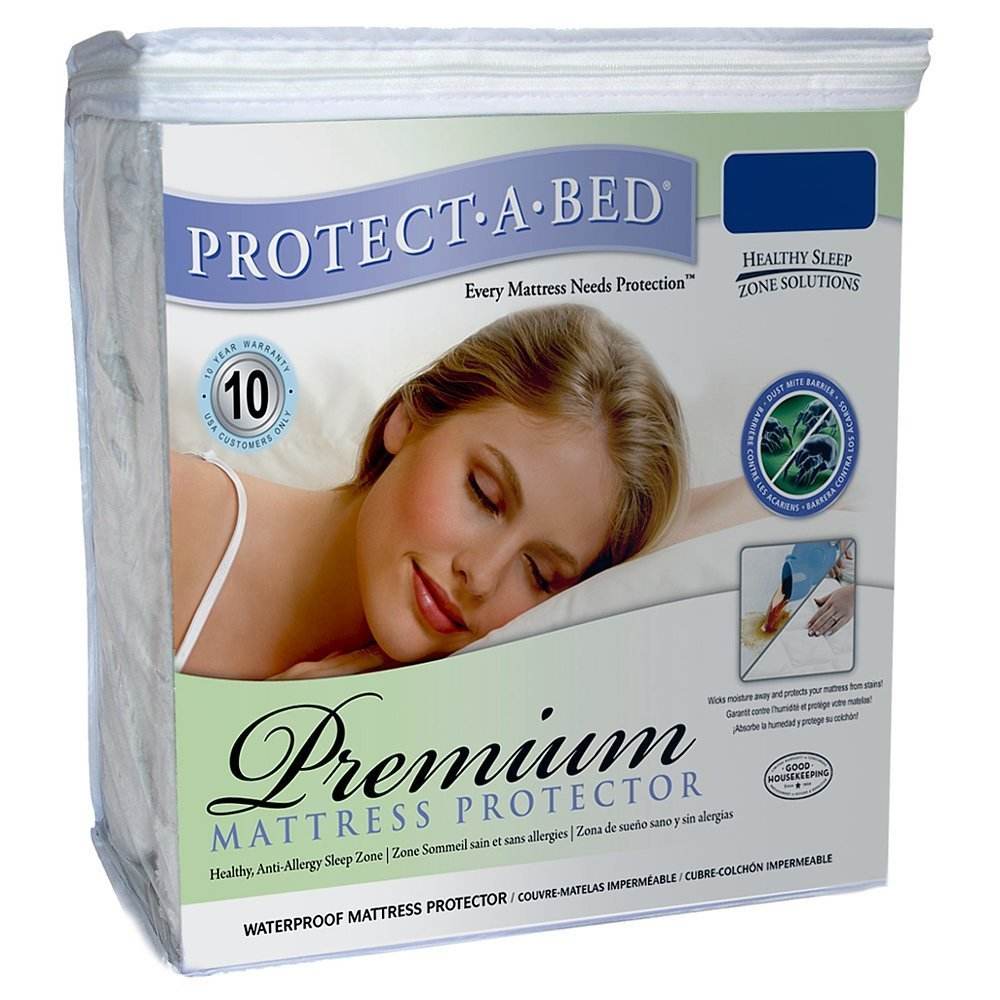 and keeps it away from your mattress thanks to an impermeable inner layer. What's more, this cover also protect your mattress from things like dust mite and allergens that can cause illness. This cover is like a fitted sheet; it does not completely enclose your mattress, but the fitted sides make it easy to put on and take off. When it gets dirty, just throw it in the laundry to clean it. Consumers recommend this product for use with a toddler or child as it is easy to use and does a great job of absorbing liquids.
Visit Retailer
Choosing a memory foam mattress cover does not have to be a daunting task, but with so many different options out there, you might feel overwhelmed. We recommend a breathable waterproof option to help extend the life of your mattress and keep you comfortable all night through. Our top pick is the SafeRest Premium Hypoallergenic Waterproof Mattress Protector, which offers the perfect balance between safety, comfort, and price.
How to select the best mattress protector (cover & pad)?
Selecting the best mattress protector for your needs does not have to be a pain or even a lengthy process. Check out the reviews for each of these popular products to find out which one might suit your mattress best. The biggest difference between the top models is the thickness of the mattress each protector covers, so be sure to select the correct mattress cover that will cover your entire mattress. They also work on futon mattresses. A cool wash is typically advisable for mattress covers to help prevent breakdown, but be sure to consult the instructions with your mattress protector to best care for it.
If you are purchasing mattress protectors for a facility, such as a hospital or nursing home, it is a good idea to buy multiple covers so you can easily switch them out and wash them more regularly than you would at home. Keep in mind that while mattress covers protect the top and sides of your mattress, they do leave the bottom area exposed. If you have concerns about pets, insects or other problems beneath the mattress you may wish to purchase an extra cover or linking to fit the underside of your mattress. Between sweat and other bodily fluids, children's messes, pet prints and late night snacks, it is always a good idea to protect an investment as important as your mattress with a strong but comfortable cover.