Last Updated: May 2017
Casper mattress first came onto the scene in 2014, and since then it has become one of the most beloved mattresses on the Internet mattress market. In fact, it is so popular that it is difficult to watch television, check the Internet or check your social media without seeing or hearing advertisements for the Casper mattress.
Like so many other mattresses that are available today, the Casper mattress is available for purchase online only. This eliminates the middle man, allowing you to purchase a mattress without feeling stress from a salesperson, and it also helps to reduce overhead costs, thus reducing the overall cost of the mattress.
The innovators behind the Casper mattress have a simple goal: To provide a mattress that offered the highest level of comfort and support for all sleepers. The company stays abreast of the latest sleep research. The creator of the Casper mattress also spoke to consumers, conferred with scientists and conducted focus groups so that they can pinpoint exactly what people were looking for in a mattress. They used the findings in their research to create a mattress that meets the needs of all sleepers. Casper mattresses are constructed of four layers of foam to deliver a high level of firmness, support, and coolness.
Casper mattresses are considered a top pick for online mattress options. In this buyer's guide, we will offer a detailed review of the mattress, and see if it truly delivers what it promises.
Constructed of four layers of high quality foam
Designed with the latest technologies and advances in science
An innovative and versatile design
Easy ordering, which is done online
Delivered right to your door
100 day trial period
Money back guarantee
10 year limited warranty
Minimal heat retention
Minimal off gassing
A one-size-fits most model, which does not accommodate the needs for all sleepers
It may be too soft or too firm for certain sleepers
Only one model available
No customization
A thin cover, weak cover that is prone to tearing
Our Score
Below is our final score of the Casper mattress based on multiple criteria that we use when testing all of our mattresses.
What's It Made From…
The Casper mattress is a 9.5 inch mattress that offers four separate layers of different types of foam. In other words, it is a hybrid foam mattress, which is highly regarded for providing exceptional cooling, while contouring to the body and offering stable support.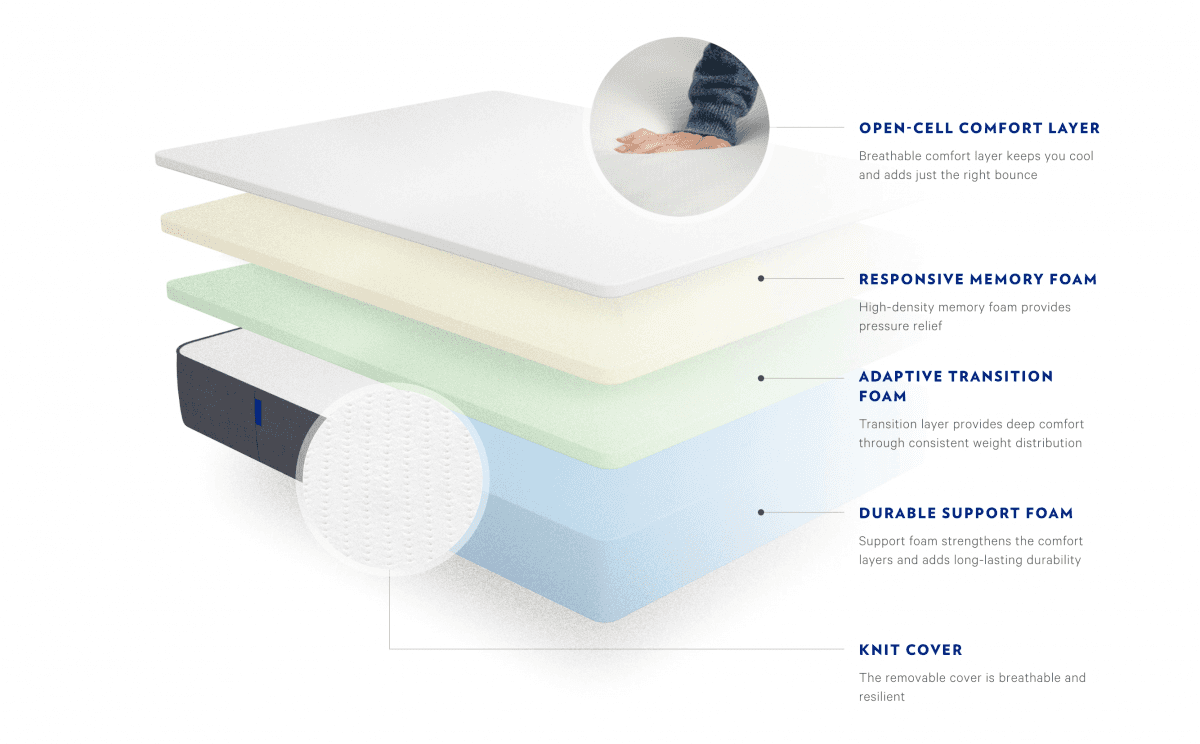 The four layers of the Casper mattress are comprised of:
5 inches of synthetic Dunlop latex foam
5 inches of memory foam
5 inches of poly foam
5 inches of support foam
Top Layer
The top layer of the Casper mattress is constructed of 1.5 inches of synthetic Dunlop latex foam. This foam gives the mattress its cooling power, as it does not retain a high level of heat and allows for heightened breathability, thus making it a cool surface to sleep on. Additionally, the Dunlop latex foam has a density of 3.3 pounds per cubic feet and gives is what provides the mattress with its 'bounce.'
Second Layer
The second layer of the Casper mattress is made of 1.5 inches of memory foam. This is the layer of the mattress that allows it to conform to the shape of the body. The memory foam improves support and aides in pressure relief. Heat retention is a common issue with memory foam, which is why Casper placed it below the top layer of synthetic Dunlop latex foam, as it prevents heat retention from building up, thus keeping the mattress cool. The memory foam layer of the Casper mattress has a density of 4.0 pounds per cubic feet.
Third Layer
The third layer of the Casper mattress is made of 1.5 inches of poly foam. This layer is intended to ease you into the base foam, thus providing increased support, while heightening the comfort level. The poly foam layer has a density of 2.5 pounds per cubic foot.
Bottom Layer
At the base of the Casper mattress is another 5 inches of poly foam. This layer serves as the foundation of the mattress, supporting the four layers above it and ultimately enhancing the support and comfort that the mattress provides. The bottom layer of poly foam offers a density of 1.8 pounds per cubic foot.
The Cover
While it is not technically considered a specific layer of the mattress, it does play a key role in the comfort that the Casper mattress provides. The top portion of the mattress cover is 100 percent polyester; the side panels are made of a blend of polyester and polypropylene, and the bottom of the cover is made of a blend of rayon, polyester, and aramid.
The mattress cover is pretty porous, which improves breathability and aides in reducing heat retention, which is a plus. On the downside, however, the cover is not very durable, and in fact, is rather thin, which makes it prone to tearing. On that note, make sure that you exercise caution when moving the mattress, and even while changing the sheets to avoid damaging the cover.
Hands on Review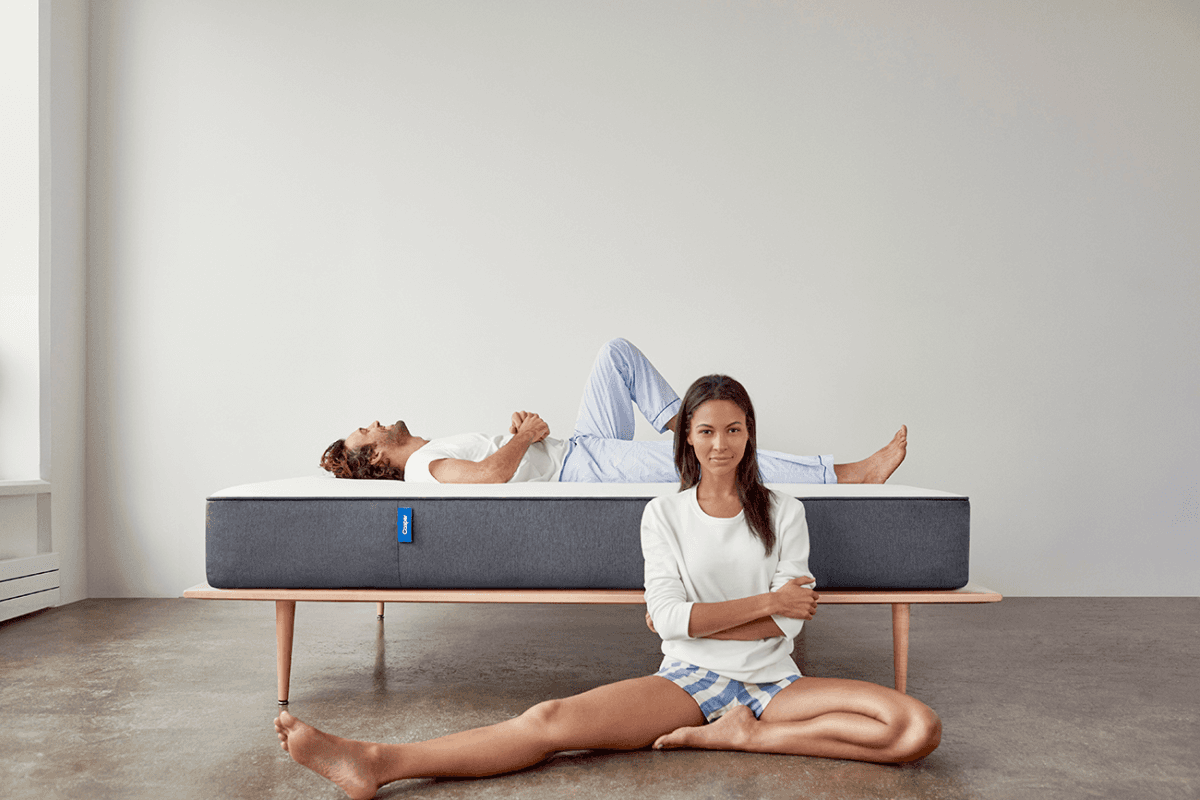 Since you cannot try this mattress out in the store, it is difficult to determine exactly how it feels. With that said, we wanted to provide you with as much insight as possible regarding the feel, comfort, support and overall performance of the Casper mattress. To do that, we assessed the following key criteria of the mattress, including:
In this portion of our buyer's guide, we provide an overview of each of these key criterion.
Firmness
On a firmness scale of 1 to 10, with 10 being the highest level of firmness, we give the Casper mattress a score of 6.5. There is only one model offered, and it is designed to offer 'universal comfort.' In other words, it is a one-size fits most mattress. While most sleepers will find the firmness just right, some may find that it is too soft, while others may find that it is too hard.
Comfort
The second layer of this mattress is constructed of memory foam, which is where the comfort factor comes into play. Memory foam is highly regarded for contouring to the shape and weight of the body, hugging the body and improving comfort. The 1.5 inches of memory foam do certainly add to the comfort that the mattress provides; however, some users may find that it hugs too much.
Pain Relief and Support
The hybrid foam construction of the Casper mattress is intended to provide pressure point relief, thus reducing any pain that users may experience when they sleep on a traditional mattress. Considering the mattress is constructed only of foam, it does offer a substantial amount of support. We found that the maximum sinkage was minimal, compared to other all-foam mattresses, so it does offer a decent level of support.
Heat Retention
Though the Casper mattress does have a layer of memory foam, which is notorious for retaining heat, this layer is placed under the latex foam, which is known for its cooling capabilities, thereby allowing the mattress to retain less heat. Add to that the breathability of the cover, and yes, the Casper mattress will allow you to remain pretty cool while you are sleeping.
Off Gassing
Mattresses that are constructed of foam, particularly memory foam, are found to emit a degree of odor. This odor, known as off-gassing, is the result of the chemicals that are used in the manufacturing of the foam.
We are pleased to say that we experienced a very low level of off-gassing with the Casper mattress. There was a slight odor when we opened the package and unrolled the mattress; however, it dissipated within an hour. If you are particularly prone to odors and notice any off-putting smell, place the mattress in a well-ventilated area for a day or two to reduce the smell.
Intimacy
Mattresses that are constructed of foam are often found to reduce the level of intimacy. That's because foam doesn't offer the same bounce back that mattresses that offer an innerspring construction offer. That being said, you may have to exert a little more energy when engaging in intimate activities on the Casper mattress than you would on a traditional mattress.
Sleep Position Ratings
Different sleep positions require different levels of support and comfort. For that reason, we wanted to see what type of comfort and support the Casper mattress offered for various sleep positions. Here's a look at what we found…
Back
The Casper mattress is best suited for back sleepers. The foam layers offer support for those who sleep on their backs, thus minimizing pressure placed on the spine, neck, and shoulders. We found that it offers a suitable level of comfort for back sleepers of all weights and sizes.
Back Sleeping score: 8.75/10
Stomach
Similar to side sleepers, small and average sized stomach sleepers will find the Casper mattress comfortable and supportive. However, those who are heavier in weight may find that the Casper mattress does not offer the support and comfort that they seek, as the foam may 'give' too much under the heightened pressure of more weight.
Stomach Sleeping score: 8.75/10
Side
Not all side sleepers will experience the level of comfort and support that they desire with the Casper mattress; particularly those who are on the heavier side. The foam tends to sink too much under higher weight, which can reduce the amount of support that it offers, thereby reducing its comfort and potentially resulting in pain.
Side Sleeping score: 9/10
Foundation Compatibility
The ideal set up for the Casper mattress is a foundation that is firm and flat. The best foundation option is a slatted base frame that does not have large separations between the slats; or, you could opt for a solid, firm platform foundation. If you are using a metal frame, make sure that it has wooden slats that are thick enough and properly spaced to support the bed.
The foundation you choose to place the mattress on will impact its overall comfort, so make sure you choose your foundation wisely so that you can have the ultimate experience with your Casper mattress.
Warranty, Guarantee and Trial Period
Warranty: 10-year limited warranty, which covers any deterioration of the mattress that is made visible by an indentation of more than 1 inch, and which is not caused by using the mattress on an insufficient base; construction defects that cause the foam to crack or split; defects the zipper system of the cover.
Guarantee: 100% money back guarantee
Trial Period: 100 Nights Comfort Guarantee. If you are not satisfied with the mattress, you will receive a full refund, so long as it is within the 100 day trial period. There aren't any restocking fees or hidden expenses; the mattress will simply be picked up by the manufacturer and will either be recycled to a charity or recycled as per local regulations.
Conclusion
The Casper mattress is an above average mattress that is comprised of four layers of foam. It offers medium firmness and fair support for those of average weight. It does remain cool while sleeping, which is a plus. However, it could offer a thicker comfort layer, which would improve the overall comfort of the mattress.
Rating Box and Summary
For more information on the Casper mattress, click here.
Casper Mattress Review
Summary
If you are of average weight and a back sleeper, then the Casper mattress could be a great choice for you. However, if you are looking for more firmness or more softness, the Casper mattress may not live up to your expectations. Likewise, if you are heavier, or you are a stomach or side sleeper, you may not find this mattress as comfortable and supportive as you would like.