Last Updated: January 2020
Down refers to the soft, fluffy feathers that are found underneath the coarser, thicker feathers that coat the exterior portion of a bird. These feathers are a natural thermal insulator, which makes it an ideal material to use for the fill in comforters. In other words, a down comforter will essentially adjust to internal and external temperatures, creating the ideal temperature for to keep you cool and comfortable while you are sleeping. In this guide, we are only going to recommend the best down comforter so please continue reading.
Add to the fact that down is a natural thermal insulator the fact that is particularly soft and it is no wonder why so many people opt for down filled comforters. Sleeping underneath a down comforter offers a truly luxurious sleep experience, as you will not only enjoy the ideal temperatures, but you will also be able to enjoy the soft, plush feeling that this material provides.
Down comforters are notably pricier than options that are filled with other materials, such as synthetics, so it is no wonder why you want to choose the best comforter so that you can make a sound investment. Given the fact that there are so many down comforters on the market, it can be difficult to determine exactly what to look for and which options are the best. In order to help you on your quest for choosing the best down filled comforter, we have created this comprehensive buyer's guide. In this guide, we highlight some of the key factors to consider when selecting a down comforter, as well as our top three choices for down comforters that are currently on the market.
After reading this guide, you will be armed with all of the information that you need to make the best choice to suit your needs so that you can enjoy the most restful, rejuvenating night of sleep possible.
The Best Down Comforters
*5 Star Rating: this is based on the percentage of consumers who rate the pillows 10/10.
When you set out to shop for a down comforter, you will quickly learn that the options are virtually limitless. While having a lot of options is certainly a good thing, it can make it tough to make the best choice. In order to help you select the best option, we have scoured the market and tested out different down filled comforters from various manufacturers. After conducting intensive research, we found that the following down filled comforters are the best of the best.
Pacific Coast European Down Comforter
Offering a 650 fill power of rare Pyrenees Down, this comforter is exceptionally fluffy, soft and warm. The cover is made of 100 percent Egyptian cotton with a 420 thread count, which further enhances the softness and comfort, and makes it exceptionally durable. The baffle box construction combined with a patented Comfort Lock border ensures that the down remains inside the comforter and minimizes shifting throughout, allowing this comforter to stay soft and fluffy. When used with a duvet cover, it only needs to be cleaned every 3 to 5 years, and dry cleaning is recommended. We were also impressed by the fact that this comforter is backed by a 10-year limited manufacturer warranty.
Our Score
Below is our final score of the Pacific Coast down comforter based on multiple criteria that we use when testing all of our comforters.
Natural Comfort Classic White Goose Down Comforter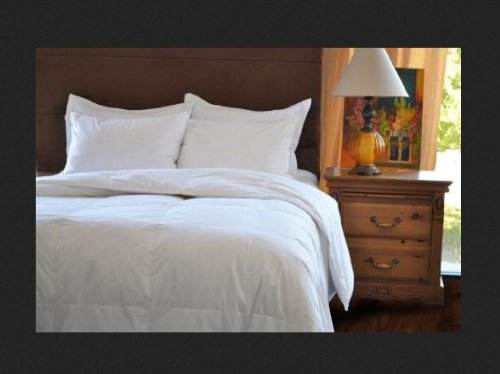 Made of 5 percent good down and 95 percent feathers, this Natural Comfort comforter is hypoallergenic, making it an ideal choice for those who suffer from allergies. The fill also makes it a great choice for year-round use.
The cover is made of 100 percent cotton with a 233 thread count, so it securely holds the down in place. The baffle box design prevents the down from spreading out too much, yet allows the comforter to remain soft and fluffy. Dry cleaning is recommended for this comforter.
Our Score
Below is our final score of the Natural Comfort down comforter based on multiple criteria that we use when testing all of our comforters.
Pinzon Hypoallergenic White Goose Down Comforter
The 400 thread count 100 percent cotton shell of this comforter is filled with 48 ounces of premium white goose down, offering a fill power of 600. Not only is this comforter super soft and plush, but it is extremely durable. The baffle box construction locks the fill in place, so you won't have to worry about the filling moving about and causing bulges in certain areas and flat spots in others. When you want to freshen the comforter up, cleaning is easy; it's 100 percent machine washable and dryable, which makes caring for and maintaining this Pinzon down filled comforter and absolute breeze. This comforter is OEKO-TEX Standard 100 factory certified, which means that all textiles that are used meet the highest safety and environmental standards.
Our Score
Below is our final score of the Pinzon down comforter based on multiple criteria that we use when testing all of our comforters.
Factors to Consider When Purchasing a Down Comforter
There are several factors that you are going to want to take into consideration when you are shopping for a down comforter. These factors include the type of down, the fill power, the construction, the thread count and the care and maintenance. By taking these factors into consideration, you will be able to choose the best down filled comforter to suit your specific needs.
To learn more about the important factors that we strongly suggest you take into consideration when you are shopping for a down comforter, please keep on reading.
The Type of Down
Down is not a 'one size fits all' option. In fact, there are several types of down that can be used to fill comforters, and each type will impact the overall comfort and warmth that the comforter will provide.
Down filled comforters are most commonly filled with goose down. As the name suggest, these comforters feature filaments that come from geese. Goose down is extremely soft and provides an exceptional amount of coziness for a comforter. Duck down is another type of down used in comforters. Though it is not as fluffy and soft as goose down, it does still provide a lovely feeling and offers natural thermal insulation.
Synthetic down is another option. This material is made from manmade fibers that are designed to replicate the feeling and insulation that natural down provides. It is an ideal option for people who suffer from allergies.
The Fill Power
Fill power is also an important factor to consider, as it determines the warmth and the fluffiness that the comforter will provide. Comforters that have a high fill power are fluffier, offer more warmth and are better quality, overall; however, higher fill power also equates to a higher price tag, so keep that in mind when you are shopping.
The Thread Count
You also want to pay attention to the thread count of the down comforter. The higher the thread count, the better the quality of construction. In other words, higher thread counts mean that less down material escapes from the comforter. We suggest looking for a comforter that offers a thread count of at least 200.
The Construction
You should also consider the construction of the down comforter. There are several types of construction that are used with these comforters, including gusset, box stitch, diamond quilted and baffle box. The construction of the comforter will impact how fluffy the comforter will be, as the construction separates the comforter into different sections, thereby sectioning off the down into different areas and impacting its movement throughout the comforter.
The Care and Maintenance
It is also important to consider the care and maintenance of your down comforter, as this will impact how easy it is to clean and thus, keep fresh. Many down filled comforters are dry clean only; however, there are many options available that are machine washable, which makes for easier care.
Whether dry clean only or machine washable, we always recommend using a duvet cover with your down comforter. This will keep it protected and prevent damage caused by general use.