Last Updated: May 2017
The makers behind the Yoga Bed have a simple mission: "Delight customers with superior sleep products and a better buying experience." And they have worked tirelessly to achieve their mission.
These factory-direct mattresses are shipped directly to consumers when they are purchased. Leaving out the middle man allows the company to keep overhead costs down, which makes their mattresses extremely affordable. Plus, there's no need to worry about having to deal with the high pressure that sales people can put on you when shopping in a store.
The Yoga Bed is made by leading experts in the mattress making industry. These experts have decades of experience, and they have used that experience to design a mattress that truly meets the needs of all sleepers. Comprised of the highest quality materials, including Yoga Instant Response foam and Yoga Gel, which are innovations created by the manufacturer, as well as high-density support foam and basic support foam, the Yoga Bed offers four layers of comfort and support.
Designed to reduce heat retention and properly support the spine, countless people are enjoying a more restful night of sleep on the Yoga Bed. And, if the company's mattress isn't enough to love, their humanity makes them even more amazing: for every 10 mattresses purchase, the manufacturer donates one Yoga Bed to charity. Talk about a thoughtful company!
So, does the Yoga Bed really live up to its expectations? We have tested out this mattress and provided our honest experience in this buyer's guide.
Free of harmful and hazardous chemicals
Removable and washable cover
Four layers of foam
Minimal heat retention
No off-gassing
365 day trial period
10-year warranty
Full money back guarantee
Easy ordering, and delivered to your home
Not as supportive as other mattresses we have tried
Issues with edge support
Can't try before you buy
May not offer the pain relief you are hoping for
Our Score
Below is our final score of the Yogabed mattress based on multiple criteria that we use when testing all of our mattresses.
What's It Made From…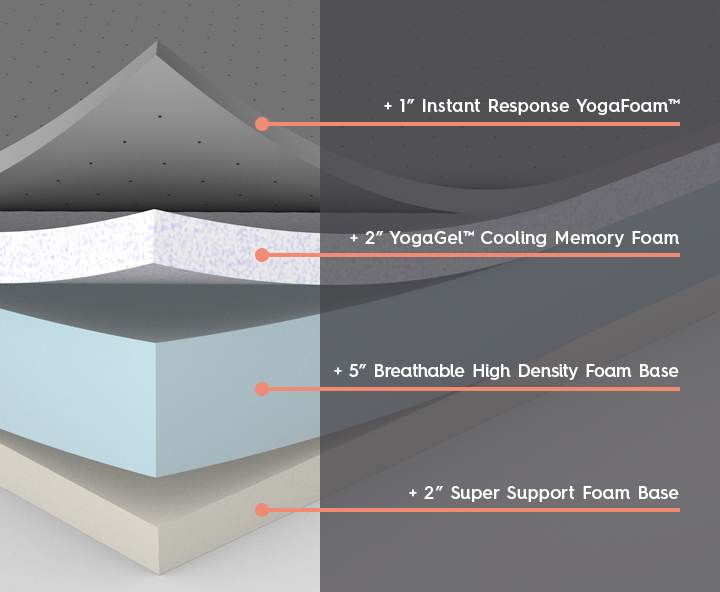 The Yoga Bed offers four separate layers off foam, including 1 inch of firm support foam, 6 inches of high-density support foam, 2 inches of Yoga Gel and 1 inch of Yoga Instant Response foam, which combines to create a mattress that has a total depth of 10 inches. Below, we break down each of the layers of the mattress.
The Top Layer
At the top of the Yogabed is 1 inch of Yoga Instant Response foam, a material that is unique to this mattress. Essentially, it is a polyfoam, which rapidly responds to the body and adds a nice level plush comfort. The Yoga Instant Response foam is also very breathable, which keeps the air flow moving and keeps the mattress cool.
The Second Layer
Underneath the 1 inch of Yoga Instant Response foam is a 2-inch layer of Yoga Gel. Another unique material to the Yoga Bed, the Yoga Gel is a gel visco-elastic memory foam, which provides pressure relief, contours the body and offers a high level of support. This gel layer also aids in keeping the mattress cool, as it pulls the heat away from the top level of the mattress, keeping it cool and comfortable.
The Third Layer
Next is a 5-inch layer of high-density support foam. This layer provides deep compression support for the Yoga Bed, and also acts as a foundational base for the two comfort layers above, ensuring that these layers have the support that they need to provide the comfort that they are intended to provide.
The Base Layer
The fourth and final layer of the Yoga Bed is 2 inch of support foam. This layer adds further support to the top two comfort layers, and also serves as a foundation for the third layer. The fourth layer serves as a foundational base for the entire mattress and helps to give the mattress its shape.
The Cover
The cover isn't technically considered a layer of the mattress, but we like to think of it as one. After all, the cover is the part of the mattress that you will be actually be touching, and through it, you will be able to experience the rest of the layers of the mattress.
We were very impressed by the cover on the Yoga Bed mattress. It is quite unique, and unlike any other cover, we have seen on a mattress before. Most notably, the cover can be removed, which is not the norm for a mattress cover. The cover unzips halfway up the side of the mattress, which makes removing it a breeze. Plus, it is machine washable, so when you need to, just toss it into the washing machine and dryer to freshen up your mattress.
We also like the texture that the cover offers. It has both smooth and textured areas, which creates an interesting and truly unique design and makes it really comfortable.
All of the components of the Yoga bed are certified CertiPUR – US which means that the mattress is made without any of the following:
Ozone depleters
Formaldehyde
PBDE flame retardants
Mercury, lead, or any other heavy metal
It is also made with low volatile organic compounds (VOCs), at less than .5 parts per million.
Because the Yoga Mattress is CertiPUR-US, you can be confident that you will be sleeping on a mattress that is not only comfortable but one that is also good for your health.
Hands on Review
 Our goal in creating this buyer's guide is to provide you with as much information as possible about the Yoga Bed if you are considering purchasing it. Since you can't try the mattress out before you buy it, we want to make sure that you have a firm understanding of the type of support and comfort that it offers, and the quality of sleep that you will have.
In this section of our buyer's guide, we assess the pertinent criterion that impacts the mattress, including:
Firmness
On a firmness scale of 1 to 10, with 1 being the softest and 10 being the firmest, we score the Yoga Bed a 6. So, if you are looking for a mattress that is extremely plush and soft, or you want one that is super firm, you might want to consider a different option than the Yoga Bed mattress.
Comfort
The Yoga Bed does offer a nice level of comfort. When lying on our back or on our stomach, it provided a pretty balanced level of sinkage, and a nice hug. However, on the side, the sinkage was totally different. We notice that when more weight is applied to a specific area of this mattress, there is a much more noticeable level of sinkage, and a greater 'hug.' The mattress sunk about 2 inches where the heaviest points of the body were placed.
With that said, the response time from the combination of foam layers is just above average. This means that the Yoga Bed will respond to your body very quickly, cradling it and creating a comfortable surface that is just right for your body. Though sinkage was a little bit deeper than we normally like, overall, it is a pretty comfortable mattress.
Pain Relief and Support
In regard to pain relief and support, we felt that the Yoga Bed did not deliver as well as other mattresses we have tried. This mattress is only designed to support up to 250 pounds per side, so if you are a heavier person, you may find that this mattress doesn't offer the pain relief and support that you are hoping for to keep your spine in proper alignment. In regard to edge support, if you sleep near the edge, you will experience a noticeable decline in the edge support.
Since the support isn't up to par with other mattresses, you may end up experiencing some degree of pain while you are sleeping on the Yoga Bed. That's because it doesn't offer much deep compression support, and it doesn't necessarily align the spine properly, which can result in sore spots.
Heat Retention
We found that we remained cool when sleeping on the Yoga Bed. The top layer of the mattress and the cover are both very breathable, and the second layer absorbs any heat that may collect on the top of the mattress, thereby keeping it cool. We were pretty impressed by the minimal heat retention of the Yoga Bed and found that we stayed nice and cool while were using this mattress.
Off Gassing
We were also impressed by the minimal off-gassing of the Yoga Bed. Off-gassing refers to the odor that a mattress puts out. This is a common problem with mattresses that are made of foam, as there are certain chemicals that are used during the manufacturing of the material.
As we said above, the Yoga Bed is not made with any harsh or harmful chemicals, which is the reason why there is virtually no off-gassing. In fact, we didn't notice any odor coming from the mattress at all. We were able to open it up and start using it as soon as it took its shape, which we were very pleased by. Because there is no odor, not only do you not have to deal with an off-putting scent, but you also can be confident that the mattress is safe to sleep on.
Intimacy
The intimacy level is another area that we were a little concerned with. The foam doesn't offer a lot of bounce back, which is good for motion transfer while you are sleeping; however, this can impact intimacy activities that you engage in on the mattress. While you can certainly enjoy intimacy on the Yoga Bed, you will likely have to put in more effort than you would have to on an inner spring mattress, or on mattresses that use foams that offer a higher level of bounce back.
Sleeping Position Ratings
We also wanted to let you know how the Yoga Bed stacks up in regard to the support and the comfort that it offers in different sleep positions, including the back, the stomach, and the side. Below, you will find a more detailed look at our findings.
Back
Those who sleep on their back will find the Yoga Bed to be the most comfortable. While sleeping on our back, we noticed only about 1 inch of sinkage. The mattress contoured nicely to the body; however, it did not hug it too much, so we didn't' feel like we were trapped in it. We also think that it provided a decent amount of support, so long as we weren't lying right near the edge.
Back Sleeping score: 9/10
Stomach
Stomach sleepers who don't mind a bit of sinkage will also find the Yoga Bed to be comfortable. Again, the mattress does sink a bit, so if you don't like feeling like you are sinking into the mattress when you are lying on your stomach, this may not be a good pick for you. However, if you don't mind a hugging feeling while you are on your stomach, you should find the Yoga Bed perfectly comfortable.
Stomach Sleeping score: 8.5/10
Side
We think that side sleepers will find the Yoga Bed the least comfortable. As we mentioned earlier, the mattress seemed to sink the most when lying on the side. The more pressure that was applied to the mattress in certain areas, the more sinkage occurred. This can be a problem for side sleepers, as they tend to put more pressure in the middle portion of their bodies, which means that the middle part of the body may feel like it is being engulfed in the mattress, while the rest of the body is not. In other words, you won't enjoy the same level of support throughout your body when you are sleeping on your side on the Yoga Bed.
Side Sleeping score: 9/10
Bed Frame Compatibility
Like most foam mattresses, the Yoga Bed is best used with a solid and stable foundation. A solid bed frame, such as a platform, will offer great support for this mattress. If you are going to use a slatted bed frame, make sure that the slats are not spaced more than 3 inches apart, and that the slats are constructed of durable material that will not bow; otherwise, you could end up compromising the support of the mattress, which, in turn, will compromise the overall comfort of the mattress.
Warranty, Guarantee and Trial Period
Warranty: 10 years
Trial Period: 365 nights, which is the longest trial period we have found for any mattress we have tried.
Guarantee: 100 percent money back guarantee. If, for any reason, you are not satisfied with this mattress, simply contact the manufacturer and they will issue you a full refund. Remember, you must contact them before the final day of the 365 day trial period. The company will pick up the mattress and fully refund your money.
Conclusion
The Yoga Bed offers four distinct layers; the top two layers are designed to provide comfort and a mild amount of support, and they also reduce any heat buildup in the mattress. The bottom two layers provide support for the mattress. All of the components of the Yoga Bed are certified CertiPUR-US, so you don't have to worry about being exposed to any harmful chemicals, and there is little, if any, off-gassing. Additionally, for every 10 mattresses purchased, the manufacturer will donate one mattress to charity, which we think is pretty cool.
Rating Box and Summary
For more information on the YogaBed mattress, click here.
Yogabed Mattress Review
Summary
If you are looking for a mattress that will keep you cool and offers a medium firmness and a decent amount of comfort, the Yoga Bed is a good pick. However, if you don't like a lot of sinkage, or you sleep near the edge of the bed, you might want to consider another option.