Last Updated: March 2018
The Bear mattress is one of the newest additions to ever growing online mattress industry; however, this mattress really stands apart from the crowd. Similar to other manufacturers, the makers of the Bear mattress have designed a product that offers minimal heat retention, remains comfortable and is extremely supportive; however, what sets it apart from the rest is the fact that it is designed specifically to improve muscle recovery. In other words, it is a mattress that is made to provide the most restful night of sleep possible for those who live an active lifestyle (less active people will certainly enjoy it, too.)
The Bear mattress is made of some of the most exceptional materials on the market, including graphite gel infused memory foam, highly responsive support foam and high-density support foam. All of these materials combine to create three separate layers that provide individual benefits, yet work together to create a mattress that aims to deliver outstanding comfort, support, cooling capabilities – and, muscle recovery.
The Bear mattress is only available for purchase online, and it is shipped directly from the manufacturer to the consumer. While this defiantly helps to minimize the stress of high-pressure sales tactics, and it also reduces the cost of the mattress, there is one drawback: You can't try it out before you buy it. As such, it's difficult to determine whether or not this mattress will provide you with the support and comfort that you are looking for. So, does the Bear mattress actually deliver what it says it will? In this buyer's guide, you will find out.
Celliant cover
Graphite infused memory foam
Incredible support
Remains cool
Little off gassing
Great bounce back
Highly responsive
High level of pain relief
Improves muscle recovery
Boosts energy
10 year warranty
100 night trial period
Full money back guarantee
Can only be purchased online, so you can't try it before you buy it
May be too firm for some sleepers
May be too soft for some sleepers
Our Score
Below is our final score of the Bear mattress based on multiple criteria that we use when testing all of our mattresses.
What's It Made From…


The bear mattress is made of four separate layers, which include a layer of memory foam that is infused with graphite gel, two layers of highly responsive memory foam and a layer of high-density support foam. Together, these four layers create a mattress that is a total of 10 inches thick. Here's a more detailed look at the construction of this mattress…
The Top Layer
The first layer of the Bear mattress is made of 1 inch of memory foam that is infused with graphite gel. This foam is both completely odorless and completely breathable. It has an open cell polymer structure, which is intended to improve the overall airflow by as much as 95 percent. As a result, there is minimal heat retention in the mattress, which creates a sleeping surface that remains consistently cool and comfortable. As a matter of fact, Bear states that the layer of graphite gel infused memory foam allows their mattress to remain up to 7 times cooler than other foam mattresses.
In addition to its cooling properties, the graphite gel infused memory foam also provides exceptional pressure relief, keeps the spine in proper alignment and minimizes motion transfer.
The Second Layer
The next layer of the Bear mattress is made of quick response foam; a material that offers a polymer structure. This layer is extremely responsive and offers excellent pressure relief, as it responds to the pressure that is applied to it and offers more support where it is needed the most. Additionally, the quick response foam helps to improve the air flow of the mattress, further minimizing heat retention.
The Third Layer
The third layer of the Bear mattress is also made of quick response foam, but instead of being 1.5 inches, like the second layer, it is 1 inch. This layer provides the same benefits as the second layer, providing additional support, bounce, and responsiveness, and reducing the heat retention even further.
The Fourth Layer
The fourth and final layer of the Bear mattress is made of 6.5 inches of high-density core support memory foam. A highly responsive material, this foam not only serves as the foundation of the upper layers and helps to retain the shape of the mattress, but it also further supports the body, improving pressure point relief and allowing you to sleep more comfortably.
The Cover
Lastly, we want to mention the cover, as this is the part of the mattress that contains all of the layers, keeping them together. Moreover, it is the first part of the mattress of the mattress that you will have contact with.
The cover of the Bear mattress is made of a blend of polyester and Celliant. The polyester makes the cover soft to the touch and provides durability. The Celliant does an even more important job, and it is part of the reason why this mattress is so special. A thermo-reactive mineral material, Celliant actually transforms body heat into infrared light, which provides some pretty incredible benefits; not only does it drastically reduce the temperature of the mattress, but the infrared light that it creates helps to improve oxygenation of the blood, which allows for improved internal temperature regulation, which thereby decreases pain in the muscles and improves cellular regeneration – two important things for muscle recovery. We definitely noticed that the Celliant made a marked difference in the overall temperature of the mattress. Additionally, we were impressed by the durability of the cover. When pulling on it, it snapped back to its original shape without hesitation.
As far as looks go, the cover of this mattress offers an appealing modern look. The top is white and has a unique design, which extends partly down the sides. The remaining portion of the cover are gray in color.
Hands on Review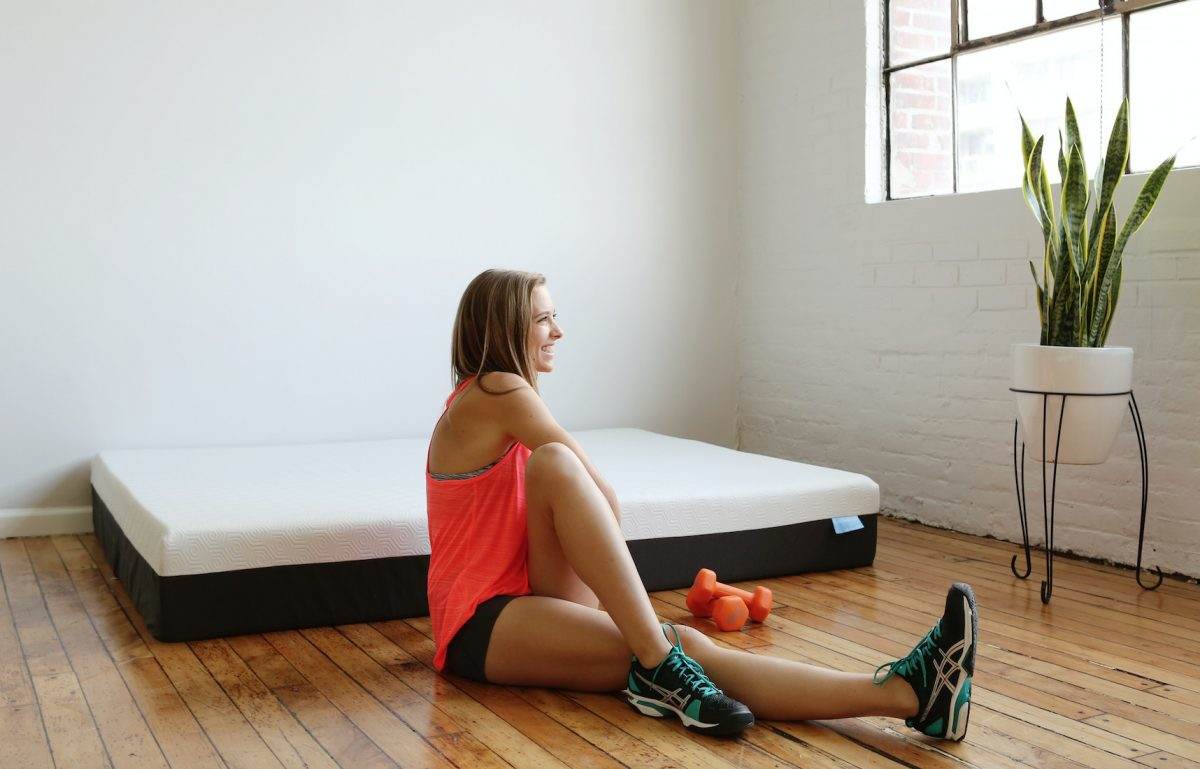 Our goal in creating this buyer's guide is to provide you with as much information about the Bear mattress as possible. Since you can't try it before you buy it, we included this hands-on review, which provides a detailed description of the important criteria that impact the overall quality of the mattress that impacts how it sleeps.
The criterion we assessed includes the following:
Firmness
On a firmness scale of 1 to 10, with 1 being the softest and 10 being the firmest, we give the Bear mattress a 6.5, which makes it slightly firmer than the average mattress. The first layer of graphite-infused memory foam, coupled with the cover, create a nice layer of softness. The remaining layers of the mattress create a nice amount of firmness for the entire mattress.
Comfort
We found that the Bear mattress is extremely comfortable. As we mentioned, the cover and the top layer create a nice layer of cushioning, which hugs the body; however, the second layer of highly responsive memory foam quickly adjusts to the body, creating a bounce that you wouldn't expect from a mattress made of memory foam. This means that you don't sink into the mattress, so you won't feel stuck. Overall, we think that the softness and hug, combined with the responsiveness makes for a nice balance that is truly comfortable.
Motion transfer is an element that can really impact the overall comfort of a mattress. Memory foam is designed to limit motion transfer, as it absorbs any movement that is created. The Bear mattress does an exceptional job of reducing motion transfer. In fact, we didn't observe any feeling of movement throughout the mattress, which is particularly appealing for couples who share the bed.
Pain Relief and Support
The Bear mattress is specifically designed to aid in pain relief, and it really does just that. Firstly, there was very little sinkage when lying in any position, which properly supports the body and helps to reduce the buildup of pressure in the body, thus eliminating pain. Add to that the effects of the Celliant cover, which transfers body heat into infrared heat and oxygenates the blood, and yes, this mattress truly does deliver an incredible amount of pain relief.
Heat Retention
If you sleep hot and are looking for a mattress that won't retain heat then you will be impressed by the Bear mattress. This mattress was thoughtfully designed to minimize heat retention. The graphite infused memory foam coupled with the Celliant in the cover work together to truly absorb body heat and keeps the mattress an even temperature throughout the night, thereby keeping you nice and cool. We did not notice any rise in the temperature of the mattress, no matter how long we laid on it, or what position we were lying in.
Off Gassing
Off-gassing refers to the odor that a new mattress emits. Mattresses that are made of foam tend to emit some degree of odor as a result of the chemicals that are used in the production of the foam.
With the Bear mattress, we didn't notice a significant level of off-gassing, though we do want to point out that there was a slight smell when we first received it. To combat the smell, we left the mattress in a room with the windows opened and it dissipated in just a few hours.
Intimacy
As far as foam mattresses go, we noticed a higher than average level of bounce with the Bear mattress. While it is not as bouncy as an innerspring mattress, there is much more bounce than a standard memory foam mattress. That bounce back is due to the highly responsive memory foam; it absorbs just enough energy to minimize motion transfer, yet not so much that it detracts from amorous activities. This means that you won't have to exert as much additional energy when it comes to intimacy as you would with other memory foam mattress.
Sleeping Position Ratings
Every sleep position requires a different level of support, as body weight is dispersed throughout the mattress in different ways. This means that you will require different support on your back then you would on your side.
We assessed the level of comfort and support in different sleep positions on the Bear mattress, and this is what we found:
Back
Body weight was distributed evenly across the Bear mattress while sleeping on the back. We notice just the right amount of sinkage, and the perfect amount of support. The spine remained in proper alignment and we certainly didn't notice any increased degree of pain; in fact, we notice a reduction in pain while sleeping on the back.
Back Sleeping score: 9/10
Stomach
The same can be said for sleeping on the stomach as was said for sleeping on the back. Stomach sleepers often feel like they are being engulfed by memory foam mattress, as they can cradle too much and make you feel trapped. This was not the case with the Bear mattress. There was a nice amount of contouring, but not so much that you would feel like you're stuck. Also, there was significant pressure point relief and a great reduction in pain.
Stomach Sleeping score: 8.75/10
Side
Side sleepers often tend to experience the highest amount of pressure buildup. That's because their body weight is concentrated on one specific area and generally can't be distributed across the mattress. With the Bear mattress, we felt like we were given ample support on the side, and there was definitely a marked reduction in pressure buildup.
Side Sleeping score: 8.75/10
Bed Frame Compatibility
The Bear mattress is designed to be used with all types of bed frames, including box springs, slatted frames, and even the floor. Because it can be used with so many types of bed frames, it truly is a versatile mattress. However, we do want to point out that for optimal enjoyment, we recommend using your Bear mattress on a solid frame (such as a platform) or one that has slats that aren't spaced too far apart and are made of a durable material that won't bow. Doing so will ensure that your mattress has the right amount of support so that you will truly be able to experience the benefits that Bear is designed to provide.
Warranty, Guarantee and Trial Period
Warranty: 10-year limited manufacturer warranty. If you experience the development of any defects as a result of the manufacturing process within 10 years of the date of purchase, contact the manufacturer and they will repair or replace your mattress for you.
Guarantee: Full money back guarantee
Trial Period: 100 night trial period. If you are not happy with your Bear mattress, for any reason, within 100 days of purchasing it, contact the manufacturer. They will fully refund your money and will arrange to pick and remove your mattress.
Conclusion
The Bear mattress is designed to offer a balanced level of firmness, body contouring, and bounce. It is also designed to minimize heat retention and reduce pressure point build-up and pain relief. Overall, the mattress does the tasks that it is intended to do. It offers a nice degree of bounce, yet there is minimal motion transfer. It stays extremely cool and it really does offer great support and reduces pain.
Rating Box and Summary
For more information on the Bear mattress, click here.
Bear Mattress Review
Summary
If you are looking for a mattress that is middle-of-the-road in terms of firmness, is highly responsive, sleeps cool and offers great bounce and support, than yes, the Bear mattress will be a great choice for you.