Last Updated: May 2017

The following is an honest & accurate review of the features and efficiency of the Spa Sensations 8″ memory foam mattress. People can have sleepless nights sometimes due to the mattress they are using. There are certain mattresses which increase back pain and leave you feeling very uncomfortable.
Everyone requires a good night sleep so as to have a good and refreshing morning upon waking up. If you among those people who have restless nights in bed and wake up in the morning feeling very heavy and easily irritated, then the cost of that bad mood will be the lack of proper sleep and tiredness hence your body is calling for comfort. But today you can be able to find comfortable mattresses that have been developed and improved over the years to offer comfort and convenience. Among these mattresses is the spa sensation 8-inch memory foam mattress which provides the ultimate comfort and sleeping experience.  Created by Spa Sensations, the 8-inch memory foam mattresses can provide ample sleeping experience and comfort that eventually eliminates the body aches and pains plus other ill feelings that are presented by other mattresses.
Features
Sizing and thickness
The Spa Sensation 8″ memory foam mattress is 8 inches thick and measures 39 inches by 75 inches. It has a high-density foam layer that is essential in adding support.  It's available in the twin and full, queen and king sizes.
Design
This memory foam mattress can provide everything needed for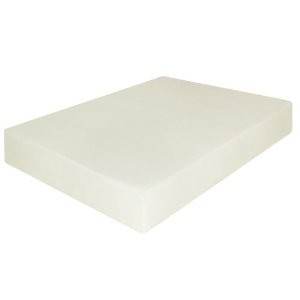 you to get a good night sleep.  Its comfort nature is presented by its lush cover on the rich layer of the memory foam that cradles the boy in the body conforming weightlessness.  Its unique high-density foam relative technology can shape itself to the body and gives you a highly customized sleeping surface. Two additional layers lying below the memory foam then provides all the support you need. The mattresses also use the blend of natural sea oil plus green tea is fighting bacteria.
Pros
Has a high-density base layer to add support
A customized sleep surface
Responds to heat and body pressure to provide the right environment and comfort
Fights bacteria through the use of green tea and sea oil
Affordable
Cons
Sensitive to temperature hence can warm up quickly
Has a noticeable smell when new
Spa Sensations 8
Comfort
Durability
Pain Relief
Bad Odor
Heat Retention
Summary
This Spa Sensations mattress therefore proves to be a comfortable and wonderful mattress that eliminates aches and pains.
Reviews
Amazon reviews rate this mattress with a 4.5 out of 5 rating. Most customers indicate that once they ordered the mattress, it proved to be a comfortable, firm and reliable mattress.  Over 1000 reviews from other websites have given the mattresses also 4 stars out of 5 commending mostly its low price and efficiency.
You can click here to read the consumer reviews in detail…
This Spa Sensations mattress, therefore, proves to be a comfortable and wonderful mattress that eliminates aches and pains.
WHERE TO BUY?
You can purchase from Amazon right here.
Our Sources
Amazon.com – They have a wide range of Brentwood memory foam mattresses which also include the largest pool of verified consumer reviews which we were able to read and analyze for use in our consumer report.
eBay.com – Coming in second place, eBay was used for additional consumer research.
Walmart.com – Coming in third place, Walmart was used for additional consumer research.