Last Updated: January 2020
Before you decide which size bed you want to buy, it is important that you understand all of the different sizes along with their benefits. The mattress size chart below is the perfect resource as it can give you valuable insight to the bed size you need, including some information about mattress dimensions that can come in handy when you purchase fitted sheets.
Mattress Dimensions Chart
In the United States, manufacturers measure their mattresses in inches. Although most people tend to pay the most attention to length and width, depth is also very important – particularly when it comes to determining how high your bed will stand off of the ground and the types of sheets you need to buy. Mattresses can range in depth from a mere four inches for bunk beds all the way up to 20 inches or more for the finest queen and king sized mattresses. There is no real "industry standard", so make sure that you ask about the mattress depth before you purchase it.
Twin Mattress Dimensions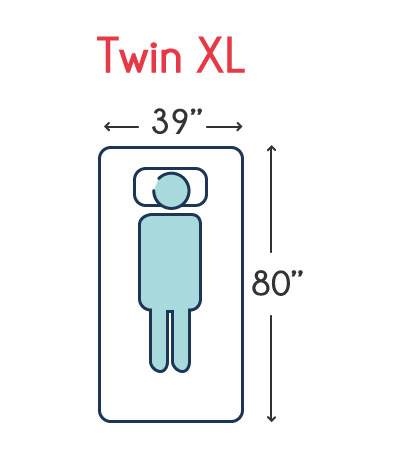 A standard twin bed measures 39 inches wide by 75 inches long. These are usually between eight to 10 inches deep, and they are designed for a single child or adult. Particularly tall adults who want to purchase a twin bed may want to consider purchasing a twin XL, which adds an additional five inches to the overall length of the bed, bringing it to 80 inches. Mattresses for traditional bunk beds share the same dimensions as a twin, but they usually lack the same depth.
Standard Mattress Dimensions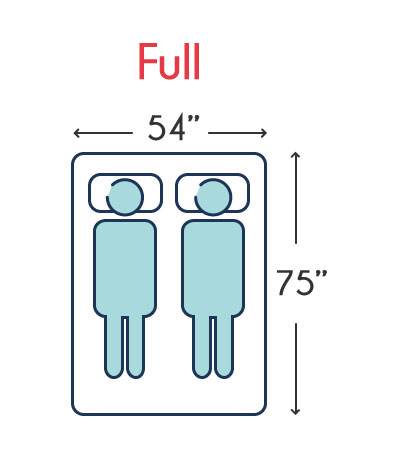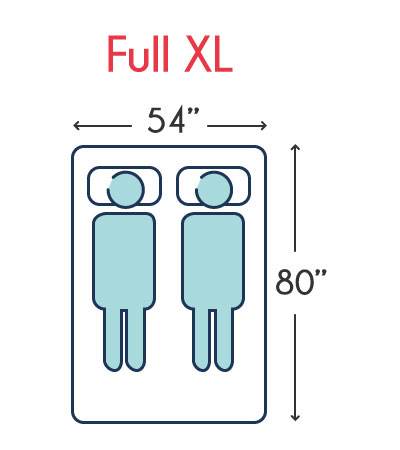 A standard mattress (also called a full or double mattress) used to be the most common bed for couples when homes were much smaller than they are today. These measure 54 inches wide and 75 inches long with an average depth of between eight and 12 inches. However, with today's larger bedrooms, couples are often advised to purchase at least a queen-sized bed. Two adults on a full-sized mattress is equal to about 27 inches of sleeping space each – the equivalent of a crib mattress. Today, full or standard beds are common choices for single adults who prefer extra sleeping space.
Queen Mattress Dimensions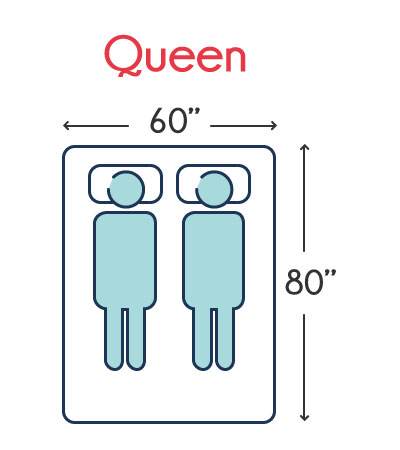 The queen sized mattress is the most popular size sold in the United States today. It is recommended for co-sleeping couples who either do not need a king sized bed or who do not have room for one. It measures 60 inches wide by 80 inches long, and it provides a comfortable 30 inches of sleeping space for each partner. Queen size beds usually have a depth between 12 and 17 inches.
King Mattress Dimensions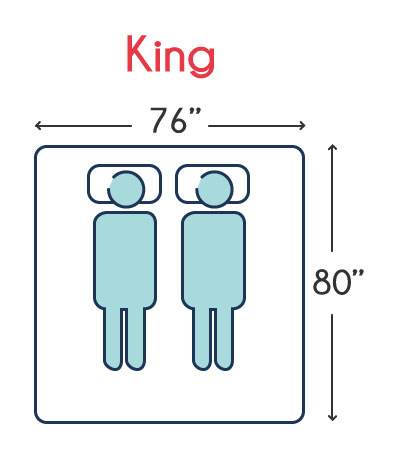 A traditional king sized mattress, also called "eastern king" is the same length as a queen mattress – 80 inches – but much, much wider at 76". This is the absolute best choice for couples who like to spread out as they sleep, and it is also the best choice for people who have pets or children who love to share their beds. However, a king sized bed takes up a lot of bedroom space, so you should consider this before you make your purchase. A king bed can range from 10 inches up to 21 inches or more in depth.
California King Mattress Dimensions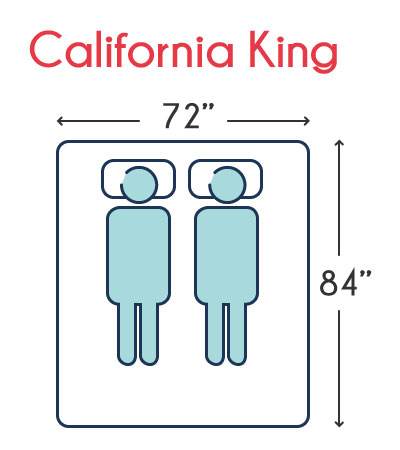 A California king mattress has a completely different set of dimensions than a standard king. It is a little less wide at just 72 inches, but it boasts an 84-inch length for people who are quite tall. It is the longest bed available on the market today, and it takes up quite a bit of room thanks to its massive length. In some cases, you may need to purchase a special frame to hold a California king due to its overall length. Like a standard king, a California king bed ranges from 10 inches to 21 inches or more in depth.
As you can see, mattresses come in a variety of shapes and sizes designed not only to fit in your bedroom but also to fit your sleeping habits. Before you decide on the right size, use this mattress dimensions chart to consider the amount of space you need as you sleep and the amount of space you have in your bedroom.
If you are looking for a new mattress, then be sure to check out our guide to the best memory foam mattresses right here.

Take a look at our essential guides:
Mattress Guides
Pillow Guides
Topper Guides
General Guides
Maintenance