Last Updated: January 2020
16% of Americans choose to sleep on their stomach. Often this is a personal preference; sometimes due to back pain or comfort or just a habit. Not every mattress is suitable for stomach sleeping. The amount of pressure and the position of the pressure points is different for stomach sleepers compared to other sleeping positions, like on the side or back. The firmness of the surface is also quite relevant with the stomach pushing down, along with the rest of the body, all of which need support.
In this guide, we will run through the best option by showing you which is the best mattress for stomach sleepers.
What you need to know
Stomach sleepers require a mattress that provides is medium to firm support.
A softer top layer helps relieve pressure points that either make a sleeping surface uncomfortable or create pressure sores.
There are mattresses available that provide appropriate support for the side, front, and back sleepers.
A mattress that is either too soft or too firm is uncomfortable for most stomach sleepers. Too soft hurts the pelvis and back, whereas too firm is uncomfortable for the stomach where the majority of the weight is bearing down on the mattress.
An overly firm surface offers little pressure relief.
A mattress that's suitable for a belly sleeper won't necessarily suit side or back sleepers.
Features & Benefits
A medium to firm support level is required for best performance. A 4-7 firmness rating is ideal (with ten being firmest).
An innerspring mattress provides excellent support, but without a softer top layer, a stomach sleeper might not feel it's the best option. A multi-layered foam-based type reduces pressure points for stomach sleepers while offering a plush top layer to sink into a little bit.
A low-profile pillow is also necessary to lower the head position and change the angle of the head and neck when using a mattress suitable for a stomach sleeper.
The following table presents our short-list of recommended products for stomach sleepers:
Our Best Mattress for Stomach Sleepers recommendations
*5 Star Rating: this is based on the percentage of consumers who rate the mattresses 10/10.
#1 Most Recommend  – Nectar Mattress Review – 365-day trial
Overall, we think that the Nectar mattress is very well rounded. It offers a balanced level of comfort and support that is better than the average mattress. Motion transfer is exceptional, as is pressure relief and support. The foam layers are not as responsive as some similar mattresses, but we don't think that this impacts the overall quality of the mattress.
The Nectar mattress is perfect for stomach sleepers, when I sleep I switch it up throughout the night, initially, I sleep on my stomach to fall to sleep and when testing the Nectar mattress I found the quilted gel pockets to really help conform and mold around my body. Whilst the high-density foam provided a stable platform for my weight and helped reduce pressure as I slept. If you are looking for a mattress which is not too soft, not too firm and you are mainly a stomach sleeper then the Nectar mattress is a fantastic choice. It's also worth remeberring that the Nectar mattress comes with a 365 day trial.
Nectar Coupon code: Click here to save $100 off the Nectar mattress with MFD100
Our Score
Below is our final score of the Nectar mattress based on multiple criteria that we use when testing all of our mattresses.
Stomach Sleeping rating: 9.5/10
Back Sleeping rating: 9.5/10
Side Sleeping rating: 9/10
You can read our review here and also check for the latest prices here.
Nectar Coupon code: Click here to save $100 off the Nectar mattress with MFD100
Sleep Innovations Shiloh 12-inch Memory Foam Mattress Review
The Sleep Innovations Shiloh 12-inch Memory Foam Mattress is an all foam product with excellent pressure relief for stomach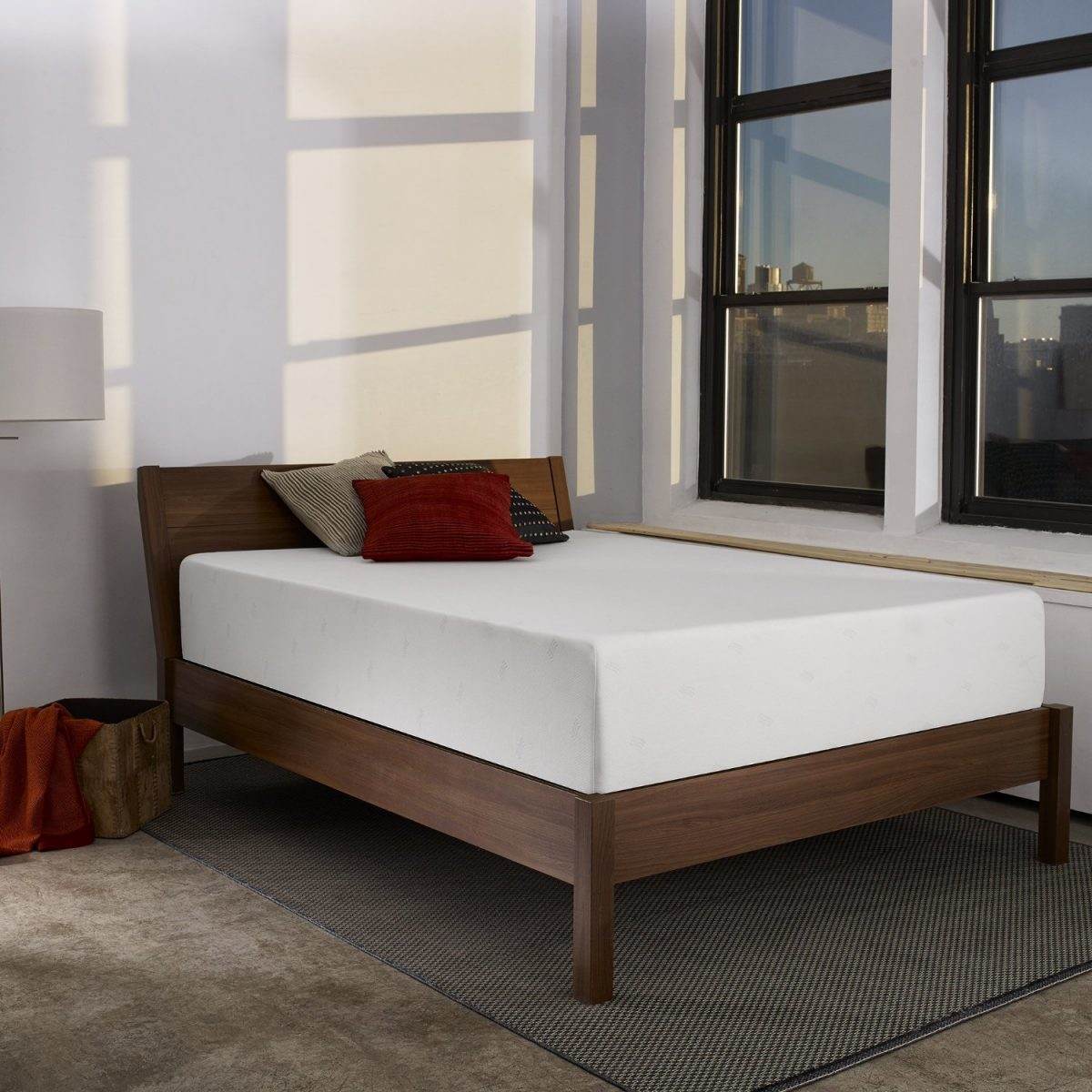 sleepers.
The top layer is a 2.5-inch SureTemp memory foam that provides aerated comfort for low-temperature levels due to its lack of heat retention. The firmness of this top layer is medium which is excellent for stomach sleepers who ideally would like a softer top to lie on and ensure proper pressure relief at the same time.
The Shiloh model comes in several sizes: Twin, Full, Queen, King, and California King.
Part of the DuoComfort Design from Sleep Innovations is their second layer which is a 9.5-inch Support Plus foam that ensures the mattress is firm enough while minimizing motion transfer. The secondary layer is sufficiently dense to prevent sound occurring from body movement during the night. The Support Plus foam provides a stopping point where the sleeper is unlikely to sink into it that much even if they compress the 2.5-inch SureTemp memory foam completely. All foams used are certified as CertiPUR-US confirming their safe use in the home. There is a choice of a quilted or plain cover which is both stretchable and washable.
The Shiloh design is a little unusual for an all foam mattress because it only uses the two layers despite the mattress being 12-inches thick. It is more common to see product makers using four or more foam slabs instead to keep heat levels down and offer a multi-layered sleeping experience. However, clearly Sleep Innovations are confident in their selection here, and it works very well cradling the sleeper while it comforts and supports their weight.
The level of off-gassing from this all foam product is minimal. In most cases, once unpacked and left to expand fully over a period of a couple of days, the mattress will have released the majority of its foam gas smell. It is a good idea to vent the air in the bedroom for a period and keep the bedroom door closed while doing so until the minor chemical odor entirely dissipates.
The Sleep Innovations Shiloh product is made in the USA and sold with a 20-year limited warranty.
Visit Retailer
Casper Sleep Mattress Review
The Casper Sleep Mattress is a multiple award winner. It is an all foam mattress that consists of four distinct layers to provide
excellent bounce, air ventilation, and support.
The mattress comes in Twin, Twin XL, Full, Queen, King, and California King sizes.
The top layer is a latex foam one with an open cell structure which is hypoallergenic to avoid causing allergies in sensitive sleepers. Latex as a top layer offers greater natural bounce than memory foam while feeling softer with a reduced or eliminated sink-in feeling.
The second layer is a high density, pressure relieving memory foam that is responsive to body shape and heat. The combination of latex at the top and memory foam underneath is becoming more common due to the added comfort of latex and heat reduction properties, with the dual layer of latex and memory foam adding exceptional pressure relief at the uppermost part of the mattress.
The third layer acts as a transition between the softer top two layers and the support foam base layer at the bottom. The adaptive transitional foam is firmer than the top layers and manages weight distribution better.
The fourth layer is the base foundation made from supportive foam that is higher density for less flex and greater firmness. The base helps reduce or eliminate motion transfer between partners moving around in the same bed, which prevents one partner waking up the other one when one of them is getting an early start.
All the foams used in the Casper Mattress have the CertiPUR-US certification confirming that no unsafe materials or chemicals were used in their production.
It is expected that stomach sleepers will initially enjoy the feeling of the top layers, but their stomach and back will thank them in the morning for the additional support that a medium firm 3rd and 4th layer provides too.
The entire mattress is wrapped by a woven fabric that uses breathable textiles from Belgium and the United States. The product sits happily on a boxspring, slatted or flat base.
Casper provides a 100-night peace of mind trial on all their mattress purchases.
Visit Retailer
DynastyMattress 15.5 Inch Memory Foam Mattress review
The DynastyMattress 15.5 Inch Memory Foam Mattress is a thicker than average, comfy sleeping option.
If everyone wanted a mattress that went out of its way to provide numerous layers of comfort, then the Grant Atlantis Breeze is surely that product.
The AtlantisBreeze is available in Twin XL, Full, Queen, King, and California King sizes.
The top of the mattress is a quilted, plush 1.5-inch Euro Top which has 5 pounds of Gel memory foam. The top itself has a zip cover, a built-in fire barrier, and incorporates brown-colored suede into its design. The inclusion of a Euro top adds a softer surface that is immediately inviting.
A total of 7.5-inches of gel memory foam is provided within four separate layers. The infused gel beads absorb heat and adapt to warmth for improved heat management throughout.
The first layer within the gel memory foam construct is the 2-inch HD Comfort memory foam for improved contouring of the body. The second layer is a 2-inch Comfort memory foam layer that is a little firmer than the first. The third layer is a 2-inch HD memory foam, and the final gel memory foam is 2-inches of cooling air flow memory foam. The combined 4-layer, the 7.5-inch block is intended to offer a body molding ability to reduce multiple pressure points while avoiding the heat retention issues that a single block of unsophisticated memory foam tends to create.
Below the multi-layered gel memory foam is a 6-inch Super Base foam support that mitigates motion transfer while offering a solid foundation to the many gel memory foam layers above.
In total, there are six layers, including the pillow top, that the AtlantisBreeze uses to create a plush, supportive and adaptive sleeping experience. All foams are CertiPUR-US certified to ensure they're safe to use in the home.
The product comes with a generous 120-day trial period and an equally generous 30-year limited warranty.
Visit Retailer
What determines the Best Mattress for Stomach Sleepers?
Let's face it, sleeping on the belly is a little unnatural and isn't ideal for the body. With that said, if that's the way you like to sleep, then who are we to judge! There are a few negative effects that come from sleeping on the stomach, but these are addressed when purchasing a mattress that deftly handles these issues.
The proper level of back support is essential, with the firmness level being most important here. A medium to somewhat firm mattress addresses the need for the stomach and back to be properly supported. A softer top layer is a nice thing to have too because it prevents the feeling that the belly is pushing right down on the mattress uncomfortable. And don't forget the need for a pillow that properly supports the head and neck at an appropriate angle for a stomach sleeper to avoid suffering from neck pain the next morning.
What makes a Mattress for Stomach Sleepers different?
When sleeping on the side, the head, neck, shoulders and side rib cage need some good support from the mattress to avoid feeling sore in the morning. The back is already quite rested in this position because the weight is removed from the spine. A surface that is too firm will cause shoulder ache and other issues for side sleepers.
Similarly, with stomach sleepers, there are other issues that need to be addressed properly. The position of the head and neck need to be adjusted to feel comfortable. A lower pillow is often required to increase the angle of the head and acuteness of the neck angle as a result. With the sleeping surface, a medium firmness level is the minimum one should look for because the pressure placed on the stomach and pelvis area is considerable. A lack of support leads to problems for the stomach, pelvis, and internal organs.
A plush top on the mattress is a pleasant addition that relieves any pressure points that get created when lying flat down on a bed. A softer top is okay just as long as the medium level of support is provided below the plush surface to ensure the stomach and other parts of the front side of the body feel supported overnight.
As one can now appreciate, it is sometimes more difficult for a stomach sleeper to create a sleep arrangement that is restful both for their body and mind. Conditions and sleeping arrangements need to be 'just right' to facilitate the peaceful night.
Things to consider
Maintaining the right support is the most important aspect because of the amount of pressure created when sleeping on the stomach. Here are some of the factors to consider:
Correct Support for Stomach Sleepers
For belly or stomach sleepers, the number one focus needs to be on proper support. The middle part of the body holds a considerable amount of pressure during the day and tends to require rest at night. With stomach sleepers, this is not possible, unlike when sleeping on the side or back, which is why getting the correct amount of support from the mattress is critically important.
The main issue with support is that without pressure relief from good support, pressure will build up in the torso area which eventually leads to discomfort, tossing and turning, and waking up prematurely. The lack of support eventually will cause back pain in many cases too. To avoid these issues, a mattress that provides enough support for stomach sleepers is what is needed.
For consistent support through multiple layers, latex foam and memory foam mattresses are good choices for the ultimate in pressure relief. Each layer serves a different purpose but combined they provide a comfortable and supportive sleeping environment. In the case of latex, especially Talalay latex, this is a soft top surface that offers great pressure relief. Gel memory foam and aerated memory foam are both excellent for contouring to the shape of the body and proving pressure relief too.
With hybrid mattress that mixes foam top layers with spring bottom layers or innerspring types that often use hundreds of individual spring coils wrapped with foam, the support is excellent if a little hard for stomach sleepers. A softer top layer is beneficial to cushion at the surface with the spring layers providing ample support lower down.
What is comfortable for a back or side sleeper is not necessarily comfortable for a stomach sleeper. It is important to keep this in mind when shopping for a new mattress when either you or your sleeping partner prefer to sleep on their stomach at night.
What Mattress Firmness is Preferred by Stomach Sleepers?
In general, as a stomach sleeper, the front of the body flattens out which leaves a shallower gap between the top layer of the mattress and the body. As a result, an ideal firmness level for front sleepers is medium to moderately firm (4 to 7 rating).
The benefit of this level is that it provides enough firmness to support the front of the body well while preventing the back from arching and creating the unwanted curvature of the spine in the process. With a plush mattress that is below a 4 rating, the pelvis will sink too far into the top of the mattress and is likely to put the spine out of alignment in a different way. With a bed that is either too soft or too hard, lower back pain is likely to result and the stomach and internal organs won't feel too wonderful either. It's actually a delicate balance that is needed which is why there are few bedding models on the market that are suitable for stomach sleepers.
With the selection of the appropriate firmness level – or when sleeping in a hotel bed that's unsuited to a stomach sleeper – the pain caused often goes unnoticed initially, becomes a nagging pain later on, and may reoccur over time without many indications of the true cause.
Stomach sleepers who still prefer a softer mattress have a few smart choices available. Choose a product that uses modern materials like technologically advanced foams that are light yet supportive, or one that has either a shallow, soft top layer or comes with either a pillow top or Euro top with excellent support in the layers beneath.
Shopping for a mattress as a stomach sleeper is no easy task. When wanting to know the key criteria for prioritizing, then consider a firmness level of between 4 and 7 to be just that. Simply getting the firmness level right with the mattress will eliminate so much of the discomfort for the stomach, pelvis, and especially the back. Even when purchasing an overly firm mattress (perhaps a 7 firmness level turned out to be too firm for you) then a soft mattress topper made of latex or aerated memory foam will likely fully resolve the issue without the need to change the mattress for something softer.
Pillows for Stomach Sleepers
Mattress buyers often put considerable thought and attention into selecting the right product for them, but what about the right pillow? Pillows come in many styles, shapes, materials, and fills. Some are plump, tall and wide; others are low-profile, supportive and comfortable.
With back and side sleepers, a plump pillow is often a pleasure to use, but with stomach sleepers, a raised pillow places the head too high and the neck at a sharp angle to the shoulders and chest below it. Given that the stomach sleeper lies mostly flat, unlike a back or side sleeper, the pillow needs to follow a similar profile to provide optimal neck and head support.
Selecting the right pillow ensures that the body lies fairly flat from head to toe. That stuffed pillow may look attractive and comfy, but the raised head position creates misalignment of the spine and additional pressure points that can cause neck pain as early as the following morning.
Beyond the height issue, key attributes for a pillow includes its ability to keep cool and contour to the shape of the head. The pillow could have a soft filling, or be made of polyfoam, memory foam, or latex. The type of pillow partly depends on the feel and preferences of the sleeper once the pillow height issue has been properly handled. Latex pillows do tend to not be as tall, whereas memory foam ones come in a variety of heights depending on the style of the pillow itself.
You can read our guide to finding the perfect pillow for stomach sleeping right here.
Best Mattress Brands
Sleep Innovations – This is a brand of Innocor who have been successfully producing mattresses for several decades. Their range includes gel memory foam and standard memory foam mattresses, mattress toppers, and memory foam pillows. Heat retention is managed within their mattress products due to their multi-layered approach to design. A substantial concentration of weighing and body presence in a specific spot, common to stomach sleepers, is handled well with their gel memory foam products that sink in nicely while not overheating.
Casper Sleep – The Casper Mattress is the winner of multiple design awards in recent years, which continues into 2016 with another industry award. Their flagship product uses an open cell latex top layer to deliver a soft feel and good breathability. The memory foam layer below ensures pressure relief is provided to avoid stomach pressure sores appearing for belly sleepers who don't roll over during the night. Considerable research and development went into their sleeping product to deliver a well-rounded sleeping experience for many types of people including stomach sleepers.
Dynasty Mattress – This company has mainly been involved in wholesale mattresses and also some retail sales along the way. Their line of bedding products includes visco-elastic memory foam, cool gel memory foam, and pillow tops for the ultimate in top-level comfort. The company even makes products that simulate weightlessness and anti-snoring features that partners will be thankful for. Some of their products don't come cheap though, so be forewarned.
FAQ
Q: Can I get a restful night's sleep as a stomach sleeper? I find sleeping on my belly is the only way to feel comfortable?
A: Sleeping on the stomach can just become a habit or it is the only way to be comfy. As long as the mattress is firm enough while reducing pressure points, then it should be fine.
Q: Do I need a firm or plush mattress as a stomach sleeper?
A: A medium to firm mattress, edging more towards the medium level, is the best choice.
Q: Is an innerspring mattress a good idea for a stomach sleeper?
A: The cheaper innerspring mattresses with interconnected spring racks are not the best choice because they often push into the stomach with a heavier sleeper; lighter sleepers might find them less of a problem. Pillow top or Euro top spring mattresses get around the issue with a soft, often foam-filled, top layer. A hybrid mattress that uses latex or foam at the top and a spring system as a foundation is also a good option offering comfort and firm, springy support.
Q: Is sleeping on my stomach healthy?
A: It's not that it is particularly unhealthy, but more that sleeping on your side (as over two-thirds of sleepers do) or even on your back, is a little bit more restful for the body.
Q: Does a good pillow matter or should I focus solely on mattress selection?
A: Sleeping face down on a suitable mattress but with a pillow that's too taller for the stomach sleeping position is likely to cause as many problems with neck and back pain as an unsuitable bed. The lower profile allows the whole of the body to lie fairly flat throughout the night without one part of the body being elevated unnaturally. For belly sleepers, a low-profile pillow is ideal to avoid additional aches and pains.