Last Updated: January 2020

For many women, pregnancy is a joyous time. For nine months, your body will change as it makes room for a growing infant. However, with this joy comes some discomfort, which includes everything from morning sickness to hormonal changes. Getting a good night's rest can help you feel better all throughout the day, and the best pregnancy pillow for your unique needs can help.
Here are some of the highest rated options available today in each of the aforementioned categories.
Best Pregnancy Pillow in 2020
*5 Star Rating: this is based on the percentage of consumers who rate the pillows 10/10.
Although you can search products endlessly and limit yourself to those that received excellent reviews, you will quickly discover that finding the best pregnancy sleep pillow depends almost solely on your unique needs. They come in a variety of shapes, sizes, styles, and materials, and as you might already have guessed, each has its set of pros and cons.
Wedge Pillows
Wedge pillows can fit under your back or stomach to help provide the cushion and support you need for comfort while you sleep. Many women use them under their traditional pillows to help prop them up at night, which is especially helpful for women suffering from heartburn. They are one of the most inexpensive pillows, which means that many give you excellent value for the money. They might be round or triangular in shape, and they have several benefits that go above and beyond your traditional pillow. Many women find wedges to be the best pregnancy pillows for a number of reasons.
These pillows are quite inexpensive and small, making them perfect for traveling.
Their small size is also a boon to your sleep partner, who will still be able to sleep comfortably alongside you.
This is the best pregnancy pillow for hip pain because it gently supports your stomach, reducing pressure on your hips.
However, because this pillow can only support a small section of your body at a time, you might find yourself needing two or even three to get comfortable.
Full-Length Pregnancy Body Pillows
The best body pillow for pregnancy is the one that makes you feel the most comfortable. The primary advantage to this type of pillow is that it negates the need to purchase (and use) multiple pillows throughout the night. This means that your pillow is more likely to stay in place rather than scatter across the bed as you move during your sleep. However, this comes at a cost. Even the best body pillow for pregnancy cannot provide the same level of support for your back as a wedge pillow does.
There are two main types of body pillows for pregnancy: straight and flexible. A straight pillow is typically nothing more than an extra-long traditional pillow that you can cuddle at night. You can tuck it between your knees to relieve pressure, and you can even place it beneath your tummy for some cradling relaxation. A flexible pillow does what its name suggests; it allows you to conform it into any shape you desire. The best body pillow for pregnancy 2016 will contain microbeads, which provide the most conformity and support, but some others contain small Styrofoam balls.
The best body pillow for pregnancy provides you with several unique advantages. First and foremost, you will only need the one pillow in many cases since there is no need for a separate head pillow. However, because this pillow takes up a lot of space on the bed, your partner may feel quite crowded. What's more, if you typically sleep on your back, you might find that this pillow does not offer you much support.
Full-Body Pregnancy Pillows
These are usually considered the absolute best sleeping pillow for pregnancy because they come in unique shapes designed for your comfort. The most common form is the C-shaped pillow, although the U-shaped model usually gets the best pregnancy pillow reviews.
With a C-shaped pillow, one end is for your head while the other nestles between your legs. The spine of the "C" fits up behind your back to relieve pressure on your spine. These pillows are quite a bit smaller than full body pillows, but they still take up quite a bit of space in the bed.
A U-shaped pillow is much the same since it offers support for the back, head, and legs. It offers support in the front and the back, though, which makes it preferable for women who are usually back sleepers, but who experience an inability to do so based on their growing bellies. As such, most reviewers say that the U-shaped option offers the best back support available today, and that's important for a good night's sleep. However, these are the most expensive pregnancy pillows.
Things to Consider Before Buying
Now that you understand the differences in pillow types, it is important that you take the time to familiarize yourself with some of the features you might come across while you shop for the best pregnancy pillows of 2016.
Does the Pillow Have a Removable/Washable Cover?
Those pesky pregnancy hormones will wreak havoc on your body from time to time, and pregnant women are no strangers to night sweats. You'll probably find yourself wanting to wash your pillow from time to time, but because of their size and shape, this is impossible. At the very least, you will want a pillow with a removable, washable cover. Avoid those that have snaps or buttons, because these will annoy you as you sleep. Look for a slip-on cover or one with a hidden zipper to help keep you comfortable and make cover removal and replacement a snap.
What Type of Filling is Inside the Pillow?
The filling used inside your pregnancy pillow has a huge impact on not only your comfort but also the amount of support it provides.
Styrofoam Balls – Styrofoam is inexpensive and lightweight, but it can provide quite a bit of comfort. The downside to these is that they make noise when you move, which could wake you at night or even disturb your partner.
Polyester Fill – Polyester is the most common "stuffing" found in pillows these days. It is quite soft, and it makes absolutely no noise when you move, but it isn't very breathable. This means that it is likely to capture your body heat as you sleep.
Microbeads – Microbeads are super tiny at only a fraction of an inch in width, and when you feel a pillow stuffed with microbeads, it often feels like sand from the outside. These beads are truly lightweight, though, and they make zero noise. They're also more supportive than Styrofoam, but expect to pay a premium for pillows stuffed with microbeads.
Memory Foam – These pillows acclimate to the shape of your body as you lie against them. Memory foam comes in several densities, but in the case of the best pregnancy pillows, the material is always quite firm. This provides lots of support. If you want to buy a memory foam wedge pillow, find out whether the pillow is a solid chunk of foam or shredded foam. The solid foam may retain a lot of body heat, but shredded foam still offers a lot of support and breathability.
Natural Fillings – Materials like spelt, kapok, and wool are common in organic pregnancy pillows these days, but some users suggest that they are not as comfortable as those made with microbeads or even memory foam.
Is the Pillow Hypoallergenic?
On your hunt for the best pregnant pillow, make sure that you consider whether or not it is hypoallergenic. Even if you have never had a single allergy in your life, your body undergoes some significant changes during pregnancy. These can make you more susceptible to certain materials. If a pillow is hypoallergenic, it will not trigger any reaction whatsoever. Although a hypoallergenic pillow is a must for anyone who has breathing issues, allergies, or asthma, it never hurts to purchase hypoallergenic products even if you don't.
How Large Is It?
When it comes to the best pregnancy products 2016, size matters. You need to first consider your personal preferences. If you prefer a huge pillow, get one. If you like a smaller size, you can find those, too. First and foremost, it should be about what makes you comfortable. Next, think of your partner. If a pillow is too large, then your partner may feel crowded out of bed. Conversely, if you sleep in a king-sized bed, then there is still lots of room for two even with the largest pregnancy pillow on the market today. Most of this comes down to your unique situations and needs.
Firmness
Many, many pregnant women seem to have an affinity for super-soft pillows. They feel cushiony and supportive most of the time, but in all honesty, they are anything but. Try to set your love of soft, squishy pillows aside long enough to purchase a firm pregnancy pillow. It'll give you more support in the long run, which is important for keeping you comfortable while you sleep and relieving any pain you might experience upon waking.
Our Best Pregnancy Pillow Recommendations
Best Wedge Pillow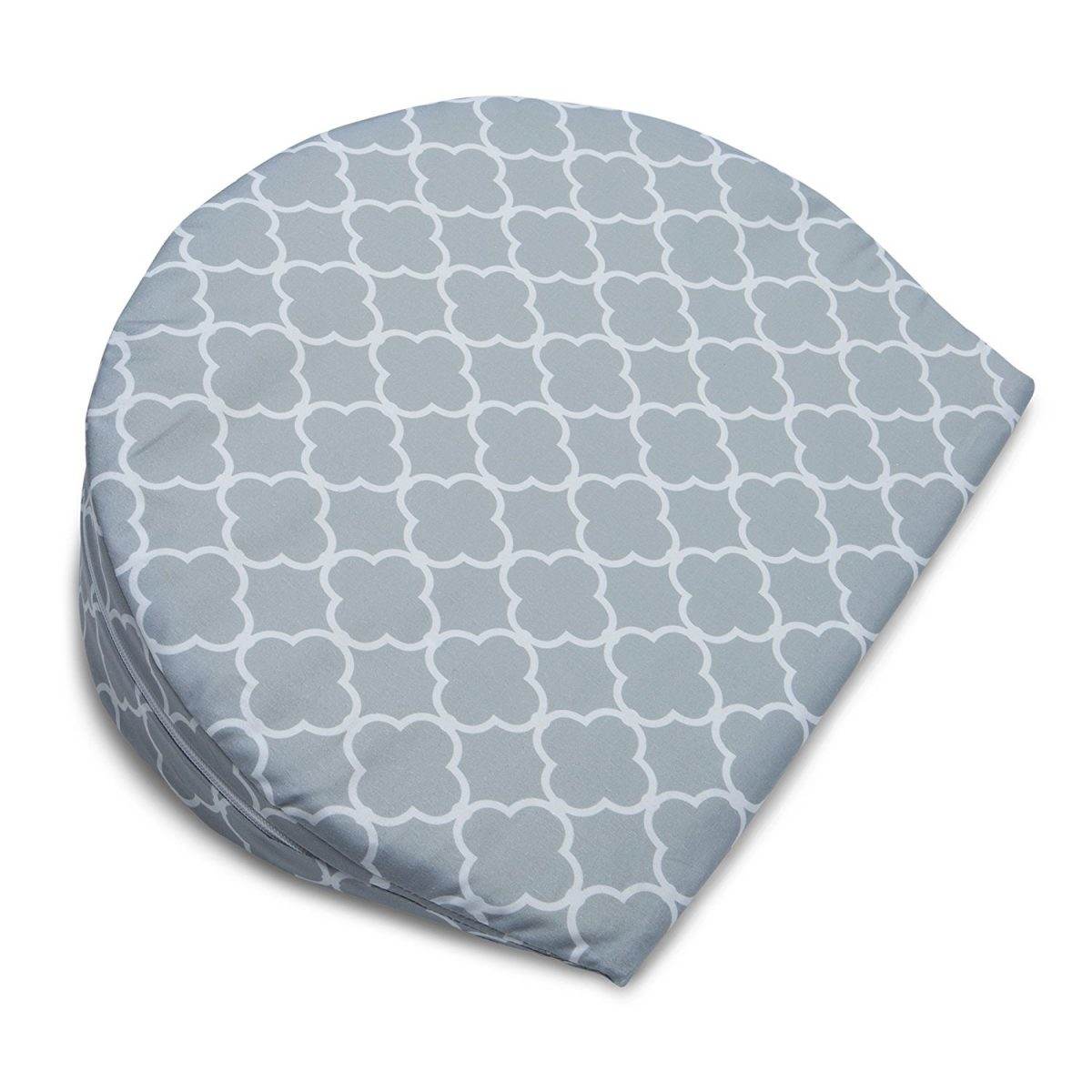 Boppy wins the award for the best wedge pillow for pregnancy with its Boppy Petite Trellis Gray pillow. This particular pillow is small, versatile, and inexpensive when compared to its competitors. The cover is removable, too, which means you can wash it as often as necessary. You might be a little surprised by this pillow's firmness at first, but if you give it a few nights, you will truly feel the difference. It is constructed of high-density polyurethane foam with a thick cotton cover, and it offers a sturdy zipper that will not irritate you while you sleep.
Best Memory Foam Pillow
The Coop Home Goods shredded memory foam body pillow gets the best reviews in this category. Unlike many other full-sized body pillows, you can toss this one into the washing machine to get it clean as necessary. It is a whopping 60 inches long, and it is filled with shredded memory foam to provide you with the perfect balance between support and breathability. The cover is a combination of bamboo and polyester, which offers a hypoallergenic surface that feels amazingly soft against your skin. Although it may feel a bit lumpy at first due to the shredded foam inside, your body will quickly compress the foam so that these lumps are no longer noticeable. To top it all off, Coop Home Goods backs this product with a five-year warranty.
Best C-Shaped Pillow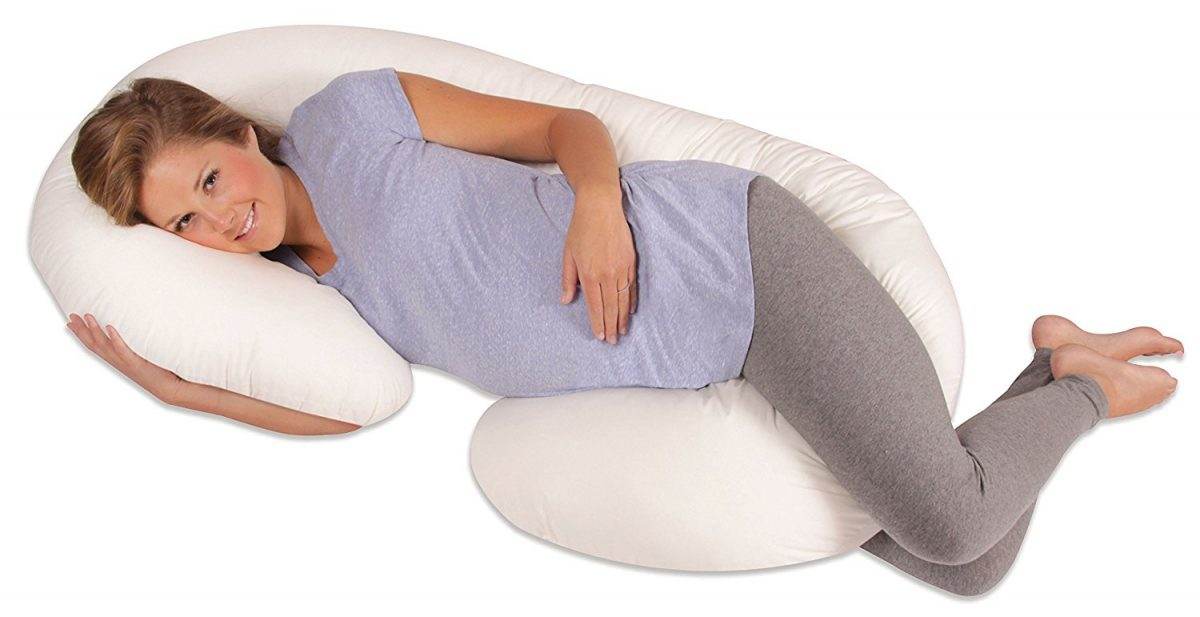 The best pregnancy pillow review for a C-shaped pillow goes to Leachco for its Snoogle Total Body Pillow. It is a bestseller around the world, and it offers up an easy-to-remove washable cover. It's been around for more than a decade, so this company is doing something right. You can sleep in any position you can imagine with this pillow, too. Although the traditional model does not have a zippered cover, you can spend a little extra to purchase one if you so choose.
Best U-Shaped Pillow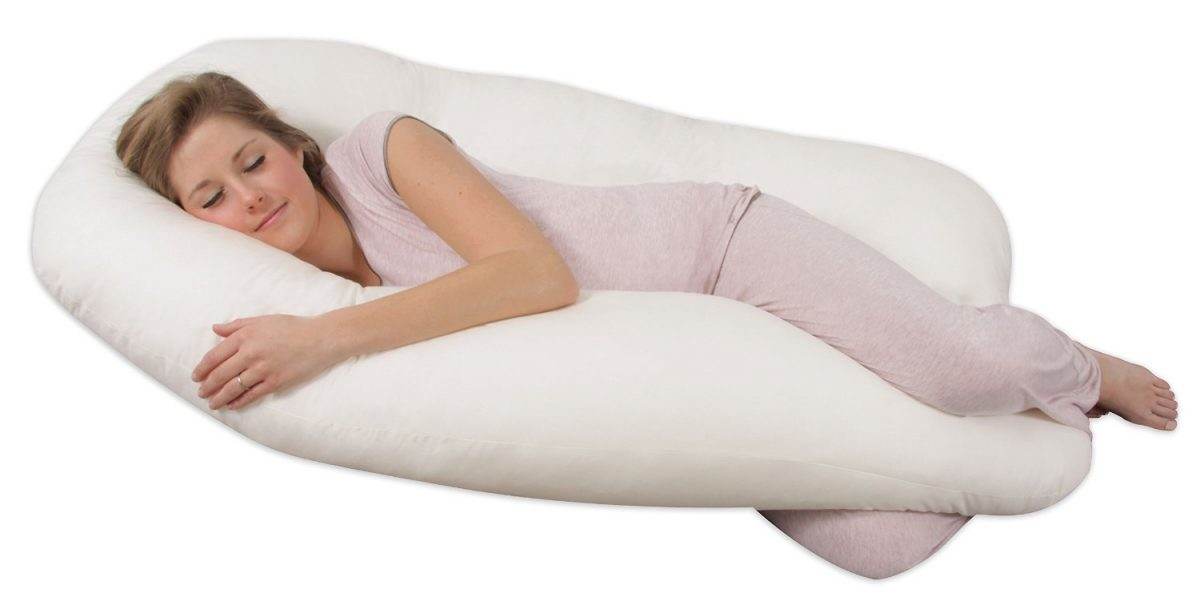 Once again, Leachco wins this award for the Back 'N Belly Contoured Body Pillow. It offers contours on the inside of the pillow, which makes it incredibly comfortable for side and back sleepers alike. No matter which way you turn, you'll find that there is plenty of comfort. What's more, it doubles up as a nursing pillow once your little one is born, so you'll get your money's worth out of it.
The Best Pregnancy Pillow for Your Unique Needs
With all of this in mind, in some cases, the pillow with the highest reviews may not be the best choice for you. Here are some unique situations and the pillows that women found to be the most helpful.
Carrying Twins – Multiples cause your tummy to grow larger and faster than usual, and you'll need a lot of support when you sleep. You can't go wrong with a U-shaped pillow in this case.
Plus-Sized Women – Plus-sized women, tend to prefer the C-shaped pillows because they offer quite a bit of flexibility in a smaller size. They do not find the C-shape as restricting as the U-shape.
Petite Women – Smaller women often feel overwhelmed by the sheer size of many of today's best pillows for pregnancy. Fortunately, companies like Leachco make all types pregnancy pillows in petite sizes to help bridge this gap.
Side Sleepers – As your tummy starts to grow, your doctor will recommend that you sleep on your side (left side, to be exact) as often as possible. Any of the pillows above are excellent choices for helping you rest comfortably on your side. You could choose one or two wedge pillows or a U-shaped pillow, depending on your preferences.
Back Sleepers – Many women continue to sleep on their backs during pregnancy, but their inevitably comes a point when the pressure of your growing baby makes this uncomfortable. U-shaped and C-shaped pillows are the solution for back sleepers because they put pressure on the spine to simulate the feel of back sleeping somewhat.
Stomach Sleepers – Although there are a few solutions on the market today for women who love sleeping on their stomachs and do not want to give it up during pregnancy, they seldom work. They are expensive, and they are made more for smaller women. The best option for those who prefer stomach sleeping is a body pillow; you can wrap your body around it to help simulate the effect.
Pregnancy is a wonderful experience for many women, but sleeping with a growing tummy can prove difficult – especially in the later months. Pregnancy pillows can have a tremendous impact on your overall sleep quality during all stages of your pregnancy, but it is important to consider your unique needs and preferences to choose the best pregnant pillow possible.