Last Updated: May 2017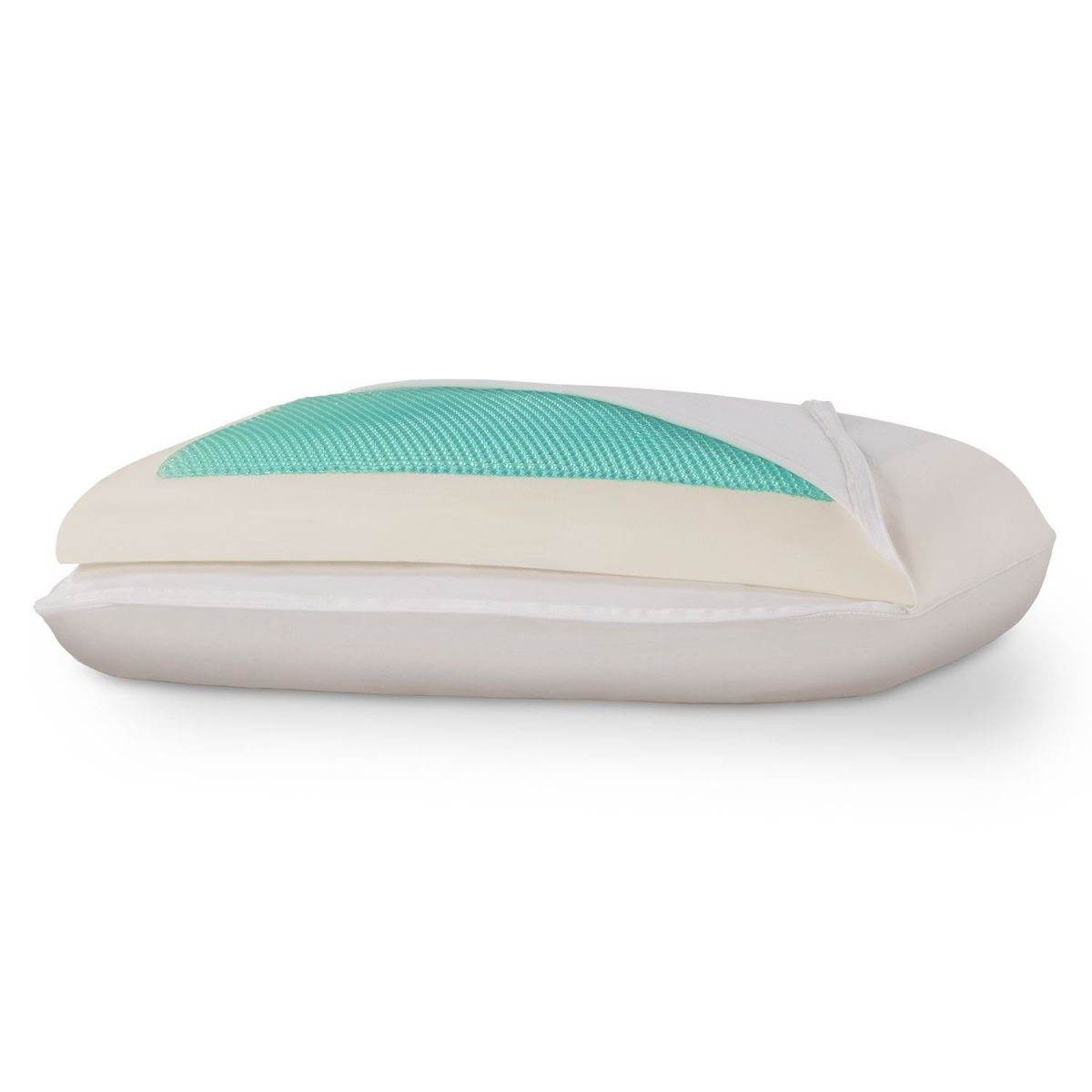 Looking for the Dreamfinity Mattress Topper? Click here!
The Dreamfinity Cooling Gel and Memory Foam Pillow is a standard-sized pillow designed to provide cooling, cradling support. Each side has a unique surface to suit those who sleep in any position. This product receives very high consumer ratings and therefore sells very well.
Product Features and Specifications
Materials: This pillow contains premium molded memory foam, Hydraluxe cooling gel, and poly fiber fill. The cover is 85% polyester and 15% Spandex.
Sizes: The standard-sized pillow is 24x15x5 inches and weighs six pounds.
Thickness: Its five-inch depth contains 2.5 inches of memory foam and Hydraluxe cooling gel on one side and 2.5 inches of poly fiber fill on the other.
Comfort: Thanks to the memory foam, this pillow offers outstanding comfort for those who prefer any firmness. The layer of Hydraluxe cooling gel prevents your body heat from becoming trapped, lending to a cool experience all night long.
Durability: The Dreamfinity cooling gel pillow lasts for years with the proper care and maintenance.
Pain Relief: With regular use, the Dreamfinity gel pillow can provide ample neck pain relief for those who do not get the proper support from their traditional pillows.
Click here to check the price of the Dreamfinity Cooling Pillow.
Pros and Cons
Pros
Eliminates tossing and turning to get your pillow "just right".
Reduces the need to flip the pillow to the cool side throughout the night.
Offers two unique sleeping surfaces to suit anyone's needs. The memory foam side cradles your head and neck while the poly fiber fill side feels like a traditional pillow.
This pillow does not lose its original shape or fullness like traditional pillows – even after years of use.
It is an affordable alternative to the high-priced memory foam pillows out there.
The gel bubble layer does a great job of moving heat away from your body as you sleep.
Cons
The pillow itself is not machine washable; it can only be spot-cleaned.
It has a chemical odor at first, and the manufacturer recommends "airing" the product for 72 hours prior to its first use.
The pillow is designed for those who prefer a softer surface; firm pillow lovers may find that this one can't hold up.
Consumer Score & Feedback
Dreamfinity Cooling Gel and Memory Foam Pillow Review
Comfort
Durability
Pain Relief
Cooling Ability
Summary
Overall, the Dreamfinity Cooling Gel and Memory Foam Pillow is a great value for the money. It offers outstanding memory foam technology at an affordable price.
Find out what consumers are saying right here.
Overall, the majority of consumers who purchase the Dreamfinity Cooling Gel and Memory Foam Pillow are more than satisfied with their purchase. In fact, many are surprised by comfortable sleep they receive with such an inexpensive product. Many reviewers have owned the pillow for years and return to purchase additional pillows as gifts for friends and family members.
The pillow's cooling abilities are arguable according to consumer reviews. Although some claim that the pillow did a fabulous job of keeping them cool throughout the night, others claimed that they still woke drenched in sweat. A few consumers commented on the firmness of the pillow, claiming that this is a product well-suited toward those who prefer a softer sleeping surface. Most consumers, though, were satisfied with the overall firmness and density.
Reviewers also commented on the dual capabilities and versatility of the pillow, stating that the poly fiber fill side offered them a fantastic option for sitting up in bed while reading or watching television. The majority of users preferred the memory foam side for sleeping, though stomach sleepers appreciated the addition of a traditional poly fiber side. However, of those who prefer the traditional side, the majority noted that the pillow is quite thin and does not provide enough support.
Our Verdict
Overall, the Dreamfinity Cooling Gel and Memory Foam Pillow is a great value for the money. It offers outstanding memory foam technology at an affordable price. However, those who prefer a firmer pillow or who need extra head and neck support while sleeping may want to choose a pillow that is a bit thicker and firmer. In this case, we recommend the Sleep Innovations Cool Contour Memory Foam Pillow due to its cooling memory foam and specially contoured design.
Where to buy?
You can purchase from Amazon right here.