Last Updated: May 2017
One of the biggest problems that many people complain about preventing them from getting a restful sleep is overheating. Body temperature rises during sleep, and that extra heat can get trapped inside the mattress, causing the surface to rise, resulting in overheating of the body. This can lead to a myriad of problems, including hyperventilation, lower oxygen levels and generally uncomfortable and unfavorable conditions for sleeping.
To combat the issue of overheating, Dream Foam, a trusted mattress manufacturer, created the Arctic Dreams Cooling Gel Mattress. This mattress is specifically designed to reduce heat retention and avoid elevated body temperature while sleeping. The key to this mattress' cooling power lies in the cutting edge Energex material, a viscoelastic foam. Infused with cooling gel, Energex pulls heat away from the body, preventing the mattress from heating up, and preventing the sleeper from overheating. Combined with the super breathable cove, the Dream Foam Arctic Dreams Cooling Gel mattress claims to provide a consistently cool and comfortable sleeping surface.
This mattress is also designed to offer pressure point relief, easing pain and improving overall comfort. Add to that the fact that the mattress is made in the USA and that it is CertiPUR US Certified, and you have a mattress that should deliver a fantastic night of sleep. But, does it? In this detailed buyer's guide, you will find out.
Made in the USA
CertiPUR US certified
Little to no heat retention
Great bounce
Little motion transfer
10 year warranty
90 night trial period
Full money back guarantee
Very affordable; significantly lower price than similar mattresses
Mild off gassing
Can't try it before you buy it
Our Score
Below is our final score of the Dreamfoam Arctic Dreams Gel Memory Foam mattress based on multiple criteria that we use when testing all of our mattresses.
What's It Made From…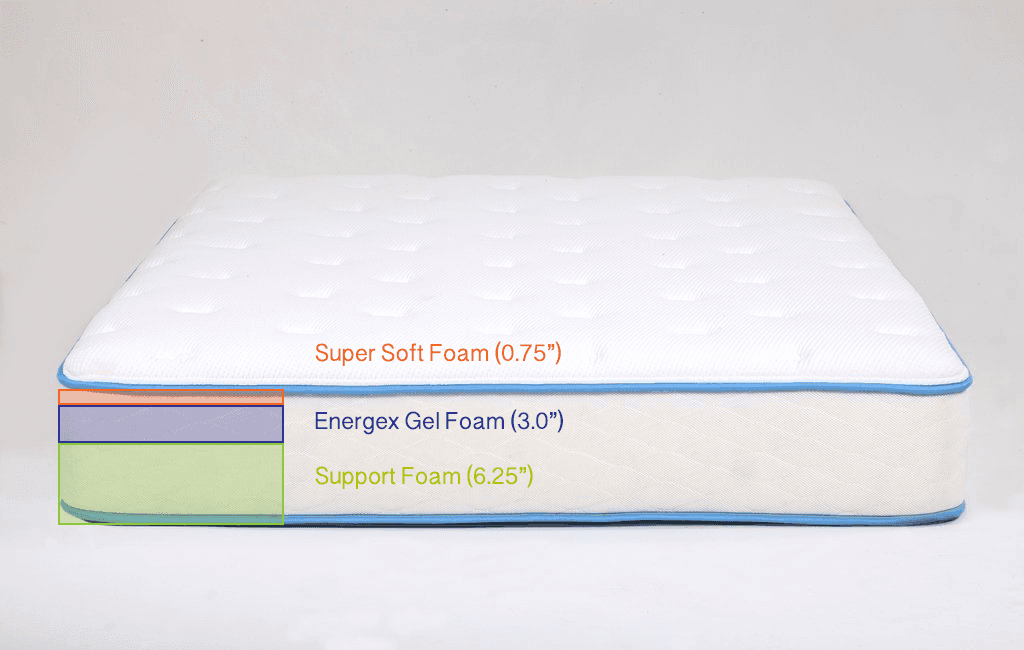 The Dream Foam Arctic Dreams Cooling Gel mattress is made of three separate layers, including:
A layer of super soft foam
A layer of Energex gel foam
A layer of support foam
All three layers combine to make a mattress that is a total of 10 inches thick.
The Top Layer
The very first layer of the Arctic Dreams mattress is made of .75 inches of super soft foam. This foam creates the softness that you feel as soon as you make contact with the mattress. Additionally, it helps to create pressure relief and reduces pain. This layer is also very breathable, aiding in the reduction of heat retention in the mattress.
The Middle Layer
In the middle of the Dream Foam Arctic Dreams mattress is 3 inches of Energex gel foam. This cutting edge material is very similar to latex. It offers the same level of bounce as latex; however, it is significantly more comfortable and supportive. Additionally, this material is infused with cooling gel, which absorbs body heat and helps to prevent the mattress from overheating, and thereby prevents the sleeper from overheating.
The Third Layer
The last layer of the Dream Foam Arctic Dreams Cooling Gel mattress is made of 6.25 inches of support foam. This is the layer that acts as the foundation for the entire mattress. It provides support for the top layers and helps the mattress retain its shape. Additionally, this layer adds a certain level of deep compression support, which is ideal for heavier sleepers, as it helps to provide additional pressure relief and prevents pain.
The Cover
Encompassing the three layers of the Dream Foam Arctic Dreams mattress is a cover that is made of a blend of cotton and stretch polyester. This combination of fabrics makes the cover soft  and stretchy, as well as breathable, which helps to reduce heat retention. When we pulled on the cover, it quickly returned to its original shape, which we were very impressed by.
From a design standpoint, the cover is pretty basic. The top and sides are white, and a blue trim connects the seams that meet along the edges of the top and sides, as well as the bottom.
Hands on Review
 In this portion of our buyer's guide, we provide a detailed description of the pertinent criteria that impact the overall quality of the Dream Foam Arctic Dreams 10 Inch Cooling Memory Foam mattress. Since you the mattress is shipped directly from the manufacturer to the consumer, you can't try it out before you buy it, which means that it can be difficult to determine whether or not it is the right fit for you.
The criteria we assessed in our hands on review includes:
Firmness
The Arctic Dreams Cooling Memory Foam mattress from Dream Foam is a medium firmness mattress. On a firmness scale of 1 to 10, with 1 being the softest and 10 being the firmest, we give this mattress a score of 5. This firmness level is designed to meet the needs of the average sleeper; those who aren't looking for a mattress that is too soft or too hard.
Comfort
Overall, we found the Dream Foam Arctic Dreams mattress to be very comfortable. We think that it offers the perfect combination of body contouring, deep compression support and pressure point relief. Body weight seems to be evenly distributed across the mattress, which really helps to limit the amount of pressure buildup and keeps the spine in proper alignment.
Motion transfer was a minimum with this mattress. This means that if you are sharing the bed with someone else, you will not be disrupted by feeling any movement that he or she makes. This certainly adds to the overall comfort that the mattress delivers.
Pain Relief and Support
The Arctic Dreams mattress from Dream Foam does a great job of relieving pain. Because it evenly distributes body weight, it minimizes the buildup of pressure in key points in the body, including the back, the neck, the shoulders and the side. As a result, you should not experience any level of pain while sleeping on this mattress. We do want to point out, however, that heavier sleepers may find that this bed is a little lacking in terms of pain relief and support. It may not adequately absorb body weight, which could result in a buildup of pressure on key points in the body.
Heat Retention
We also think that this mattress did a good job of reducing heat buildup. A common issue with mattress that are made of foam is heat retention. The foam tends to draw in and trap body heat, which increases the temperature of the mattress, and thereby increases the temperature o the sleeper. The Energex foam used in this mattress helps to significantly reduce the retention of heat, and it really did a good job of keeping the mattress a consistently cool temperature throughout the night.
Off Gassing
Off gassing is a common issue experienced with mattresses that are made of foam. There are certain chemicals that are used in the production of the foam, and those chemicals can have a very noticeable odor to them. Those odors can dissipate through the mattress, causing it to smell.
With the Dream Foam Arctic Dreams mattress, we did notice a certain degree of odor when we first received it. That odor was not completely off putting, but we do recommend airing it out before you use it. We just left our mattress in a room with the windows open for a few hours and the odor was gone. We do want to point out that this mattress is CertiPUR US certified, which means that it is not made of any toxic chemicals, so any odor that you experience will not be hazardous to your health.
Intimacy
In terms of intimacy, we were quite pleased with the Arctic Dreams mattress. The Energex foam offers a very nice level of bounce, which is ideal for intimate activities, as you it means that you will not have to use an excessive level of energy. Despite the bounce back, we  were impressed that this mattress had minimal motion transfer, so the bounce won't impact your sleep as far as feeling any motion is concerned.
Sleeping Position Ratings
Every sleep position requires a different type of support and comfort. That's because the weight of the body is compressed in different areas in different positions. As a result, a sleeper can experience increased pain if the mattress does not deliver the proper layer of support and comfort for a specific position.
Here's a look at what we found regarding the sleep position ratings for the Arctic Dreams Cooling Foam mattress from Dream Foam…..
Back
Dream Foam designed their Arctic Dreams Cooling Gel mattress to evenly distribute body weight throughout, which means that back sleepers will find it to be comfortable and supportive. Additionally, because it is medium in firmness, back sleepers should find that it offers just the right amount of hug.
Back Sleeping score: 9.25/10
Stomach
Stomach sleepers will also enjoy this mattress. The super soft foam on the top layer offers just enough give, while the Energex gel foam provides a nice amount of bounce to prevent stomach sleepers from feeling as if they are being trapped in the mattress. Because the mattress keeps the spine in proper alignment and evenly distributes weight, those who sleep on their stomach should not experience any pressure point buildup or pain.
Stomach Sleeping score: 9/10
Side
Side  sleepers, too, should enjoy this mattress. The combination of materials offers just enough give and support to prevent buildup of pressure, which is particularly important for side sleepers, since their weight is concentrated on one part of their body.
Side Sleeping score: 9.25/10
Bed Frame Compatibility
The Dream Foam Bedding Arctic Dreams Cooling Gel mattress is truly versatile, as it is designed to work with all types of bed frames, including:
Box springs
Platform beds
Convertible beds
Slatted beds
Though you can use the mattress on any frame, we do suggest using it with either a platform bed or a frame that has slats that are spaced no further than 3 inches apart and made of a durable material, such as metal of solid wood. Doing so will ensure that the mattress is fully supported so that you can enjoy the benefits that it provides.
Warranty, Guarantee and Trial Period
Warranty: 10 year limited manufacturer warranty. If you experience any issues with the mattress that are the result of a manufacturing defect, contact the company and they will either repair or replace it for you.
Guarantee: Full money back guarantee
Trial Period: 90 night trial period. If you are not happy with the Arctic Dreams mattress from Dream Foam, contact the manufacturer and they will arrange to pick the mattress up and will fully refund your money.
Conclusion
The Arctic Dreams Cooling Gel mattress from Dream Foam is made in the USA and designed with high quality foam materials. This CertiPUR US mattress is highly breathable and remains cool and comfortable throughout the night. It's medium firmness is intended to please the majority of sleepers. The bed reduces pressure point buildup, keeps the spine in proper alignment and minimizes pain. The mattress offers all of that, and it is very affordably priced.
Is This Mattress Right For You?
We recommend the Arctic Dreams mattress to anyone who is looking for a bed that is medium in firmness, remains cool, provides pressure relief, reduces pain and does not want to spend a tremendous amount of money.
Rating Box and Summary
For more information on the Arctic Dreams Cooling Gel mattress, click here.
Dreamfoam Arctic Dreams Gel Memory Foam Mattress
Summary
With its cooling technology, supportive memory foam and lack of harmful chemicals, it is the perfect mattress for anyone who wants the best value of mattress at the best price.