Whether you run marathons, are a busy parent with kids, a dog and a full-time job or are retired and at long last enjoying the pleasures of working out in your garden, if your mornings don't start with you feeling rested and ready to take on the day, it may be time for a new mattress.
You see, regardless of the age of your bed, standard coil-spring construction can often result in body weight resting heavily on key joints such as shoulders, hips and knees and this can lead to an uncomfortable, restless night with stiff, painful mornings. Further, that gap between your lower lumbar region and the mattress means your back isn't getting the support it needs and down the line, you may become prone to chronic back pain.
If you've never really considered a memory foam mattress, now might be the perfect time to take another look because it's many advantages make it an ideal option for those who never want to have to compromise an active lifestyle because of aching joints and muscle fatigue.
Now for those who are new to this style of mattress, Memory Foam Doctor can help. We've already reviewed many of the top brands in North America, sorted them by comfort level, support, materials and even their suitability to various sleep styles in order to provide you with a comprehensive comparison of the benefits each brings to the table.
Below, we look at the Casper and Saatva brands that offer not only the soft, curve-hugging comfort you want with a memory foam mattress but also superior lumbar support that both cradles sore joints and allows your spine to remain in a neutral position regardless of how often you move in the night.
Background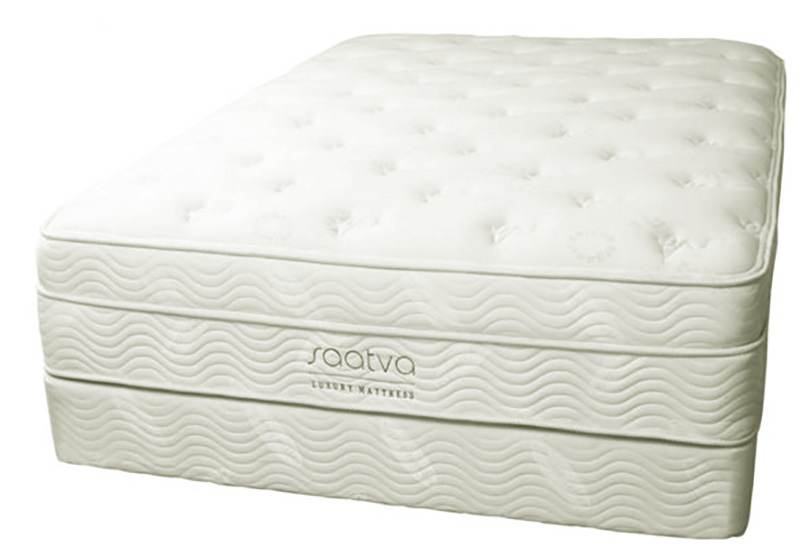 Saatva is not only based in the United States but they also manufacture there as well and as the first-ever memory foam mattress brand to market and sell entirely on-line, they are somewhat of a pioneer in this industry. With almost $180 million in sales after just 7 years in the bed-in-a-box business, this luxury mattress brand's bragging rights include the fact they use only organic cottons, plant-based foams and botanical anti-microbial fabric treatments in the manufacturer of their top-of-the-line memory foam mattresses – which makes them a great choice for those with allergies.
Why is Saatva a Great Mattress for Joint Pain?
In addition to offering a hybrid style mattress with over 850 individually pocketed coils for instant adaption to your body's contours, the Saatva mattress uses their proprietary "Spinal Zone" sleep technology. This ensures that regardless of the firmness level you choose (the brand offers Plush Soft, Luxury Firm and Firm) or how you sleep, your body weight is evenly distributed across the sleep surface to alleviate pressure on heavier joints. So, you receive curve-hugging support that prevents lower back "gaps" and ideal spinal alignment. No wonder this mattress has received the official Chiropractic Seal of Approval.
Construction
Cover
The 100% organic cotton cover is breathable to ensure continual air flow throughout the night and a cooler, more comfortable sleep but is also treated with Saatva's exclusive botanical anti-microbial treatment to prohibit the growth of bacteria. So, you have a continually fresh, longer-life mattress cover.
Top Layer
An ultra-soft Euro-style pillow top not only features Saatva's eco-friendly bio foam for super plush comfort regardless of your body type or sleep position, but this little extra layer of luxury is stitched under the cover layer versus on top of it. What this means for you is that it remains firmly in place, unlike standard pillow-top designs where it's been added as a topper and can shift and slip over time.
Second Layer
Saatva has added an extra stage of cushioning with a 1-inch thick layer of natural, plant-based memory foam. This additional layer delivers just a little more support for your back and lower lumbar region without adding unnecessary height to the already 14.5-inch mattress body. By keeping this layer thinner, you also avoid that sinking sensation that can often happen with thicker layers of memory foam.
Third Layer
All Saatva mattresses feature hybrid construction which brings together the cozy comfort of memory foam with the spring and adaptive qualities of coil construction. Its with this 4-inch thick layer that you'll get to enjoy the over 884 individually pocketed contour coils that use tempered, recycled steel springs for added durability and a little extra bounce. Because each is individually wrapped, they move independent of one another for faster, more accurate adaption to your body's curves. And this results in continual contour-hugging support regardless of how often you move around.
Bottom Layer
Coil-on-coil construction means this mattress features one more layer of 416 -hand-tied coils that provide even distribution of support across your sleep surface. Made from 13-gauge tempered steel for added strength, this additional layer delivers a more durable mattress that will retain its shape, comfort and support for many years to come.
Additional Benefits
Hypoallergenic Materials
Organic materials and eco-friendly foams versus ozone-depleting chemicals, heavy metals or formaldehyde means the Saatva mattress has zero off-gassing – an important feature for allergy sufferers.
Long-Wearing Construction
Tempered steel coils and a separate edge support ensure a longer-wearing hybrid mattress that won't be sagging at the edges after the first few years of use.
Trial Period / Warranty
The Saatva brand features a generous 120-night trial period and 100% money back guarantee if you aren't happy with their mattress. Additionally, they will pick up the cost of returning the bed and offer a 15-year warranty that covers any repairs or recovering. Both this trial period and warranty are longer than those offered by most memory foam mattress brands.
Background
In 2014, the team at Casper envisioned a bed that could provide consumers of all shapes, sizes and sleep styles with the "highest level of comfort and support". Fast forward a couple of years and this US-based on-line memory foam mattress manufacturer has become a household name with sales of over $100 million that clearly establishes them as a leader in the highly competitive bed-in-a-box industry.
Why is Casper a Great Mattress for Joint Pain?
With the Casper mattress you get a 9.5-inch thick mattress that uses 4 different types of foam as well as zoned support to direct the firmness to the areas that need a little extra push-back with the softer, less-firm zones delivering cushioning where its needed. As a result, you have a mattress that not only alleviates weight on key pressure points such as hips, shoulders and knees, but can support the entire back including the lower lumbar region. So regardless of how hectic your day has been or whether you've overdone it on the work-out, your night will be restful and your morning pain-free.
Construction
Cover
The 100% polyester cover that Casper uses on their mattresses is both breathable for a cooler sleep surface and fully zippered for easy removal and cleaning.
Top Layer
Featuring Dunlop latex foam, this 1.5-inch layer is not only super soft and supple but because of its latex foam construction, it delivers a much cooler sleep due to enhanced aeration. Latex is also known for adding a little extra bounce to the mattress which helps to eliminate that sinking feeling and make it much easier to move around. This is a particularly important feature for those who find sore joints or tired muscles can make it difficult to turn over when sleeping on a standard memory foam mattress.
Second Layer
High-density, 4.0 PCF memory foam distributes body weight across the entire sleep surface for continual relief at key pressure points. This open-cell foam works in tandem with the upper latex layer of the Casper mattress to deliver both superior spinal alignment and optimal air flow for a cooler, more comfortable sleep.
Third Layer
This is the layer that sets Casper apart from much of the competition. Their patented Hyper-Targeted zoned support features a high resiliency foam with a polymer network that provides superior ergonomic support, particularly in the lower lumbar region. This added reinforcement helps your back and spine continually revert to a neutral position each time you move or turn in the night versus conforming to the shape of the mattress.
Bottom Layer
High-density poly foam ensures a base that not only delivers consistent support to the upper layers of the mattress but helps to offset wear and tear by absorbing motion and movement for a longer life bed.
Additional Benefits
Zero Off-Gassing
Made without the use of harmful, ozone-depleting chemicals and emissions, Casper's memory foam mattresses feature zero off-gassing and are an ideal option for those who suffer with allergies.
Lower Lumbar Support
Casper's Hyper-Targeted zoned support allows your back and spine to continually revert to a neutral position regardless of your body type or sleep style.
Trial Period / Warranty
Casper mattresses come with a 100-night trial period that includes a 100% money back guarantee. If for whatever reason, the mattress fails to meet your expectations, Casper will pick it up at no cost to you. They also provide a 10-year limited warranty.