Last Updated: January 2017
Studies have shown that as many as 63% of people sleep on their sides almost every night. If you are one of these people, then chances are good that your mattress is not providing you with the support you need while you sleep. Choosing the best mattress for side sleepers is all about support, conformability, and firmness.
#1 Memory Foam Mattress for side sleepers: While we would love for you to read our entire buyers guide, I appreciate you may not have the time. If you sleep on your side, and you are looking for a memory foam mattress that suits your sleeping position then allow us to tell you right now that you will be thrilled with the Sleep Innovations Shiloh 12″ Memory Foam Mattress read all about it right here.
Our Best Mattresses for Side Sleepers in 2016 & 2017
*5 Star Rating: this is based on the percentage of consumers who rate the memory foam mattress 10/10.
The following are our expert recommendations, based on the analysis we have done across the entire mattress market where we analyse consumer information about every mattress brand and every mattress currently available. The recommendations we make are the best of the best.
#1 Most Recommend  – Sleep Innovations 12-Inch SureTemp Memory Foam Mattress
In many cases, it can be difficult to find a supportive mattress that is soft enough for a side sleeper. However, the Sleep Innovations 12-inch SureTemp memory foam mattress manages to capture the best of both qualities. The SureTemp mattress has two layers of foam – 2.5 inches of their SureTemp foam that helps to keep you cool and comfortable while you sleep atop 9.5 inches of high-density support foam to keep your body in perfect alignment all while relieving pressure on your shoulders and hips. The vast majority of users note that this particular mattress even helps put a stop to tossing and turning since it provides personalized alignment regardless of your body shape and size.
Brentwood Home 13-Inch Gel HD Memory Foam Mattress

For those who want to compromise on firmness and conformability but not on quality, the Brentwood Home 13-inch gel HD memory foam mattress is a great choice. It provides a medium feel all the way around, with medium firmness and conformability along with plenty of support. It is infused with gel and air channels to keep you cool as you sleep, and the special blend of a variety of foam materials actually reacts to your movements without making you feel as if you are sinking into the bed. This is a great choice for side sleepers who want to avoid the feeling of movement restriction, and with its wool lining, it helps to wick away moisture and regulate your body temperature as you sleep.
You will stay cooler in the summer and warmer in the winter, all thanks to the innovation of Brentwood.
Sleep Innovations Shea 10″ Memory Foam Mattress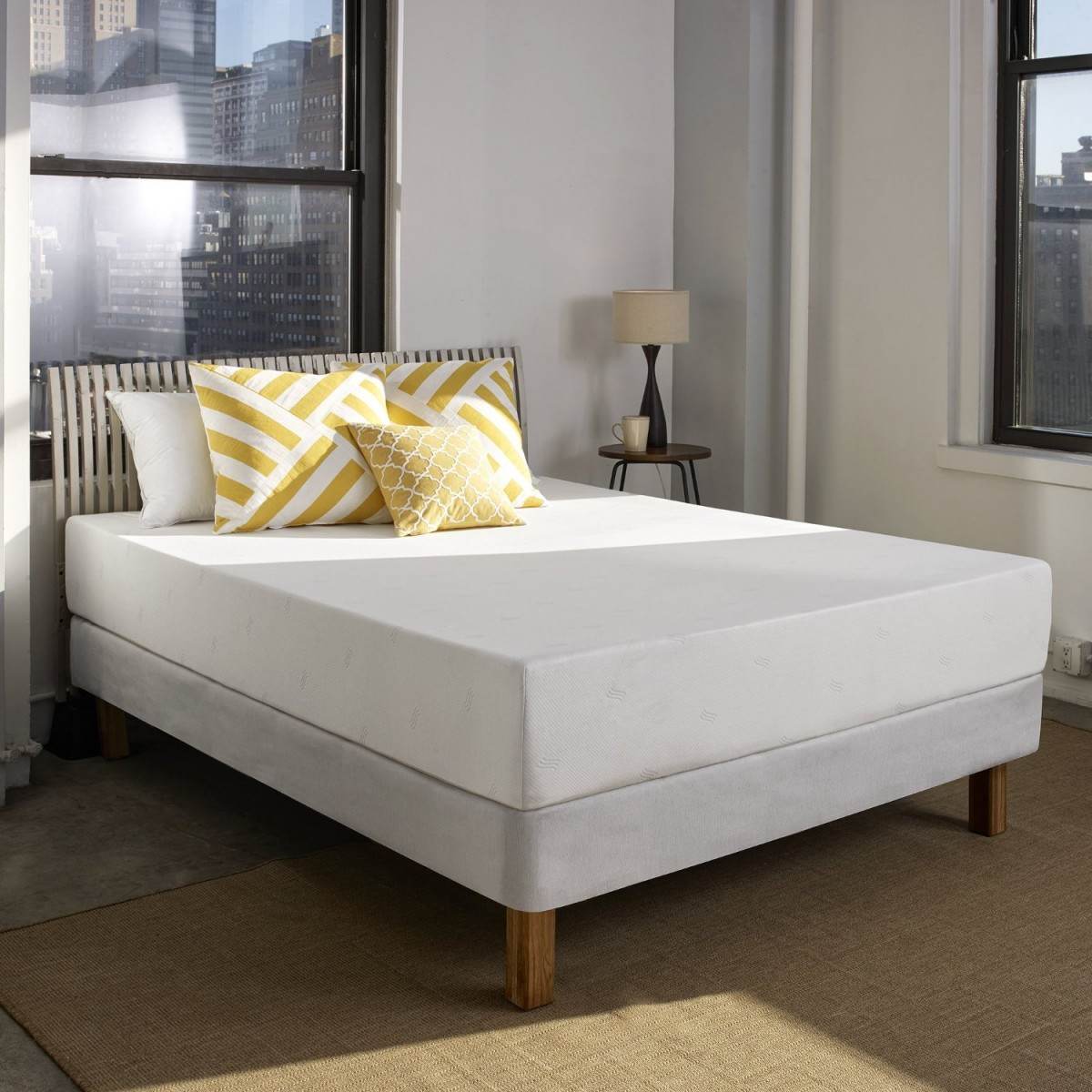 The Sleep Innovations Shea is one of the best selling memory foam mattresses for those who sleep on their side. It's duo comfort design and medium feel help cradle the body and provide excellent support for pressure point relief.
The first 3 inches include the all important Sure Temp memory foam which help provide the personalized alignment. The next 7 inches provide the support needed to help mould around your body when you sleep. This is truly one of the best memory foam mattresses for side sleepers on the market.
DreamFoam Ultimate Dreams Cushion Firm Latex Mattress
This mattress is made of Talalay latex foam with a high-density foam base adding up to a total of 10". You can get this particular mattress in several firmness levels, but remember that, in most cases, a medium firmness works best for side sleepers since it provides additional conformability and helps to alleviate pressure on your shoulders and hips. Of all of the options that DreamFoam offers, their Comfort Scale 6 – Plush is probably the best choice for anyone who sleeps on his or her side. Although the foam itself is wonderful with a full six inches of 1.5lb density foam, the quilted bamboo cover adds yet another layer of softness and comfort. It contains 100% biodegradable and renewable bamboo fibers with 1.5 inches of amazingly soft foam. It is softer than cotton, but it is more absorbent, which results in a cooler, drier, and more comfortable night's sleep.
Serta 12-Inch Gel Memory Foam Mattress with Deluxe Cover
For side sleepers, getting a good night's sleep without waking up in pain is all about the distribution of your body weight and avoiding potential pressure points. That is exactly what the Serta 12-inch gel memory foam mattress with deluxe cover does. The exclusive tri-layer construction is guaranteed to help you stay comfortable throughout the night. The first layer is 2.5 inches of gel memory foam to keep you comfortable and cool. The next layer is a 2.5-inch support foam with air channels to help provide additional customization and air flow. Finally, there is a 7-inch base made of high-density foam that offers you the perfect amount of support without adding too much firmness. The company's revolutionary open-cell foam contains gel support beads to keep you cool all night long.
January 2017 Memory Foam Mattress Deals
Each month we update this section with the best recommendations within various price brackets and also include the best memory foam mattress deals currently on the market, check out below for this month's recommendations!
Please note: these discounts were sourced on the 1st January 2017 and may have changed.
Potential Problems from Side Sleeping
Although the vast majority of people around the world sleep on their sides, doing so can cause some pain if you are sleeping on the wrong mattress. As you sleep, the widest parts of your body – your shoulders and hips – press down into your mattress, and your mattress presses right back. Too firm and unsupportive a mattress, and you end up with too much pressure on your hips and shoulders and not enough support for your head, core, and legs. This puts your body out of alignment as you sleep and often causes back, shoulder, or hip pain. Fortunately, there are some things you can consider the next time you go shopping for the best mattresses for side sleepers.
Mattress Firmness Options
Manufacturers typically label a mattress with one of three firmness options: soft, medium, or firm. Which is the best mattress for side sleepers?
Firm – A firm mattress gives excellent support, but this is only desirable for people who spend most of the night sleeping on their backs. For side sleepers, a firm bed pushes on the shoulders and knees, which causes pressure and pain.
Medium – A medium mattress is usually balanced between support and firmness. Some side sleepers may benefit the most from a medium mattress and a few strategically placed pillows.
Soft – A soft mattress offers the least support, but the most conformability. Many side sleepers choose soft mattresses because they essentially "sink into" the bed, which feels better. If you choose a soft bed, make sure it is also supportive. Memory foam is often the best choice.
Note: we have just reviewed the Eve mattress which scored very highly for people who sleep on their side, it might be worth a look, you can read our review here.
Side Sleeping and Support
The next thing you need to consider when it comes to side sleeping is the amount of support that your bed provides to the non-pressure points. For example, you know that your hips and knees are being supported, but what about your core, your legs, and even your head and neck? The best bed for side sleepers is one that supports every part of the body equally, putting the same amount of pressure on the hips and shoulders as it does the legs and core. The number one complaint from side sleepers is back or neck pain, and if these occur, you may want to check your mattress for sagging. Even a dip as shallow as half an inch can have a tremendous impact on your comfort because this tiny amount of sag takes away from the support your mattress offers.
The Role of Conformability
Conformability describes the way your mattress cradles and surrounds you as you sleep; ultimately, it is the degree to which your bed conforms to your body. For side sleepers, conformability is very important. As you sleep, the goal is to keep your spine in perfect alignment from your head down to your lower back. When you can accomplish this, you relieve pain and pressure all over your body. Conformability allows the heavier parts of your body – your shoulders and hips – to sink downward into the material, yet still offers support for the rest of your body. As you shop for the best side sleeper mattress, remember that conformability is the most important feature. With the right amount of conformability, support is a given.
The Best Bed Type for a Side Sleeper
Aside from simply looking at the firmness, support, and conformability of a mattress, side sleepers should also consider the type of mattresses they sleep on. Some of the most popular options can actually be the least favorable.
Innerspring mattress – Despite the new technologies inside of today's innerspring mattresses, in many cases, these are not the best choices for side sleepers. Innersprings do not provide much conformability unless they have a thick padded top. However, you can make the most of an innerspring mattress by adding a mattress topper. The best mattress topper for side sleepers is one made of thick memory foam.
Water mattress – Waterbeds are not quite as popular as they once were, and probably for good reason. These beds do not provide the support that anyone needs – including back, stomach, or side sleepers. Although you can adjust the firmness somewhat, you cannot really adjust the conformability.
Air mattress – Of all of the mattress types out there for side sleepers, an air mattress is probably the second best choice. When you inflate it correctly, it offers up an enormous amount of conformability and plenty of support, all without the concern of sagging. You can also add and remove air to create the firmness you prefer.
Latex mattress – A latex mattress offers only moderate conformability at best, and they are usually some of the firmest mattresses out there aside from extra firm innerspring models. They are not great choices for side sleepers.
Futon mattress – A futon mattress is usually quite thin, which does not provide enough conformability or softness for side sleepers.
Memory foam mattress – This is ultimately the best choice for a side sleeper because of its excellent conformability. However, it is important to choose the right firmness (density) in order to make sure you get adequate support.
You can also check out our guide to finding the perfect pillow for side sleepers right here.
The Absolute Best Mattress for a Side Sleeper
Now that you understand what happens to your body as you sleep on your side and how different mattress characteristics ultimately determine your comfort, you can put it all together to get an idea of what you need to look for. In a nutshell, a memory foam mattress with a thick, dense support layer and a medium to soft comfort layer is by far the best pick. The comfort layer provides all of the conformability and softness you need to relieve pressure on your shoulders and hips, but the support layer prevents sag and ensures that every part of your body is equally supported. Be sure to consider other features as you shop, such as material quality, cooling gel layers, and more.
The vast majority of people sleep on their sides, and studies show that side sleeping is actually the best way to keep your spine in the perfect alignment throughout the night. However, it is important that you choose a mattress for side sleepers that offers the right mixture of conformability, firmness, and support.
If you are still not sure which mattress best suits your needs then check out our mattress buyers guide right here.