Last Updated: January 2017
What you need to know:
If you are looking for the best memory foam mattress topper, then use our in-depth buyer's guide to help you find the best mattress topper to suit your needs.
Most popular type of mattress topper
Most effective at improving mattress comfort
Available in various thicknesses and densities
Initial odor
Heat retention
Quite Heavy
E

ditor's Note

Thank you for visiting my website. I've done my best to provide you with the most in-depth consumer guide with honest and accurate information relating to the best memory foam mattress toppers currently on the market. A significant amount of time has been invested in providing you with this information, so I do hope you find it useful.

Memory foam mattress toppers are the most popular type of topper, with more user reviews for them than any other type of topper. We have analyzed over 25,000 user reviews for these products and found that 92% of owners were satisfied with their purchase. Many owners say that the one which they selected is extremely comfortable, supportive and provides relief from pain.

#1 Memory Foam Mattress Topper: While we would love for you to read our entire buyers guide, I appreciate you may not have the time. If you are looking for the best memory foam mattress topper, then allow us to tell you right now that 99% of consumers will be thrilled with the 'Sleep Innovations 4 Inch Dual Layer Topper."
Best Mattress Topper 2017
We shall be updating this page in the up and coming weeks with our initial recommendations of the best mattress toppers to purchase in 2016. We will be analyzing the performance of particular mattress topper brands and specific mattress topper products of 2015 & 2016, covering the best sellers, up and coming as well as new to market brands and products.
Best Memory Foam Mattress Toppers of 2016 leading into 2017
The table below rates and compares memory foam mattress toppers based on thickness, density, durability, initial odor, heat retention, reviews, ratings, and warranty.
| | | | | | |
| --- | --- | --- | --- | --- | --- |
| Brand | Memory Foam Solutions | Lucid | Sleep Joy | Memory Foam Solutions | Sleep Better |
| Photo | | | | | |
| Owner Satisfaction | 8.8 | 8.6 | 8.8 | 8.8 | 8.8 |
| Thickness (inch) | 3-inch | 2.5-inch | 2-inch | 2-inch | 3-inch |
| Density (lbs) | 4.0 lb | 3.0 lb | 3.0 lb | 5.0 lb | 2.5 lb |
| Firmness | Soft to Firm | Soft to Firm | Soft to Firm | Soft to Firm | Soft to Firm |
| Sizes | California King, Full, King, Queen, Twin, Twin XL | California King, Full, Full XL, King, Queen, Twin, Twin XL | California King, Full, King, Queen, Twin, Twin XL | California King, Full, King, Queen, Twin, Twin XL | California King, King, Queen, Twin XL |
| Warranty | 5 Years | 3 Years | 3 Years | 5 Years | 5 Years |
| Price | Check Price | Check Price | Check Price | Check Price | Check Price |
#1 Most Recommend – Linenspa 2inch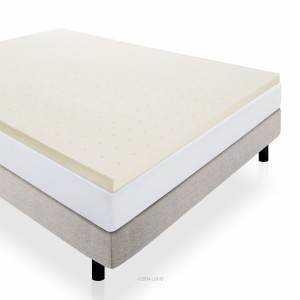 Owners of the Linenspa also highlighted that it retains body heat, which we believe is a significant added benefit. However, the main complaint about them is that they often have an unpleasant odor when new. However, most owners say this goes away within a few days of use. However, the Linespa 2″ Ventilated mattress topper offers superior comfort and pressure relief, combined with a three-year warranty.
Hot Sleepers – Linenspa Lucid Gel
If you are quite a hot sleeper, then you may prefer a topper which is infused with a gel, designed to spread heat and improve the airflow such as the Linenspa Lucid Gel. Many owners agree that this does not make them too warm and that it ticks all of the correct boxes in regards to comfort and pain reduction. However, the Lucid Gel does get more complaints of an initial odor than the Serta Ultimate and Linenspa 2″.
Here are a few of the Lucid Gel features:
2″ Lucid Gel gel-infused memory foam captures and distributes heat.

Ventilated to increase air flow and regulate sleeping temperature.

Super-soft, removable bamboo cover.

Open-cell technology prevents lasting body impressions.

3-Year warranty.
January 2017 Memory Foam Mattress Topper Deals
Each month we update this section with the best recommendations within various price brackets and also include the best deals currently on the market, check out below for this month's recommendations!
Our most affordable memory foam mattress topper
The least expensive is the Memory Foam Solutions 3 inch thick, 4-pound density topper which has 87% 5-star rating. This topper has high marks for comfort and pain relief; however, owners are divided over the issue of odor. Half of the owners say there is a very little initial odor, whereas the other half complain that the odor is significant and very slowly dissipates. The pad also gets durability complaints with several users suggesting that the foam disappears within a few months of use.
These are just a few of the features of the Memory Foam Solutions topper:
Instantly makes any mattress more restful, comfortable and supportive in sagging areas of the mattress.

3-Inch of extra supportive 5-Pounds memory foam conforms to your body perfectly.

Made in the USA.

Memory foam reduces pressure points that cause you to toss and turn, so you sleep better.

Topper features a 5-pound density and the famous gel-like feel.
Who should buy a mattress topper?
If any of the below reasons relate to you then you must purchase a mattress topper, you can use the table above and the information below to make sure you choose the right one for your needs.
If you experience back ache when you wake up in the morning
If you have a stiff neck when you wake up in the morning
If your arms feel numb while you sleep
If your bed feels uncomfortable when you sleep
If your mattress is too firm
If you have medical conditions such as back pain & arthritis
If you feel fatigued in the morning and have a restless night's sleep
How to choose the best mattress topper?
Selecting the topper requires careful consideration, you need to consider a variety of factors we have broken these down below.
Density
They come in varying densities; this is a detail which you cannot ignore as the denser the topper, the higher the price, but this is for good reason. Higher density mattress toppers will provide more comfort by balancing out your body weight, helping to reduce pressure points when you sleep. A higher density mattress topper also provides added mattress protection.
Size
You must consider the size of your mattress and ensure that the mattress topper covers every dimension. They come in the following sizes – Full, California, King, Queen & Twin. Be sure to purchase the correct size as this will prevent your bed from feeling uneven.
Thickness
The thickness of the topper will depend on the position that you sleep in. Many of the best memory foam mattress toppers vary in thickness, and you need to ensure that the one you choose enhances your comfort when sleeping.
Stomach sleepers – If you sleep on your stomach then a 2-inch topper will be a good choice for you.
Back or side sleepers – If you sleep on your back or your side, then a 3-inch topper will help to enhance your comfort. Read more about the best mattresses for side sleepers right here.
As a general guideline, the following may help:
2-inch memory foam toppers
Helps relieve your body with medium pressure while you sleep.
The comfort is rated as 3 out of 5.
If you are small or below average body weight then this may be perfect for you.
These are typically the most affordable.
3-inch memory foam toppers
The most popular thickness that consumers purchase.
The comfort level is above average with many consumers rating toppers in this category as 4 out of 5.
Provides excellent pressure relief for back pain and joints.
4-inch memory foam toppers
Most common for consumers who weigh over 250 pounds.
Provides significantly larger support than the 2inch or 3-inch range.
The most expensive option.
Material Purity
It is important that you choose one that is made from hypoallergenic materials as these do not have allergic reactions and also protects against body oils and dead skin which can penetrate the topper.
Warranty
When purchasing, always ensure you check the products warranty. Most come with an extended warranty period, and this will give you a guarantee that the manufacturer and retailer have confidence in the product they are manufacturing and selling.
Read our guide to warranties right here.
Initial Odor & Off Gassing
As we have previously discussed once you purchase and unwrap your brand new memory foam mattress topper it is highly likely that it will produce gas, this is called off-gassing and is perfectly normal. The reason that they gas is that of the chemicals that are used throughout the manufacturing process. These gasses will only last for a few hours to a couple of days, with very rare cases of the gasses continuing for several weeks.
You can read all of our reviews right here.
Best Mattress Topper Reviews 2016 & 2017
Below is our best mattress topper reviews based on the factors we have discussed above, each of these mattress toppers has been heavily tested by thousands of users and all have a rating of at least 4 out of 5.
1. Visco Elastic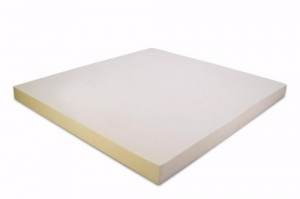 It is hard to justify not purchasing this right now! With the overwhelming amount of positive reviews, the role that it plays, and the certification that comes with it, make this the perfect choice for anyone that wants to enjoy a good night's sleep.
2. Lucid Gel Infused
The Lucid gel infused is a great choice for people that are struggling with sleep and are having issues when waking up. It provides the comfort and support that you need, without the headaches that others come with.
3. Sleep Joy Visc02 Ventilated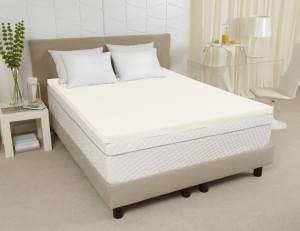 The Sleep Joy is designed to give the user a good night's sleep, relieve joint, back and neck pains, and provide the support needed to relieve the stress accumulated on the body's pressure points.
You can read all of our reviews right here.
Health benefits
They come with a variety of health benefits, from the obvious pain relief that comes with the comfort and support that they provide. There are other less discussed benefits such as the protection against bed bugs as they cannot live or breed in the material. Similarly, Dust mites will not be able to live within the mattress topper either.
Also, be sure to check out: