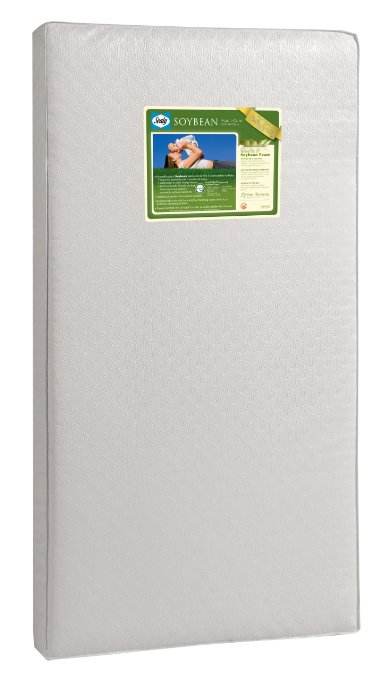 Last Updated: May 2017
These days, parents and caregivers go to great lengths to ensure that their newborns, babies, and children are not exposed to harmful chemicals. Since babies and children spend so much time sleeping, it only makes sense that their crib mattresses are safe, too. The Sealy Soybean Foam-Core crib mattress is a great value for the money so you can feel better about your baby and the environment.
Product Features and Specifications
Materials: The lightweight mattress is made with American soybean oils rather than harmful chemicals that can cause allergies or illness. The wrap is made from natural cotton to provide the ultimate level of comfort for toddlers.
Sizes: This mattress measures 51.63 inches long by 27.25 inches wide for the perfect fit in most standard cribs and toddler beds.
Thickness: The Sealy Soybean Foam-Core crib mattress is five inches thick, so your standard fitted sheets will fit snugly.
Comfort: The extra firm high density memory foam offers up all of the firmness your newborn needs with just the right amount of comfort for toddlers and young children.
Durability: This mattress is subject to more than 60 inspection points, so you can rest assured that the quality of products and workmanship is always excellent.
Safety: The product passes ASTM crib mattress standards and is GREENGUARD GOLD certified, allowing both you and your baby to sleep peacefully at night.
Age and Weight Limit: Sealy recommends this product for infants and toddlers up to four years of age. It has a maximum weight limit of 60 pounds.
Click here to check the price of the My First Mattress Crib Mattress
Pros and Cons
Pros
Since this product contains all-natural soybean oils rather than harsh chemicals, you can feel confident in your baby's safety. What's more, because soy is a renewable resource, it is better for the environment than many of the alternatives.
The extra-firm sleep surface is recommended by the American Academy of Pediatrics for the first year of baby's life.
The pearl-embossed cotton cover is stain resistant, waterproof, and easy to wipe clean with a damp sponge.
The square-cut corners allow it to fit nicely in your baby's crib, eliminating potentially hazardous gaps between the mattress and the crib itself.
The product weighs an amazing eight pounds – barely more than a gallon of milk – to make changing sheets a snap.
Parents of older, more rambunctious babies appreciate the mattress's lack of "bounce", claiming that they feel safer about their older babies' playtime in the crib.
Cons
With some fitted sheets, the squared edges of the mattress may compress, leaving gaps between the mattress corner and the crib. Using fitted sheets that are not incredibly tight can resolve this, as can giving the mattress time to return to its usual size after removing a tight fitted sheet. You can also find fitted sheets with squared corners which can help reduce this issue.
A few reviewers noted that the mattress started to "sag" after a few months of use, but with regular flipping, this is preventable.
Finally, although this mattress's firmness is absolutely perfect for newborns, it may feel a little too firm for toddlers.
This is not a dual-purpose mattress, so it offers the same firmness and foam density on each side.
Consumer Thoughts
Sealy Soybean Foam-Core Crib Mattress Review
Comfort
Durability
Firmness
Smell
Summary
Overall, we recommend the Sealy Soybean Foam-Core crib mattress to parents and caregivers who want to provide a firm, yet comfortable sleep surface for their newborns.
Find out what consumers are saying right here.
Consumers ranked this product very highly in reviews, and they truly appreciated the firmness of the mattress for their newborns. Almost all of those who rated it most highly were impressed that such a firm mattress could have such little bounce. Parents noted that their older babies seemed to sleep more deeply on this mattress than on its innerspring counterparts.
A few parents noted that their toddlers did not like this bed and claimed that it felt too "hard" for comfort. Some mentioned that the mattress began to have intentions where their children slept most frequently, although this was quite rare. The biggest complaint among those who purchased the Sealy Soybean Foam-Core crib mattress was the outer cover, which they claim feels "plastic" and crinkly to the touch.
Finally, there were a few people who rated the mattress poorly due to an issue where the corners began to pull away from the edges of the crib after several days' use with a traditional fitted sheet. Because memory foam does compress over time, you can avoid this by purchasing fitted sheets that do not have rounded corners as most do. Ensuring a proper fit that is not too tight is the key to maintaining the right fit inside a crib.
Sealy Soybean Foam-Core Crib Mattress: Our Verdict
Overall, we recommend the Sealy Soybean Foam-Core crib mattress to parents and caregivers who want to provide a firm, yet comfortable sleep surface for their newborns. Be aware that product does still contain polyurethane and only 22% soybean oil, so there are still man-made products inside the mattress. Nonetheless, this is a great value for the money overall. It is one of the more inexpensive foam crib mattresses out there, but bear in mind that this is not a dual-purpose mattress and it only has one firmness.
Where to buy?
You can purchase from Amazon right here.