Last Updated: January 2017
One of the most common problems that prevent a healthy night's rest is overheating during sleep. Overheating during sleep can cause hyperventilation, reduce your oxygen levels and even worsen other conditions you are already experiencing. A cooling mattress like the Dreamfoam Arctic Dreams Cooling Gel Mattress can help you maintain your temperature during slumber and rest easier.
Product Features and Specifications
Materials: The mattress contains advanced viscoelastic gel foam called Energex as well as high density polyurethane foam.
Sizes: The product measures 44.1 inches by 19.6 inches by 13.3 inches. The product weighs 78.8 pounds.
Thickness: The ten-inch depth is made from several layers. These include a .75 inch layer of soft quilting, 3 inches of quick response Energex gel foam, and over 6.25 inches of convoluted high density polyurethane foam.
Comfort: On the company scale of comfort, the product reaches level six. This translates to a medium plush feel. The gel foam provides both bounce and temperature control.
Durability: A ten-year warranty helps protect your investment, ensuring that it has no factory defects and meets all CertiPUR-US standards.
Safety: The product is free of harmful chemicals like flame retardants, mercury, lead, heavy metals and formaldehyde. It contains no chlorofluorocarbons or phthalates and is considered a low-VOC product.
Weight Limit: While the manufacturer does not issue a weight limit on the mattress, but reviewers weighing up to 300 pounds say that the mattress provides comfortable support without any additional wear and tear.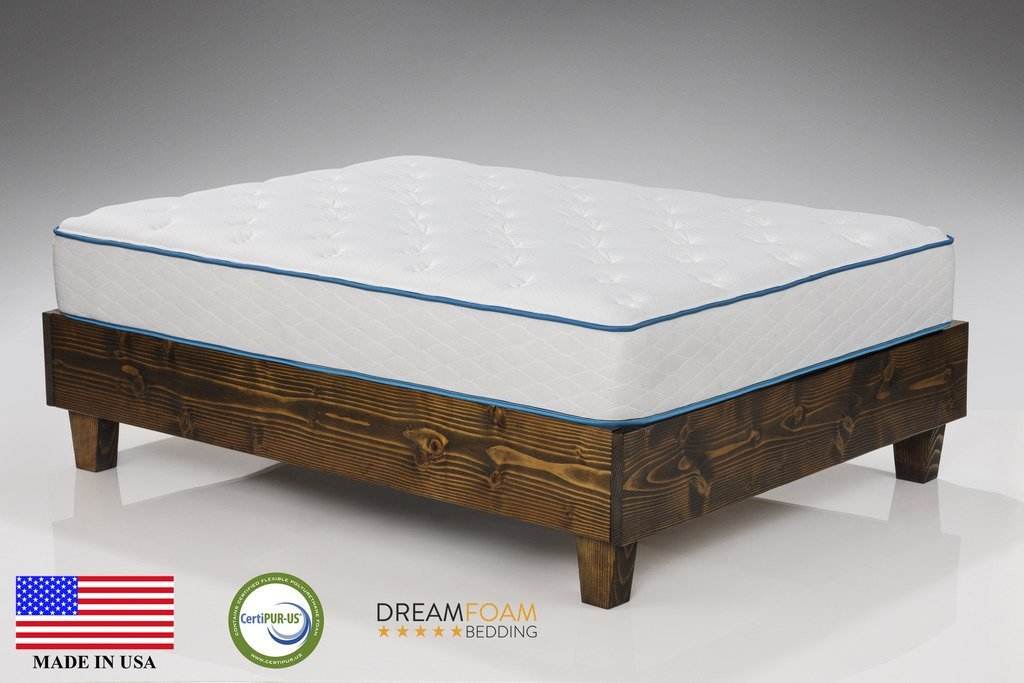 Pros and Cons
Pros
The Arctic Dreams Cooling Gell Mattress Made in the USA is designed to create the coolest night's sleep of your life while maintaining the same medium firm support you expect from high density memory foam.
Like many memory foam products, the mattress protects you from midnight jostling from sleep partners, keeping you comfortable and undisturbed throughout the night.
The product is CertiPUR-US certified, which guarantees that it is free harmful chemicals and treatments that would make it dangerous to have in your home.
The 10-year warranty provides you with peace of mind about your purchase and protects you from factory defects.
Shipping is made easy by the latest compression technology, allowing the mattress to arrive in a slim package to be opened and unfurled at your convenience.
Cons
Because the Arctic Dreams Cooling Gel Mattress is made with high density memory foam, it provides firmer support than many reviewers expected. Individuals who purchased a mattress topper were able to make it more suitable to their personal preferences.
Some individuals were surprised at how plush the mattress was after learning that it was made from high density foam.
A few buyers were worried about the mattress being rolled up in a box prior to delivery but found the shipping method to be most convenient after the fact.
Consumer Thoughts
Dreamfoam Arctic Dreams Gel Memory Foam Mattress
Comfort

Durability

Pain Relief

Bad Odor

Heat Retention
Summary
With its cooling technology, supportive memory foam and lack of harmful chemicals, it is the perfect mattress for anyone who wants the best value of mattress at the best price.
The general consensus from consumer reviews was that the Arctic Dreams Cooling Gel Mattress is very similar to typical memory foam products, like the Tempur-Pedic mattress. Many reviewers said that they could not tell the difference between this product and other memory foam mattresses they had spent much more money on in the past. Most consumers were also pleasantly surprised at how cool and comfortable the product was during use when compared to other memory foam products that often made them feel overheated while sleeping.
A handful of reviewers expressed concern about the product not expanding to its full 10 inches upon opening. Once they realized that the instructions recommended waiting at least 48 hours for the product to fully expand they were much more pleased with the product. The manufacturers of the product also recommend that the mattress be opened within 72 hours of delivery to ensure best results. Expansion results varied from customer to customer, with some individuals reporting that the product was a full 10 inches thick 15 minutes after opening.
Most reviewers did not report a smell when opening the product. Those who did said that the odor completely disappeared within a few hours after the mattress was opened.
Our Verdict
Life is simply too short for constant back, neck and shoulder pain, not to mention overheating and being uncomfortable while you sleep. These issues can impact your entire day. There is no reason to experience any of these discomforts when you can order an Arctic Dreams Cooling Gel Mattress at such an affordable price. With its cooling technology, supportive memory foam and lack of harmful chemicals, it is the perfect mattress for anyone who wants the best value of mattress at the best price.
Where to buy?