Hands up, those who sleep on a mattress that's put in more than 10 years of service. Here's the rule of thumb: if it's sort of lumpy and you can actually feel the shape of the springs through the cover, its definitely time to splurge on something new. But if your mattress still looks "okay" and you're using that rationale to avoid having to invest in something new, ask yourself this: do you wake feeling rested and ready to take on the world or do you find yourself constantly hitting the snooze button? If you answered yes, then it's time to spring for some new springs.
If you've already begun to research the various brands and designs out there, you'll have discovered memory foam is a popular choice. Not only does it offer you curve-hugging comfort, but it alleviates pressure on key joints for a deeper, more restful sleep and pain-free mornings. The downside for many is that in spite of multiple firmness levels that range all the way from super soft to super firm, it doesn't have quite the same bounce that many of us enjoy in a coil-spring mattress. Until recently.
Recognizing the growing niche market for a memory foam product with a little more spring to it, many manufacturers now incorporate individually pocketed coils in the construction process. This special feature delivers the bounce many crave but without sacrificing the contouring support that memory foam is known for. Now when it comes to who produces the best hybrid, Memory Foam Doctor has reviewed some of the top mattress brands in North America, sorted them by comfort level, support, fabrication and even their suitability to various sleep styles to provide you with a comprehensive comparison of the various benefits each brings to the table.
We can tell you that both Simmons Beautyrest and Saatva offer a superior quality hybrid mattress that delivers big-time when it comes to a contour-hugging sleep surface with a little more spring. Want to know more?
Simmons Beautyrest
Background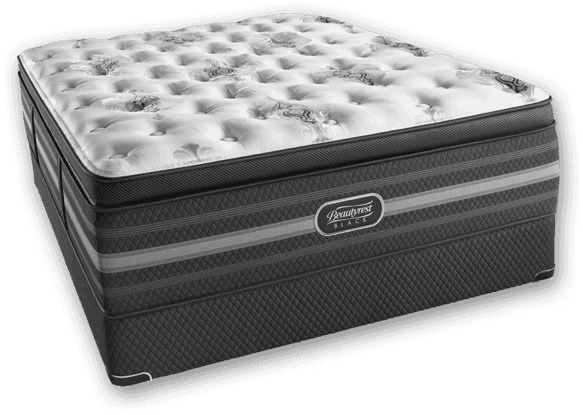 It's no wonder the name Simmons is synonymous with top quality mattresses – they've been making them for over 100 years. Unlike many manufacturers who have opted for on-line sales with a popular bed-in-a-box concept, US-based Simmons continues to sell exclusively through retailers. What has changed is the brand's approach to manufacturing. Seizing the opportunity to expand on their traditional inner-spring offering, they introduced a hybrid to their Beautyrest line. Available in 3 categories; silver, platinum and black (with a significant bump in pricing each time you move up a category), it features memory foam construction but introduces Simmons pocketed coil technology for a superior quality hybrid. For this comparison, we'll look at their entry-level "Silver" model
Why is the Beautyrest Silver a Great Hybrid Mattress?
The Silver delivers not only three types of memory foam in the comfort and support layers – which translates into exceptional cooling comfort and superior support – but a layer of their proprietary pocketed coils. What this means for you is that you will not only enjoy the contour cradling comfort of a memory foam mattress, but one that delivers a cooler sleep experience and because the coil construction is individually pocketed, a mattress that won't transfer motion. So not matter how often your partner turns in the night, you'll continue to sleep soundly.
Construction
Cover
Beautyrest Silver features a soft, stretch-knit cover versus the usual quilted style found on most inner-spring mattresses. The benefit is that the memory foam can more closely cradle your contours than if you were sleeping on a bulkier, quilted surface. It also allows you to enjoy the softer, cushioning properties of the memory foam without extra padding getting in the way.
Top Layer
The upper layer of the Beautyrest Silver is made with the brand's proprietary DualCool Technology memory foam that uses actual silver (hence the name) to deliver cooling comfort and a more comfortable, restful sleep. Because this metal acts not only as a conduit to effectively dissipate body heat and move it away from the sleep surface but also prohibits bacteria and mold growth, you have a mattress surface that remains continually fresh and hypo-allergenic.
Second Layer
Beautyrest uses their patented AirCool memory foam technology in both their comfort and contouring layers for a highly responsive mattress that instantly adapts itself to your body contours regardless of how often you move in the night.
Third Layer
As if DualCool and AirCool memory foams aren't enough, Simmons has developed a third type of foam for this next layer. And because this aptly named Dynamic Response memory foam is ventilated for enhanced air movement, it helps the mattress breathe for a continually cooler sleep surface.
Fourth Layer
This is where the hybrid features really kick in. The Beautyrest Silver uses Pocket Coil technology in this fourth layer which means you have individually wrapped coils that can move independent of one another. This not only allows them to instantly adapt to your body's contours but adds a little more spring to your mattress. It also helps to isolate motion so you'll never be wakened by a partner who tosses and turns in the night.
Additional Benefits
Anti-Bacterial Materials
By using actual silver in the manufacturing process, Simmons prevents the growth of mold, mildew and known allergens because of the metal's natural anti-bacterial properties.
AirCool Edge
Not only does this mattress feature a stabilized edge so you never feel like you're sinking when you sit on the side of your mattress, but all four sides are ventilated to allow warmer air to continually escape for a much cooler sleep experience.
Trial Period / Warranty
While we often see 90- to 100-night trial periods for most on-line mattress purchases, this isn't the case with the Beautyrest Silver mattress. Because they're available through traditional retailers I guess the assumption is that you'll have kicked the proverbial tires before you make the purchase. As a result, there is no trial period or money back guarantee beyond the standard Simmons 10-year warranty that comes with any purchase of their mattresses.
Background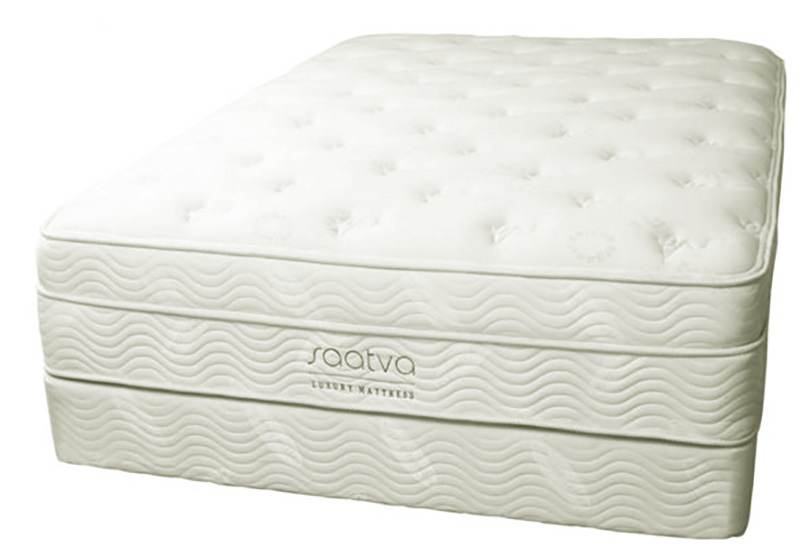 Constructing their mattresses entirely in the United States, Saatva is the very first manufacturer to forego the usual bricks-and-mortar shops to sell their collection of luxury memory foam mattresses entirely on-line. This risky approach to marketing the pricey, superior grade Saavta mattress clearly paid off as the 2011-start up enjoyed sales of close to $180 million in 2016. A key differentiator for the brand is that their luxury mattresses are made using organic cottons, plant-based foams and botanical anti-microbial fabric treatments which makes them an ideal choice for those with allergies.
Why is Saatva a Great Hybrid Mattress?
The 14.5-inch thick Saatva mattress uses not only plant-based foams and organic materials, but two different types of coil spring. The mattress's base layer features more than 400 steel coils for superior, uniform support while over 850 individually pocketed coils (wrapped in foam) help to form the springy, upper layer. The result is a luxury mattress that not only adapts itself to the curves of your body each time you move, but isolates motion so restless partners, kids or pets won't disturb your sleep.
Construction
Cover
The Saatva memory foam mattress features an organic cotton cover that is not only breathable for optimal, continued air flow and a cooler sleep surface but it's been treated with their exclusive botanical anti-microbial treatment which helps prevent the growth of bacteria for an always-fresh, longer-life mattress cover.
Top Layer
Saatva's top layer is an ultra-plush Euro-style pillow top that uses the brand's eco-friendly bio foam to deliver soft, cushioning comfort regardless of your sleep position. Because the foam is actually inserted just beneath the cover layer versus being sewn on top of the mattress, you will never experience it slipping and sliding out of position over time.
Second Layer
Moving down to the second layer of the Saatva mattress we find a 1-inch thick layer of memory foam that has been added simply to provide a little extra support to your back and lower lumbar region. The slimmer depth ensures superior support without the sinking feeling that thicker memory foam tops can have. This important layer helps to distribute your body weight across the entire bed surface, supporting your natural curves and taking pressure off key points of contact such as your shoulders, hips, knees and lower back.
Third Layer
The 4-inch deep comfort coil layer of the Saatva mattress features 884 individually pocketed contour coils made from tempered steel and wrapped in a premium-grade bio foam for added coziness. By wrapping each coil individually, it allows them to work independent of one another, instantly adapt to your body's contours and deliver continuous support regardless of how often you move.
Fourth Layer
Saatva's 7-inch foundation layer includes more than 416 hand-tied hourglass-shaped 13-gauge recycled steel coils that have been oven-baked 3 times for extra strength and durability. This coil-on-coil construction delivers exceptional overall support and helps your new mattress retain its shape for years to come.
Additional Benefits
Dual-Perimeter Edge Supports
Saatva includes a separate edge support that includes foam-wrapped, steel contour coils along the outer edge of the mattress. This unique system ensures a longer-wearing mattress that won't sage over time.
Minimal Off-Gassing
Unlike many of the memory foam mattresses on the market, Saatva does not use ozone-depleting chemicals, heavy metals or contain formaldehyde. As a result, it's an ideal choice for those suffering from allergies or whose skin is sensitive to chemicals.
Trial Period / Warranty
Saatva provides a generous 120-night trial period and 100% money back guarantee if you aren't happy with the mattress. They will also pick up the cost of returning the bed (once) and have a 15-year warranty that covers any repairs or recovering.